Lambi race: Kejriwal attacks Badal on home turf, deploys MLA Jarnail Singh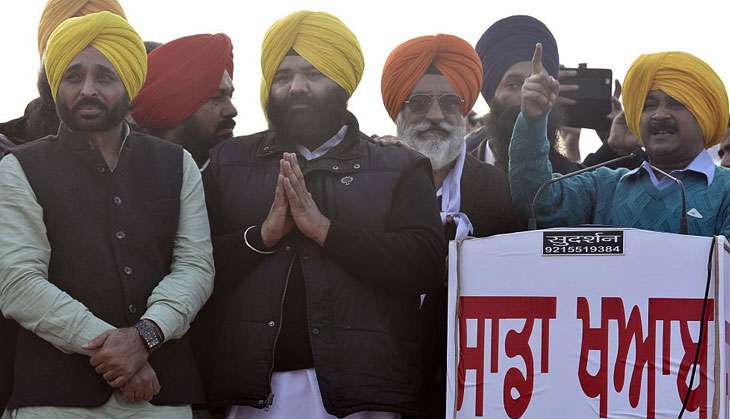 Taking his party's poll battle to Lambi - the home turf of Punjab chief minister and Shiromani Akali Dal (SAD) patriarch Parkash Singh Badal - Delhi chief minister Arvind Kejriwal proposed the candidature of his AAP MLA Jarnail Singh on the seat. Kejriwal wants Jarnail, one of AAP's in-charges for Punjab, to contest against Badal in the Assembly polls..
Addressing a well attended rally at Lambi on Wednesday, Kejriwal said that so far the Congress leader Captain Amarinder Singh and Badal had a tactical understanding nominating weak candidates against each other.
"However, this time we will not let Parkash Singh Badal, Sukhbir Badal and Captain Amarinder Singh have a walkover in the elections. That is why we are fielding our strongest candidates against Amarinder, Badal, Sukhbir and (Bikram Singh) Majithia in order to give them a taste of political dust," he underlined.
He went on to substantiate his claims on a tactical understanding between Badals and Amarinder saying the candidate nominated against Sukhbir from Jalalabad would not even be able to save his deposit and similarly Amarinder also fielded a weak candidate against Majithia.
He went on to say that both Amarinder and Badal not only facilitate each other's victory but also share business interests in sand and gravel mining, transport and liquor. He said that above all, both of them back candidates, who have been embroiled in Punjab's drug trade.
He pointed out how the Congress embraced Sarwan Singh Phillaur, a senior Akali leader, who had to step down from the Cabinet after his and his son's name cropped up in drug trade. He also said that Inderbir Singh Bolaria, a former Akali MLA, who was the right hand man of Majithia, too was welcomed by Amarinder into the Congress fold.
In his address at the rally, Jarnail challenged Badal to have an open debate on the Akali Dal's development claims.
"Thousands of farmers have committed suicide. Youngsters have been dying due to drugs. Transport, liquor and cable businesses have been captured by Badal family. Is this the model of development, Badals are boasting of?" he asked.
The 43 year old former scribe is a sitting MLA from Rajouri Garden seat in Delhi. He had unsuccessfully contested the 2014 Lok Sabha polls from West Delhi constituency on AAP ticket. He had shot into limelight for his protest over denial of justice to the 1984 riot victims anti-Sikh riots and his act of thrown a shoe at former Union Home minister P Chidambaram.
Continuing with its experiment in Delhi, AAP is fielding prominent leaders against heavyweights from their rival camps. The party has already announced the candidature of Sangrur MP Bhagwant Mann against Sukhbir Badal in Jalalabad and Himmat Singh Shergill against revenue minister Majithia.
Congress & SAD retaliate
Amarinder launched a counter attack against the AAP leadership for fielding Jarnail accusing both the Badals and Kejriwal of striking a deal for the upcoming elections. He said AAP's nomination of Jarnail appears to be a ploy to ensure Badal's victory.
Amarinder said that Jarnail is a complete non-entity, with no standing in Punjab and claimed that it is evident that the Badals have come to some understanding with Kejriwal to save the senior Badal from a certain rout in the polls.
He claimed that both SAD and AAP are getting desperate in the face of their imminent defeat and have come to an agreement to help each other to prevent the Congress from coming to power. He further said that he would not be surprised if money has exchanged hands and AAP has agreed to support the Badals in return for cash or other benefits.
He cited the widespread allegations of corruption and sale of tickets against the AAP leadership to say there is enough reason to believe that the party leaders are willing to sell off their souls to promote their personal interests.
Terming AAP as an anti-Punjab organisation of greedy and corrupt individuals, Amarinder pointed out that Kejriwal's refusal to take a stand for the state on the Satluj Yamuna Link (SYL) canal issue is also a clear pointer to his total absence of concern for Punjab and its people.
The Akalis allege that AAP and Congress are hand in glove and they are jointly trying to derail Punjab from the developmental track.
Union minister Harsimrat Kaur Badal attacked Kejriwal on Tuesday saying that though he is the chief minister of Delhi, he roams more in other states rather than concentrating on developing his own. She said that AAP and Congress both thrive on blatant falsehoods and appealed to the people to beware of such parties.
She also targeted Bhagwant Mann saying that the AAP parliamentarian brought disrepute to Punjabis and it is for the first time in the state's history that an MP has been expelled from the Parliament in such a manner. She said that it is very unfortunate that the while on one hand the AAP leader professes the ideology of the martyrs on the other Mann enters religious places and Parliament under the influence of intoxicants.
When the talk of Jarnail's candidature from Lambi was doing the rounds she said that even Kejriwal would forfeit his deposit if he contests against Badal.