Kicking it up a notch: Parties take to theatrics over Satluj-Yamuna issue in Punjab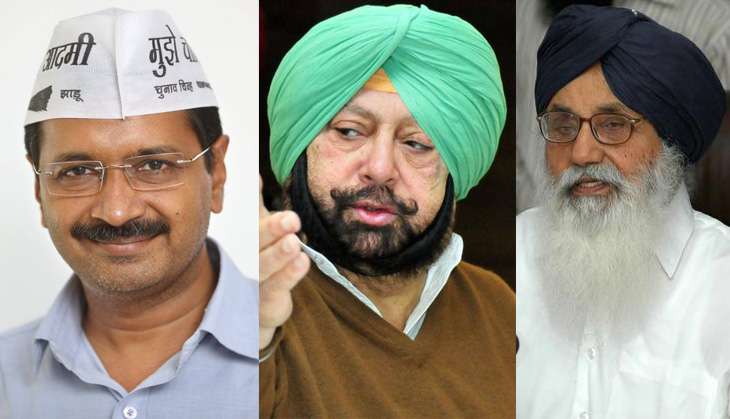 Parties take to theatrics over Satluj-Yamuna issue in Punjab
Punjab's political theatre continues to witness a lot of drama by various parties and leaders on the issue of sharing the state's river waters after the blow received from the Supreme Court on Thursday.
Key political players have started going that extra mile to play to the gallery knowing that sharing of the river waters along with the Satluj Yamuna Link (SYL) canal would be one of the prime emotive issues in the forthcoming Assembly polls.
Hence, the Congress, the Shiromani Akali Dal (SAD)-BJP combine and new entrant Aam Aadmi Party (AAP) are trying to send across the message that they are the most committed to the cause of the state.
Starting it off
Friday began with the Congress under Captain Amarinder Singh announcing an action plan to protest against the Parkash Singh Badal government's failure to protect the interests of Punjab on the SYL issue, as party MLAs, shouting slogans against Prime Minister Narendra Modi and Badal, formally tendered their resignations from the state Assembly.
Since the Speaker Charanjit Singh Atwal failed to turn up at his office, the Congress MLAs finally handed over their resignations to the Assembly secretary. Congress leaders claimed that an independent MLA Rajnish Babbi has also tendered his resignation to support the Congress campaign.
Amarinder disclosed that he had received the resignations from all the Congress MPs from Punjab on Thursday itself but in the interest of the SYL matter had decided not to forward them to the concerned authorities in the Parliament.
He made it clear that he himself had advised the MPs to stay firmly put in the Lok Sabha or the Rajya Sabha, as the case may be, in order to fight for the rights of the people of Punjab in the House.
And more plans
Continuing with their aggressive politics, party leaders have decided to burn effigies of Badal in all the 117 assembly segments of the state on Saturday.
On Sunday, the Congress has planned a rally at Abohar - the tail-end of the SYL canal - to highlight the Akalis' mishandling of the case in the court, causing untold misery to the people of Punjab.
The Congress Legislative Party (CLP) has also decided to seek an appointment with the President of India to apprise him of the problems that will be faced by the people of Punjab as a result of the court's verdict.
The CLP has also demanded that another tribunal be set up to assess the amount of water to which the state currently has access. It has reiterated that under the international riparian principles, Haryana has no right to Punjab's river waters.
Announcing the CLP decisions, Amarinder once again said that his party will go to the people on the issue and seek two third majority in order to be able to come out with the requisite legislation to give them justice.