Kerala political killings: RSS accuses CPI(M) of 'Jihadi terror' links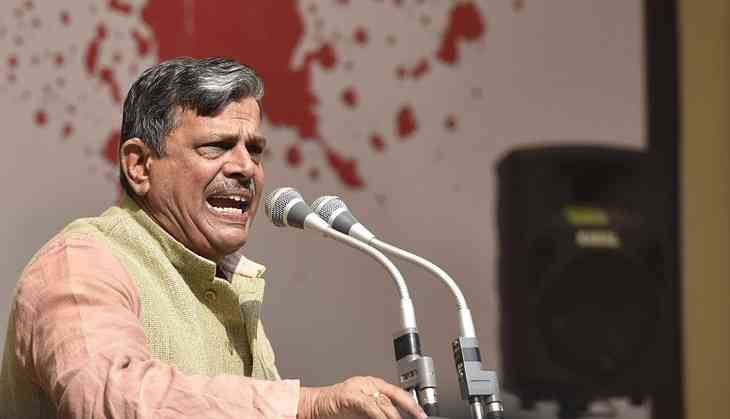 (Mohd Zakir/Hindustan Times/Getty Images)
The Rashtriya Swayamsevak Sangh (RSS) has accused the ruling Communist Party of India (Marxist) in Kerala of having 'Jihadi terror' links. It has demanded a judicial probe into the 'state-sponsored' killings of its activists in the state.
While welcoming CPI(M) general secretary Sitaram Yechury's willingness to talk about the violence, the RSS said it would be futile, since it 'did not trust' the Marxists.
Addressing the media in the national capital, RSS joint general secretary Dattatreya Hosabale claimed that 14 RSS/BJP activists have been killed since May 2016 in Kerala, and accused the Pinarayi Vijayan-led Left Democratic Front government of using the state machinery to cover up the 'targeted violence'.
'Hub of ISIS recruitment'
Hosabale claimed: "Four to five Jihadi terrorists have been arrested from a Kannur village. Like many other villages, this village too is a CPI(M) village, where others can't enter. So how come these Jihadis not just entered, but even made it their hideout?
"Moreover, most recruits to the ISIS are from Kerala's Kannur district. Such things create suspicion. Definitely, there is some nexus of the CPI(M) with Jihadi elements operating in Tamil Nadu, Karnataka and Kerala. A competent authority should probe all this."
He claimed there was a 'sinister design' behind the 'Marxist-unleashed' violence.
"Four of our people killed were Dalits. People from the marginalised sections of the society, Dalits, poor, oppressed are increasingly coming into our fold, which the CPI(M) cannot digest. All these murders, this violence – there is a design, it is targeted.
"The way Rajesh was killed, his hands chopped off and over 85 injury marks on his body – they are aimed at instilling fear among these sections, they want to send out a message," said Hosabale, referring to the 29 July killing of an RSS functionary near Thiruvananthapuram.
"Don't RSS workers have the right to work for their organsiation in Kerala? There is so much debate on intolerance in the country and even outside. But why there is silence on CPI(M)'s intolerance? Why there is no outrage against these state-sponsored, state-patronised killings," said Hosabale, demanding a judicial probe into the killings of its activists since 2016.
RSS retaliation
Notwithstanding the RSS's allegations, official reports reveal both camps in Kannur have suffered a near equal number of casualties.
#Kerala police records show 85 #CPM, 65 #BJP/#RSS, 11 #CONG,11 #IUML activists murdered since 2000-2017. @ndtv pic.twitter.com/ZTXN2lKic1

— Sneha Koshy (@SnehaMKoshy) August 4, 2017
Hosabale admitted that RSS activists were also retaliating to the attacks, but said such retaliation was 'human nature'.
"There may be some retaliation. But it is retaliation… who killed first? Compare the strength of the CPI(M) to that of the RSS and the BJP in Kerala. There may be some retaliation; that is human nature. It is not planned… it happens automatically because you lose life," he said when asked if only RSS activists were being killed.
Don't trust Yechury
Asked to comment on Yechury's willingness for talks with RSS chief Mohan Bhagwat, Hosabale expressed his doubts.
"We are ready to welcome [the initiative], but we have our apprehensions. There have been peace initiatives earlier, but what has been the outcome? We don't trust them," he said.
Not asking for Prez Rule
While the RSS has earlier sought the intervention of the President and Union Home Minister, Hosabale insisted they will not push for President's Rule in the state.
"It's not about President's Rule. We want the state government to earnestly discharge its constitutional and legal duties. The question of President's Rule is to be decided by the Governor and the President," he said.
Asked if the RSS would approach Prime Minister Narendra Modi and Union Home Minister Rajnath Singh — both of whom possess RSS backgrounds — seeking the dismissal of the Kerala government, Hosabale said: "we've left it on their conscience. A day will come when people of the country and the state will demand for President's Rule."
NHRC takes cognisance
Meanwhile, the National Human Rights Commission (NHRC) has asked the Kerala government to take steps to stop the political violence.
Taking cognisance of media reports and complaints of the spate of attacks and killing of political party workers in Kerala, the panel has sought a detailed report from the state government in the matter.
Union Minister and senior BJP leader Arun Jaitley will visit Kerala on Sunday, and is slated to visit family members of Rajesh, who was killed on 29 July.
The BJP has also been raising the issue of Kerala violence in Parliament, in its bid to corner the CPI(M).