Kejriwal sells Delhi model in Punjab. Congress, Akalis not impressed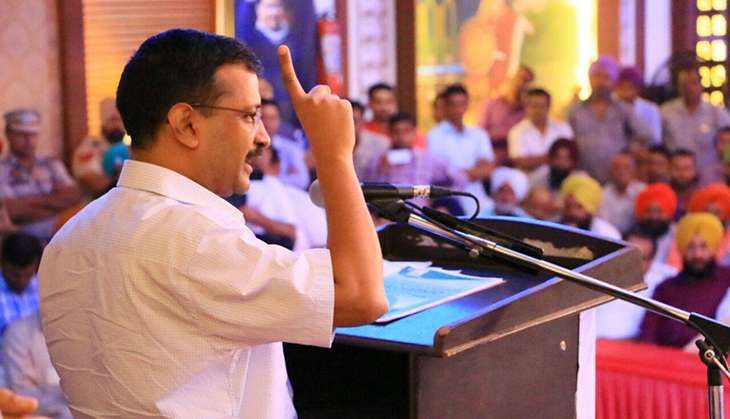 Aam Aadmi Party's (AAP) National Convener and Delhi Chief Minister Arvind Kejriwal tried to sell the Delhi model in Punjab through its poll manifesto on the revival of trade and industry in the state.
Kejriwal is on a three-day visit to the state trying to woo the trading and industrial communities that are in dire straits as industrial development has taken a backseat over the last several years.
Kejriwal's visit follows Prime Minister Narendra Modi's recent visit to Punjab, who despite attending an event for the industry, did not announce anything for its revival leaving the ruling Shiromani Akali Dal (SAD) in an odd situation.
"When several industrial units of Punjab are shifting from Punjab, it is a challenge for us to bring youth out of drugs and give them employment for their rehabilitation,"said Kejriwal while unveiling the 21-point manifesto.
He said that his government in Delhi has presented two annual budgets so far in which the Value Added Tax (VAT) on many items was reduced from 12.5% to 5% and that too without the stakeholders asking for it.
"In Delhi, Inspector Raj and Raid Raj have already been abolished and AAP government won the confidence of industrialists, which led to an increase in the revenue generation, in spite of the lower rate of VAT," Kejriwal claimed.
Using the opportunity to attack the BJP-led central government, Kejriwal said people are being harassed through Income Tax raids. "If Modiji was serious to tackle the menace of black money, he should have raided the business houses of Adanis and Ambanis, from whom the department would have completed their collection target," he suggested.
Promises aplenty
In its manifesto AAP has promised that trade, industry and transport sectors will be made corruption-free, 'Inspector Raj' and 'Raid Raj' will be eliminated and no 'Goonda Tax' would be allowed. It has also promised a self-certification regime for all no-objection certificates and consents in businesses.
AAP claims to have prepared a roadmap for a simplified and transparent tax regime. VAT and other taxes will be reduced along the Delhi pattern and in five years, Punjab will have the lowest tax rate.
The manifesto talks about a workable and responsive single window system for approvals and clearances for all types of industry including real estate, with a special impetus to new industries including IT.
It also talks about the revival of sick industry units in Mandi Gobindgarh, Ludhiana, Jalandhar, Amritsar, Batala, Pathankot, Nangal, Bathinda and all other industrial towns in a time-bound manner through a series of measures, including two-year tax holiday, besides a special package to bring back industries that have fled the state.
AAP plans to allot non-utilised land at affordable rates to the industry. Such land is available in under-developed industrial estates, growth centers, and focal points.
AAP leadership has also talked of reducing the power tariff and starting a new industrial township with special incentives in Ropar to kickstart state-of-the-art environment-friendly IT and other industry to generate employment in the backward Kandi belt between Himachal Pradesh and Punjab.
The manifesto plays the populist tune saying that the unauthorised colonies will be regularised.
AAP leadership has promised to depoliticise the transport sector, snatch bus permits from the Badal family, that has monopolised the sector, and give them to unemployed youth, ex-servicemen, handicapped persons, terror victims, and victims of 1984 anti-Sikh violence. There is also the promise on rationalisation of toll plazas in the state.
Opposition hits back
The manifesto has come to be termed a a theatrical gimmick by the rival Congress, lacking in substance and silent on several key issues.
Congress President Captain Amarinder Singh has said that Kejriwal has simply picked up some of the promises already made by the Punjab Congress while ignoring other vital issues.
"From reduction in power tariff to VAT reduction and simplification, the revival of sick units, a new industrial township in Ropar and end to Mafia raj, our party has already promised relief to trade and industry. What Kejriwal has done is simply picked up these points and packaged them in his industry manifesto for Punjab," Amarinder slammed.
The Congress has said that the industry in Punjab does not want to go the Delhi way. The party has said that if the AAP government's track record in Delhi is anything to go by, trade and industry in Punjab has a lot to worry about.
"If they are really planning to do in Punjab what they are doing in Delhi then there is really no hope for trade and industry in this state," said the party in a statement.
Congress leaders Rana Gurjit Singh, Kewal Singh Dhillon and OP Soni have described AAP's promise of ending Inspector Raj a joke, given the fact that during its 49-day rule in Delhi in 2014, the AAP government had led 151 raids - a clear manifestation of its `Inspector Raj' mentality.
The party has dismissed Kejriwal's 'tall' claims in the manifesto as a big bundle of lies, which will put the industries in Punjab, already reeling under severe strain from the Badal regime, on the path to irretrievable damage.
Akalis jump on the criticism wagon
Even the Akalis have called AAP's document a copy of their ideas. They have called Kejriwal the biggest copycat who blatantly copies ideas from the manifestos of SAD and re-packages them as his own brainchild to promise the moon to the electorate and deceive people.
SAD Secretary and Education Minister Dr Daljit Singh Cheema said the promises made by Kejriwal to the traders with regard to regularising illegal colonies and abolishing VAT could best be termed as copied ideas because the SAD-BJP government had already taken effective action in this regard.
He has advised the AAP supremo to stop promising the moon to the people and concentrate instead on ameliorating the trading class in Delhi which is reeling under the repressive measures of his 'People's Government' which has set targets of collecting exorbitant taxes from the traders.
"Can you please spell out the resources from where you would procure the funds to fulfill your gigantic misleading sugar-coated promises for the Punjabis?" Cheema asked.
He has elaborated that things have gone downhill in Delhi for traders and industrialists who are being harassed through frequent raids by the taxmen. He said Kejriwal has promised to rationalise VAT whereas VAT is going off the radar from the trade scene next year as the Union government will bring in GST.
He pointed out that the Punjab government has already formed two traders' boards and two industrial boards to redress the issues of trading and industrial communities.
The Akalis have been playing up their achievement of having made Punjab a power surplus state. Cheema said that the SAD-BJP government has not only made Punjab a power surplus state but it was also providing cheapest power to the industry.
"Best work environment, cheapest and uninterrupted power, peace and harmony, and initiative of Invest Punjab office to giving every solution to industries under one roof are the initiates of Punjab government and the AAP government of Delhi must learn from it,"he added.
Edited by Jhinuk Sen
Also read: AAP brings Sikh farmers from Gujarat to expose Modi-Badal claims in Punjab
Also read: Punjab polls: once the odds-on favourite, AAP is now beset with problems