Karnataka polls: As a bitter campaign comes to an end, who holds the edge?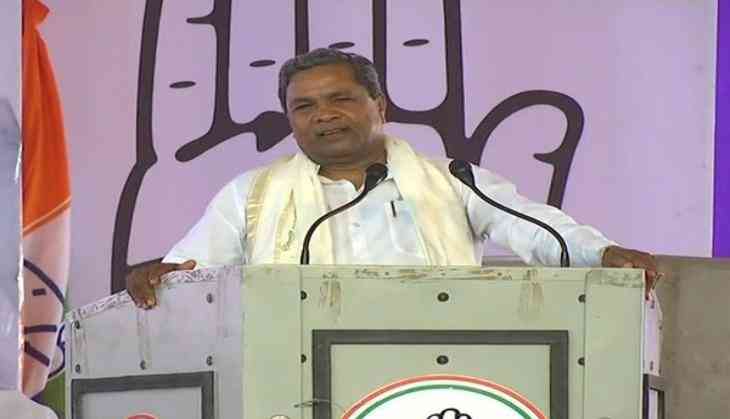 With the Karnataka assembly elections 2018 reaching a climax and the voting scheduled for May 12, any one of these three results is possible: A victory for BJP, a clear majority for the Congress or a hung verdict where the JD(S) will have a role to play.
It has been a roller-coaster ride for all three parties with their fortunes waxing and waning during the month-long hectic campaigning. Prime Minister Narendra Modi and Congress president Rahul Gandhi have been star campaigners for their respective parties and also indulged in a bitter war of words.
While BJP's chief ministerial candidate BS Yeddyurappa has confined himself to attacking Chief Minister Siddaramaiah, the latter has shown the gumption to take Modi and Amit Shah head-on, both verbally and through social media. He has even slapped Rs 100 crore defamation suit against the BJP leaders for calling him 'Seeda rupaiyya' and accusing his government of running on '10 per cent commission'.
Early polls suggested that Congress was ahead of the BJP as Siddaramaiah had adopted a multi-pronged strategy of wooing the minorities, Kannada language enthusiasts and more importantly, a section of Lingayats, by promising them a separate religion status.
As the Veerashaiva-Lingayats have traditionally voted for the BJP – as Yeddyurappa is considered their tallest leader – Siddaramaiah wanted to create a wedge in BJP's vote bank and win over some of them towards the Congress.
The Lingayats are in sizeable numbers in 116 seats comprising in Mumbai-Karnataka, Hyderabad-Karnataka and Central Karnataka and they could play a decisive role in deciding which party gets a majority. The JD(S)'s influence is limited to south Karnataka – the Vokkaliga heartland – where it is a dominant force.
Undertaking a tour of north Karnataka, this writer got the impression that a majority of Lingayats are not swayed by the Siddaramaiah government's decision and there may not be a significant change in their voting preferences. They usually vote for candidates belonging to the 'sub sect' of their community, irrespective of party affiliations.
The advantage BJP has this time is that BS Yeddyurappa and B Sriramulu, who had caused a 3-way split in 2013, are back with the BJP, boosting its chances of victory in many constituencies. The pre-poll surveys show that while BJP's vote share jumped dramatically from around 19 per cent last time to 35 per cent, the Congress's remains stagnant at 36 per cent.
Siddaramaiah has run a clever campaign by pointing out that while he has given a stable, 'scam-free' government for five years, the BJP during its last stint between 2008 and 2013, had three chief ministers and Yeddyurappa and some of his ministers had gone to jail on corruption charges.
BJP has countered this argument saying that Siddaramaiah got a 'clean chit' from the then controversial Lokayukta Y Bhaskar Rao over denotification of 900 acres of land meant for Arkavathy layout and then virtually disbanded the Lokayukta and set up an anti-corruption bureau under his direct supervision. Siddaramaiah has been accused of protecting his ministers facing murder charges, land grabbing and running sand mafia.
In the last stages of campaigning, Prime Minister Narendra Modi – addressing an unprecedented 32 rallies – has tried to change the narrative by focusing on Siddaramaiah government's poor governance, the division of a community for political gain and the collapsing infrastructure in Bengaluru city. His rallies have attracted huge crowds, but whether they will translate into votes for his party remains to be seen.
The JD(S) has tried to focus on its core areas with Deve Gowda making a sentimental appeal to voters saying this is his 'last election' and his party should be given another chance. JD(S) knows that it will be in business as the 'kingmaker' if it manages to win around 50 seats.
Rahul Gandhi appears to have committed a tactical blunder by denouncing the JD(S) as a 'B' team of BJP and 'S' in its name stood for Sangh Parivar. Siddaramaiah has perhaps tutored Rahul Gandhi to attack JD(S) as he very well knows that there is no love lost between him and Deve Gowda, and Gowda will never support him for chief ministership in the event of a hung verdict.
Modi tried to cash in on this political drama by accusing Congress of 'humiliating' a former prime minister and narrating how he had always treated Gowda with respect. JD(S) was happy with the prime minister's remarks, but the very next day, Modi did a U-turn asking people not to vote for JD(S) which had no chance of coming to power.
After the results, BJP will not be averse to joining hands with JD(S) if only to keep Congress out of office in one more state and reducing its bargaining power with the other Opposition parties ahead of 2019 Lok Sabha elections.
Considering that the Karnataka electorate has always voted wisely, whether they will experiment with another coalition government – after their bitter experience last time – or will they vote decisively for any one party will be known when the ballot papers are counted on May 15.
Till then, the suspense and speculation will continue.