Kamal Nath and Asha Kumari: why is Congress bent on scoring self goals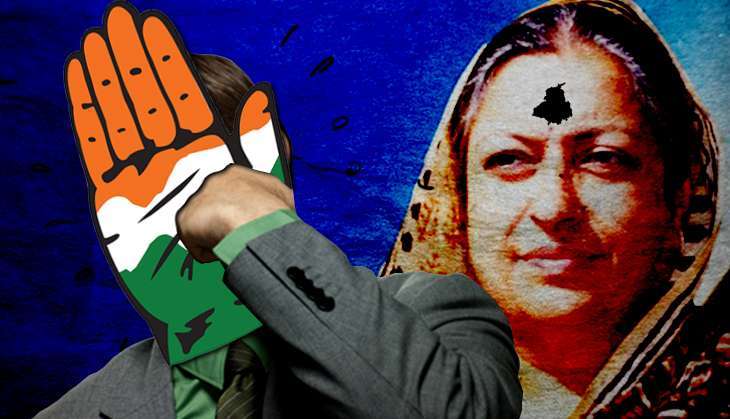 Punjab Congress
Congress drew flak in Punjab by giving charge to Kamal Nath
Now it\'s choice of Asha Kumari has come as a double whammy
The new issue
Asha Kumari is already controversial
She was convicted in a land grabbing case
More in the story
How is Congress reacting
What do the other parties have to stay
Is the Congress bent on scoring self goals? So it seems, going by the latest controversy regarding the appointment of Asha Kumari as in-charge of Punjab.
The Grand Old Party elevated Kumari, a secretary in All-India Congress Committee (AICC), to the new role after Kamal Nath had to walk away from it. Nath's name has repeatedly cropped up related to the 1984 anti-Sikh riots.
Kumari's selection came as a surprise as she was convicted for land grabbing. The order was later suspended by the Himachal Pradesh High Court.
Daughter of Madneshwar Saran Singh Deo, a former Madhya Pradesh chief secretary, Asha Kumari was married to late RK Brijendra Singh, the scion of Chamba's royal family. Born in 1955, she has been politically active since her student days when she was associate with National Students Union of India, Congress's student wing.
The five-time legislator from Banikhet and Dalhousie served as minister of state for primary education as well as the higher education minister in Himachal Pradesh. Political observers describe her as an articulate politician who has been on very good terms with the 'high command'.
"Till the time she was convicted, she was vying for the top most post in Himachal along with a few others as Chief Minister Virbhadra Singh faced opposition from party heavyweights," said a Shimla based political observer. "But since her conviction, she has been on the defensive."
Kumari was reportedly among Virbhadra's strongest critics until the court suspended a one-year sentence awarded to her. A special court in Chamba, on 26 February, sentenced her and six others for forging revenue records, fabricating wills and tampering with revenue entries to appropriate forest land in 1998.
Naturally, her appointment was a surprise - she was also chosen over the likes of former Delhi chief minister Sheila Dikshit.
Congress could have been more cautious after the Kamal Nath episode, political observers think, especially with Punjab going to polls in a few months. The party is a
The party leaders are aware of the fact that its road to revival at the national level can begin from Punjab and the party is comparatively well placed in Punjab as compared to Uttar Pradesh and Uttarakhand that go to the polls simultaneously.
"It is a big question on who makes such decisions in Delhi. As is we have a dearth of leaders to be appointed as party in-charge of the state," a Congress functionary said.
Party leaders and observers point out that this would end up in giving ammunition to Aam Aadmi Party (AAP) and Shiromani Akali Dal (SAD) to attack the Congress in the state that is in the process of putting its act together ahead of the Assembly polls.
A post by a party functionary on social media after the Kamal Nath episode read: "It is high time that the Congress should dispense with the idea of putting up 'state in-charges', like it is high time to abolish the post of Governors in the states. Like the Governors contradict and confront the 'federal' idea in a country where states have strong regional aspirations, the 'state in-charges' in the Congress only act as 'alternate and parallel' power centres thus undermining the authority of the PCC presidents, which eventually ends up weakening the party in the states and gives undue advantage to the regional parties, whose leaders enjoy independent decision making powers in strong contrast to PCC presidents, who have to take "High Command" into confidence for every move they make and for every decision they take."
In any case, the AAP and the SAD have not lost anytime in attacking the Congress on the appointment.
Senior AAP leader and in-charge of party's affairs in Punjab, Sanjay Singh said: "It appears as if the Congress has completely gone bankrupt on choices of finding one clean person with unblemished record to lead the party in Punjab. The party seem to have no option but to bank upon tainted or corrupt leaders who are either involved in anti Sikh massacre or have been jailed by court for land grabbing."
On the other hand, SAD leader and Union minister for food processing Harsimrat Kaur Badal too pointed that it appears the party of 'scams and scamsters' is running short of clean persons to head the Punjab unit.
Pointing to the appointments of Kamal Nath and Asha Kumari, she said twin actions are proof that the Congress high command and the Gandhi family are not interested in Punjab or its people and are in fact working as per a set anti-Punjab agenda.
"Otherwise there is no need for the Congress to appoint either a genocide accused or a land grabber to handle its party unit in Punjab," she said.
Taking a jibe at Amarinder, the Akali leader said: "Will he now step up and give a clean chit to Kumari as he had done in the case of Kamal Nath recently and other anti- Sikh genocide perpetrators earlier. Will he now say that Kumari was also victimized and that there was no case against her."
Amarinder better clear his position in the matter lest it be understood that he was trying to help a former royal from Chamba to revive her political career at the expense of the people of Punjab, she said.
However, the general perception among the Congress leaders is that the noise about Asha Kumari would die down soon given the fact that her convictions stands suspended for now.
Second, they feel her appointment in Punjab is merely completing a formality and through her appointment that party has given a free hand to Amarinder.
"With her around, its Amarinder's show all the way," said a functionary. It is also being said that by making a lightweight appointment to the post in comparison to that of the state president, the party is moving ahead on the strategy of vice president Rahul Gandhi to empower local leadership.
How Asha Kumari defines her role in the Punjab politics ahead of the very important assembly polls remains to be seen.
Edited by Joyjeet Das