#JNUCrackdown: politics of paranoia around sedition can singe Rajnath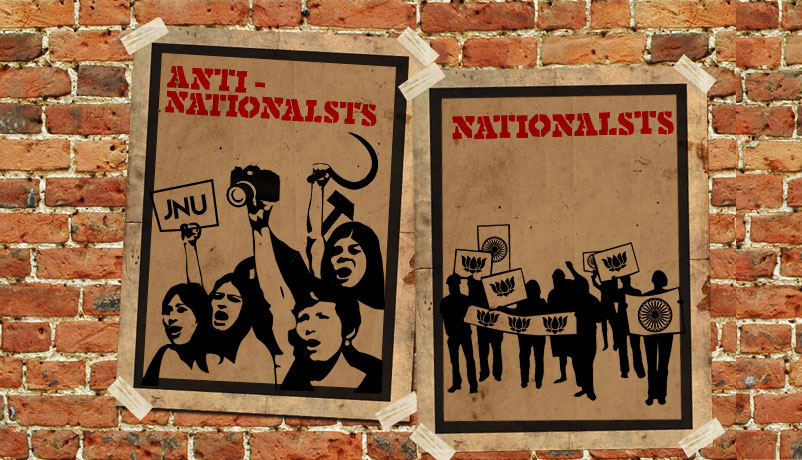 The fiasco
The JNU row has raised serious questions over Union Home Minister Rajnath Singh\'s competence
He alleged a Hafiz Saeed link to the protests in JNU, based on a fake twitter handle
The strategy
BJP is trying to raise the pitch of its paranoid style of politics
It hopes to divert attention from its failures on the economic and national security fronts
More in the story
Where did Rajnath go wrong?
The primary casualty of the fiasco at the capital's Jawaharlal Nehru University and the paranoid politics being promoted in the country is not likely to be the JNU students' union president, Kanhaiya Kumar, who faces fictitious sedition charges. It is Union Home Minister Rajnath Singh whose reputation, if not his job, may be on the line.
Sending police to the JNU campus and his claim on public television that the student protest had links with Hafiz Saeed, a wanted terrorist and the chief of Jamaat-ud-Dawah in Pakistan, are likely to cost him dear. Once the Opposition onslaught starts, his reputation is bound to take a severe beating, weakening his position in the government considerably.
Also read: #JNURow: Arnab and the art of manufacturing nationalist outrage
Increasingly, Rajnath Singh has come across as an unthinking and naive Home Minister. He based his comments on JNU and Hafiz Saeed on a tweet from a fake account of the latter. However, he pompously claimed that his information came from "inputs from different agencies". Despite it being common knowledge that he had goofed up, no one has been sacked for misleading him. Nor has he apologised.
Rajnath Singh based his comments on JNU and Hafiz Saeed on a tweet from a fake account.
Not the first goof-up
This is not the first time that the Home Minister has created confusion on national security issues. His contribution to creating a politically chaotic atmosphere on the eve of the Budget Session of Parliament comes after his earlier uninformed and mindless tweet about the Pathankot terrorist strike.
He had had to delete that tweet but only after he had created confusion about the number of terrorists involved and about the operation. He had congratulated the armed forces prematurely for completing the operation successfully after "neutralising all the 5 terrorists involved". The operation continued for 3 more days after Singh's tweet.
It goes without saying that India faces serious security threats. However, if the Home Minister of this country and its intelligence agencies are so incredulous that they believe any old scrap of information, do they deserve to be there? This is an issue that is likely to agitate the mind of the Members of Parliament when they meet on 23 February for the Budget session of Parliament.
Also read: Umar Khalid is no jihadi. BJP is pushing him the Rohith way
What is the BJP trying to do?
What the BJP has succeeded in doing over the last one week is much more significant. It has managed to deliberately raise the pitch of its paranoid style of politics. The attempt is to covert uncomfortable issues facing the government into one of what constitutes "nationalism."
At a time when nothing seems to be going right for the Modi government, a purely polemical and ideological discussion is being fomented to divert attention not only from the economic and social failures of the government but also national security failures.
The discourse is also aimed at taking the focus away from the anti-Dalit image that the government has acquired after the Human Resource Development ministry created circumstances which led to the suicide of Hyderabad University's Dalit scholar Rohit Vemula. If all these elements were allowed to coalesce, the anger with the non-performance of the Modi government would spread further.
JNU row diverts attention not only from govt's economic failures but also national security failures.
At a time like this, converting public discourse into an angry debate about nationalism and sedition, therefore, serves two purposes. It would help infuse new energy into the traditional mass base of the BJP. And, it would also expand it to include other more or less normal people who are likely to rally behind calls of patriotism and nationalism, especially if the security mindset is hyped up.
Also read: Everything you know about JNU politics is wrong
The BJP and its government at the Centre know the depth of popular nationalism and are using this deep-rooted sentiment to shield themselves from potential charges of incompetence.
A crisis of legitimacy
Despite a more than comfortable majority in Parliament, the party and its government continue to suffer from a legitimacy crisis. The BJP seems not to have been able to shed the feeling that over time it has been politically dispossessed of its natural right to govern a "Hindu India" by the Nehruvians and the Western-educated liberal intellectuals.
Never mind the fact that the BJP and its ideological forefathers had no role to play in India's Independence movement. Or, that their first ideological contribution after to an Independent India was to create an atmosphere for the assassination of Mahatma Gandhi.
The BJP and, its mother organisation, the Rashtriya Swayamsevak Sangh (RSS) feel that the 'naturally' Hindu values of India have been eaten away by cosmopolitan intellectuals; that the idea of India has been eroded by socialist and communist ideologies; and that national security is being compromised by seditious plotters in cahoots with the traditional enemies of India across the border.
They believe that these "anti-nationals" are responsible for preventing the emergence of a Hindu India, a Hindu world view and a Hindu political order - indeed an entire system of Hindu values, which to their mind, must constitute Indian nationalism.
A delusional search for the fictitious enemy is needed to keep the flock together; it must be held together by a sense of a threatening presence, an enemy lurking out there in the public sphere. This search for the ideological enemy - necessarily anti-national in the Hindutva perspective -- first led to the action of the HRD Ministry against Dalit students of Hyderabad university and then at JNU.
Why JNU?
JNU has been in the crosshairs of the Hinduvta brigade for long. Panchjanya, the mouthpiece of Rashtriya Swayamsevak Sangh (RSS) has brought out special issues in the past on this "anti-national" university. In a special issue in November 2015, it claimed, "JNU is one such institute where nationalism is considered as an offence. Presenting Indian culture in a distorted way is common. The removal of Army from Kashmir is supported here. They advocate various other anti-national activities here."
A former editor of Panchjanya who addressed students in JNU in 2010 called Kashmiri students there "Osama bin Laden ke dalal (agents or pimps for Osama Bin Laden)".
Also read - It's not about him alone: How Kanhaiya's poor parents put things in perspective
Rajnath Singh's allegation of JNU protests being inspired by Hafiz Saeed, therefore, comes from a deep tradition of ideological abuse - except that it now comes from the Home Minister of India.
The point however, is that the BJP's attack is entirely based on exaggerating the threat to the nation, and casting western, liberal intellectuals, including students, in a conspiratorial fantasy. The habitat of their prey is the liberal space of educational institutions where they are nurtured by western education and values. This is why demonic forces are let loose upon Universities and society is encouraged to target them.
For the BJP does not want to engage them in a political discussion but to finish them through a public crusade, in which those who think differently from the Hindutva family of organisations are projected as culturally anti-national.
Given its paranoic perceptions about liberal culture it is no surprise that journalists were also beaten up in the Patiala House Courts by lawyers and other party supporters, including an elected legislator. This is why BJP supporters believe that they can detect conspiracies before anyone else and exercise vigilante-style justice.
For the BJP ideologues, all social conflict - whether it is Dalit students demanding their rights or others exercising their right to assemble or express themselves - is reducible to to a battle between good and evil - between nationalists and anti-nationals, between patriots and seditious conspirators. There is no space for grey areas - for the possibility that a few agent provocateurs, rather than ordinary students, may have been responsible for shouting anti-India slogans at JNU.
However, this fantasy of the BJP is spinning out of control. The anti-national paranoia being promoted by the party and its supporters might singe some of the very people who are whipping it up. The Home Minister may well be its first casualty.
Edited by Aditya Menon
More in Catch:
#CourtAttack lays bare the real threat to this nation. It isn't Kanhaiya Kumar
#JNUCrackdown: Dear Mohandas Pai, we fund your sector, not opinions
#JNUCrackdown: You don't mess with a nationalist like BJP MLA OP Sharma