It's uncle Shivpal vs nephew Akhilesh: Yadav family drama continues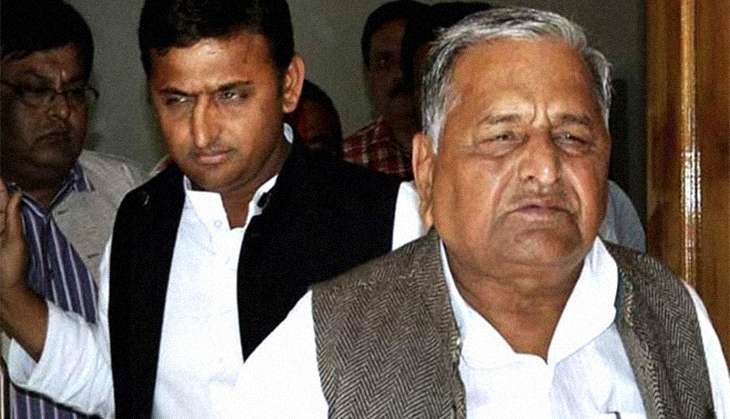 Family drama
While family drama is not a new thing for the Yadavs, it has taken a new turn now
Mulayam chose to take brother Shivpal\'s side in public while berating son Akhilesh again
This is not the first time Mulayam has pulled up Akhilesh in public
More in the story
Akhilesh Yadav - the puppet CM of UP
Mulayam Singh plays tough patriarch in SP
A day after PWD minister Shivpal Singh Yadav threatened to resign because "officers don't listen to me and ignore my orders", Mulayam on Monday defended his younger brother, describing him as the only minister who was doing some good work.
Addressing a gathering in Mainpuri on Sunday, Shivpal said, "We have formed our own government for the first time, but there are some leaders of the party who are damaging it. Even officers and engineers are not responding to my orders. If corruption and disobedience continues, I will resign from the post and work for the party."
Shivpal is party is state in-charge for this election year.
While defending his brother, Mulayam saw a conspiracy against Shivpal and said that he had stopped him from resigning. He warned that if Shivpal resigns, the situation will go out of hand.
Also read: Brother against brother: Mulayam backs Akhilesh, shatters Shivpal's dream again
Mulayam then went after his son - chief minister Akhilesh Yadav - for allowing land-grabbers a free hand, ignoring party workers and lending his ear to sycophants.
Officers, Mulayam said, were not listening to either senior ministers or party workers and the chief minister was unable to rein them in.
Pulled up in public
This was not the first time Mulayam had publicly chastised Akhilesh. But this was the harshest tongue lashing he had given him to placate Shivpal after simmering differences between him and Akhilesh came to a boil on Sunday.
The first signs of the Yadav family unity being fragile were seen in December last year when two Akhilesh loyalists - Sunil Yadav and Anand Bhadauria - were expelled for anti-party activities by Shivpal.
A miffed CM boycotted the Saifai Festival until the two were reinducted into the party.
Uncle versus nephew
Then came the issue of merger of Qaumi Ekta Dal of the jailed mafia don Mukhtar Ansari with the Samajwadi Party (SP).
While Shivpal was all for it, Akhilesh again put his foot down and shot down his uncle's idea.
A day after a grinning Shivpal welcomed Afzal Ansari into the SP, Akhilesh sacked cabinet minister Balram Yadav who had played intermediary in the merger.
Shivpal expressed his displeasure by boycotting the cabinet expansion that followed.
The appointment of Deepak Singhal became another irritant in the relations between Shivpal and his nephew who enjoying the full backing of his other uncle - Rajya Sabha member Ramgopal Yadav.
Akhilesh, it is learnt, was opposed to Singhal's appointment as chief secretary. The bureaucrat who does not enjoy an image as clean as that of his predecessor Alok Ranjan, but is said to be very close to Shivpal.
When Akhilesh failed to stall Singhal's elevation, he brought in Ranjan as his advisor.
Power games
There were two power centres in chief minister's secretariat now - principal secretary to chief minister Anita Singh, a Mulayam loyalist and Singhal on one side - and the CM and his advisor on the other.
Shivpal has been facing a lot of criticism after a bridge and a flyover in Lucknow caved in due to poor construction quality.
The construction was carried out by engineers from Shivpal's department. Hence his outburst that engineers were not responding to his orders.
While this episode may seem a serious development in the Mulayam family soap, Akhilesh has been at the receiving end of his father's chastisement soon after taking over as chief minister.
Rapped on the knuckles
On 12 August, 2016, Mulayam pulled up his party workers for indulging in land grabbing, extortion, corruption, vandalism and 'dabangai' (muscle-flexing).
This was after a businessman was held captive and assaulted in a room in Lucknow by a SP leader who wanted to grab his property in the state capital.
The irony was that Akhilesh faced all the flak for the poor functioning of his government. It was a double whammy for him because his father did not miss a chance to rebuke him, even in public, for his poor administrative control.
Who's the man
At a meeting at Akhilesh's official residence in August 2012, Mulayam warned ministers and legislators that they will have to work harder to keep the promises made to the electorate.
He made it look like a lesson in mentoring for his son and made Akhilesh look like a puppet chief minister. Mulayam then gave Akhilesh a lesson in managing bureaucracy efficiently.
The government's functioning, Mulayam told his son, was adversely affected as officers had more than one department to look after."It adversely affects the working of the government," he advised.
It's not that he spared his younger brother, who is the minister of public works department (PWD). On one occasion he said, "I have told Shivpal that the PWD is not working properly. There are many shortcomings in its functioning."
Mulayam's public haranguing continued. In March 2013, he told his son, "Akhilesh, government is not run by flexibility, but by (taking) a tough stand."
Expressing his displeasure over the functioning of Akhilesh government, Mulayam said, "Ministers are indulging in leisure and officers in sycophancy to get their work done. That is bringing a bad name to the government...it won't be allowed."
Mulayam described police stations and tehsil offices as the biggest centre of corruption and asked the chief minister to undertake a review and initiate stern action against the district magistrates and police chiefs wherever irregularities are detected.
And it continues
In October 2013 Mulayam again pulled up his son and his government again. "Mend your ways or be prepared to face serious consequences," Mulayam told Akhilesh and his ministers.
"I am warning Akhilesh Yadav and other ministers that they should correct their mistakes," he said, worried about the party's fate in the 2014 general elections.
In all the four years that Akhilesh has been in power, he was not taken with the kind of seriousness a chief minister deserves.
The government was run by Mulayam, Shivpal, Ramgopal and Azam Khan with Akhilesh being the fifth chief minister. These leaders virtually forced the CM into taking or not taking decisions.
To hear Mulayam and Shivpal talk of corruption and criminalisation is ironical as the two leaders are known for protecting criminals and the corrupt.
With the ground slipping from under their feet, all that they can do is to put up a farcical show of concern for uprightness and good governance. These qualities are an antithesis of what the SP stands for.
Edited by Jhinuk Sen
Also read: Blow to Bihar's grand alliance: the real reasons behind Mulayam's exit
Also read: Mulayam salvages Ajit Singh's dying career, momentarily