It's the money: why UP ministers are lining up their kin for Panchayat polls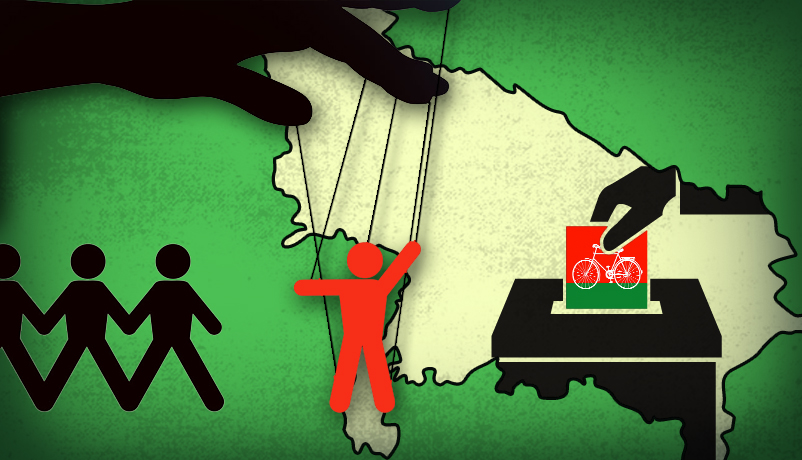 The move
Kin of nearly a dozen UP ministers are fighting Panchayat polls
CM Akhilesh Yadav has fielded his aunt and cousin in Etawah
Even murder accused Rammurti Verma has fielded his daughter-in-law
The impact
Analysts say the SP wants to control the funds that go to Panchayats
It\'s a stepping stone for the relatives to contest assembly elections
It\'ll now be harder for grassroots workers to rise up the party ranks
For ministers in Uttar Pradesh, the upcoming Panchayat polls are just a grand family affair.
The wives, sons, daughters, brothers, sisters, uncles, aunts, nephews, cousins, in-laws of nearly a dozen leaders of the ruling Samajwadi Party are filing nominations for the elections beginning 9 October.
Chief Minister Akhilesh Yadav's aunt Premlata and cousin Abhishek Yadav are contesting for membership of the Zila Panchayat of Etawah.
Secondary Education Minister Mehboob Ali has fielded his wife Sakina Begum, son Pervez Ali, nephew Nawazish Ali and sister-in-law Fatima Ali in his hometown Amroha.
Horticulture Minister Parasnath Yadav's wife Hirawati, sons Om and Ved and daughter-in-law Pappi are contesting in Jaunpur.
Transport Minister Durga Prasad Yadav's nephew Pramod is in the fray in Azamgarh.
Animal Husbandry Minister Raj Kishore Singh's son Devendra Pratap wants to get into the Zila Panchayat of Basti.
Panchayati Raj Minister Kailash Yadav's son Virendra is contesting for the District Development Council, Ghazipur.
Labour Minister Shahid Manzoor's son Nawazish is running in Meerut.
Rural Development Minister Arvind Singh Gope has fielded his older brother Ashok Kumar Singh in Barabanki.
Diary Development Minister Rammurti Verma, who is accused of murdering journalist Jagendra Singh, has fielded his daughter-in-law Archana Verma in Shahjahanpur.
MoS, Health, Nitin Agarwal's uncle Mukesh Agarwal is in the fray in Hardoi.
Science and Technology Minister Manoj Pandey has got tickets for his brother-in-law Ashish Tiwari and sister-in-law Neelam in Rae Bareli.
Mockery of Panchayati Raj
Political observers are outraged by this "mockery of the Panchayati Raj system".
"The Samajwadi Party is a party of Mulayam Singh Yadav and his coterie. It has long abandoned socialism. The only 'ism' in the party now is nepotism," said Kaushal Kishore Mishra, who teaches political science at Banaras Hindu University.
"The elections are going to be a sham. Is it democracy if politicians field so many of their relatives?"
Rammurti Verma, accused of murdering a journalist, has fielded his daughter-in-law in Shahjahanpur
Mishra insists this crowding of Panchayats with its own people is a concerted effort by the SP to control development funds.
"Vast sums of money are provided for the development of rural areas by both the Centre and the state. How the money is utilised is the prerogative of Zila Panchayats," he explained. "If many relatives of the ministers win, it will mean the money will be in the hands of a few people. That's what the SP wants."
More worryingly, Mishra warned, this is just the first step in the subversion of the democratic system.
"Those of their relatives who win the Panchayat polls will later fight elections to the assembly or parliament on Samajwadi Party's tickets," he said. "People should decide now if they want nepotism or democracy."
Veteran journalist Brijesh Shukla is aghast that the SP has breached the last democratic institution relatively untainted by nepotism.
"Earlier, loyal and efficient party workers were rewarded with posts at the Panchayat level. The polls were also the stepping stone for the workers to get a greater role in the party. Now, they won't get a fair chance to prove their mettle," Shukla said.
Prof Kaushal Mishra: The polls will be a sham. Is it democracy if they field so many relatives?
The blame for this rests squarely with Mulayam Singh Yadav, said political analyst Manoj Tripathi.
"When Mulayam was chief minister as a Janata Dal leader, his family was nowhere on the political scene of UP. But when he formed his own party, he started promoting his brothers Shivpal and Ram Gopal," Tripathi said.
His rival, BSP supremo Mayawati, on the other hand has kept her family out of politics. "There are allegations that she helped relatives in their business, but nobody can say she has promoted a family member in politics," Tripathi added.
"In this state, politics was considered social work," Tripathi rued, "but now it's just a means to wield power."