It makes more sense for Sidhu to join AAP than Congress. Here's why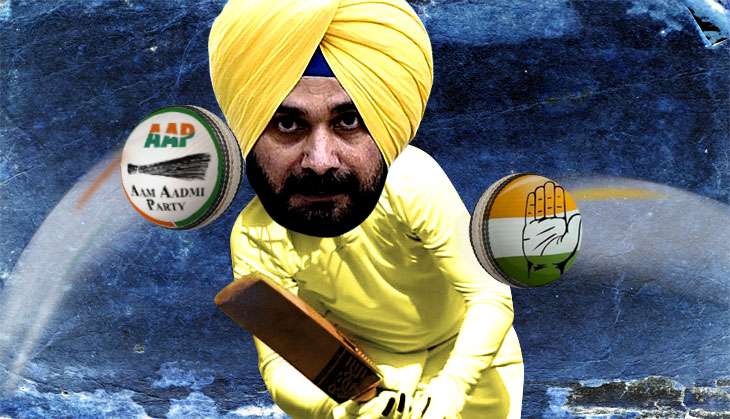 Cricketer-turned-politician Navjot Singh Sidhu is currently the most sought-after man in poll-bound Punjab. Both the Aam Aadmi Party (AAP) and the Congress are said to have offered him ridiculously lucrative deals. But the former cricketer is still negotiating with both the parties before stepping out and settling for the maximum - a dominant feature of his cricketing career.
For a man who spent nearly 16 years in international cricket, mostly facing the new ball, negotiations come naturally to Sidhu. Throughout his career, he carefully negotiated the moving ball and cleverly waited for the spinners, on whom he pounced with brutal force, earning laurels.
Now, amid hectic political parleys, Sidhu has also displayed supreme endurance, just as he did during the 1996-97 Port-of-Spain Test against West Indies, where he batted for 11 hours, scoring a double century.
Despite the verbal bouncers hurled at him by both AAP and Congress leaders, Sidhu has maintained his silence, continuing to negotiate with both parties, patiently building his political innings. He has successfully kept everybody guessing on which way he will swing.
On their part, both the Congress and the AAP have gone out of their way to woo the former cricketer, who, evoking the early part of his career where he was dubbed a 'strokeless wonder', has offered dogged defence to whatever is being thrown at him. The two parties have offered sweet deals and even mocked him in the past, in sheer frustration at negotiations not going through.On Wednesday, the former cricketer had a meeting with AAP national organising secretary Durgesh Pathak, where he was apparently offered the post of deputy CM.
Even the Congress is not leaving any stone unturned in its bid to get him on board, and had reportedly offered the same position. However, state Congress chief Captain Amarinder Singh called these rumours 'ridiculous', before performing a volte-face, and saying Sidhu was welcome to join, and that 'our DNA is the same'.
Why joining AAP makes more sense
For a seasoned cricketer like Sidhu, who hopes for a long-lasting legacy on Punjab's political pitch, it seems choosing AAP over Congress makes more sense. And there are reasons to back such claims.
First, if the AAP does manage to win, the post of deputy CM will offer more opportunities for Sidhu to establish his stature as a political heavyweight in the state.
In comparison, the Congress, under the iron grip of Amarinder, who has not been too kind in his words for the former cricketer, will not concede much space. Sidhu will have to play a clear second fiddle to Amarinder, who sees him as more of a threat than an ally. In fact, Sidhu is considered closer to Amarinder's rival within the Congress, Partap Singh Bajwa.
Moreover, if the Congress does decide to offer the deputy CM deal to Sidhu, then many in the party are likely to resist such an arrangement, since they see him as an outsider. His inclusion is likely to not go down well with the Punjab unit of the grand old party, and could lead to internal squabbles.
No such differences are likely to crop up in AAP which is yet to establish itself as a political force in Punjab. AAP's political rivals have often accused it of being a party of outsiders, not well-versed with Punjab and its politics. Sidhu, a Jat Sikh, can put to rest such accusations. With age on his side (he's just 53), he can negate the popularity of Chief Minister Parkash Singh Badal of the Shiromani Akali Dal and Amarinder, and become the face of the party, giving momentum to AAP's campaign.
Second, Arvind Kejriwal is likely take the Chief Minister's chair if AAP wins the 2017 polls. But he also nurtures national ambitions, which will keep him occupied, giving Sidhu more opportunities to run the show in Punjab.
Even AAP, which has been criticised for not having a popular Sikh face in its ranks, will benefit immensely with the former opening batsman's inclusion. It will give a push to the party's campaign in the elections, and Sidhu, a crowd puller, is likely to add more votes to AAP's kitty.
Another bone of contention between the Congress and Sidhu is the 'one-family, one-ticket' policy, because of which the grand old party is not keen on offering a ticket to Sidhu's wife. On the other hand, AAP has put forth no such conditions. In AAP, Sidhu can also negotiate an important portfolio for his wife, who won the 2012 Assembly election from Amritsar, and served in the Punjab Health Department before resigning to join politics.
Moreover, along with Sidhu, the party would also see his Awaaz-e-Punjab colleagues, former India hockey captain Pargat Singh and the influential Bains brothers of Ludhiana, join its ranks, which would be a shot in the arm just ahead of the polls.
It is advantage Sidhu as much as it is for AAP. If the two manage to join hands, AAP will have a popular face and Sidhu a platform to nurture a long political innings.
Despite his prowess against spin, Sidhu wasn't really known as a great exponent of the sweep shot - the loft over the bowler's head was more his style. But wielding the broom in these elections might just make sense for him.