"ISIS are dogs from hell. We'll chop Baghdadi into 100 pieces": Owaisi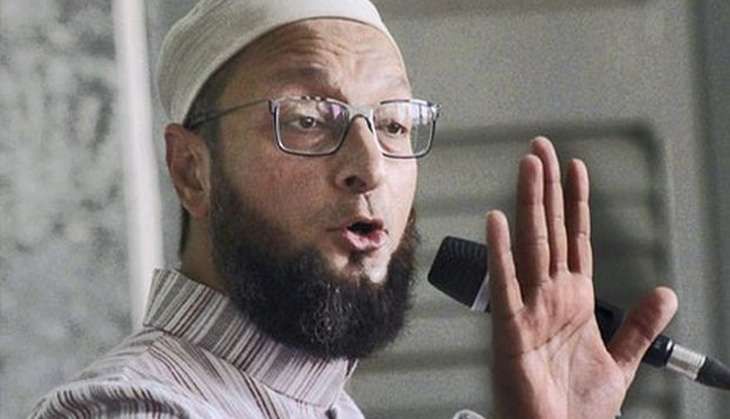 All India Majlis-e-Ittehadul Muslimeen president Asaduddin Owaisi held a public meeting in Hyderabad on Friday to protest against the Islamic State of Iraq and Syria (ISIS).
The meeting - organised a day after Eid at Darussalaam, the AIMIM headquarters, - aimed at counter ISIS ideologically. Along with Owaisi, clerics from different Muslim sects addressed the meeting and criticised ISIS as being enemies of Islam who should be eliminated.
Owaisi, in particular, condemned ISIS in extremely harsh language, even going to the extent of calling them "dogs from hell".
Owaisi's public meeting also assumes significance in the backdrop of the criticism he has faced for offering to provide legal aid to Indian Muslim youngsters arrested for being radicalised by ISIS.
In his speech, Owaisi urged Muslim youngsters to undertake Jihad within India's democratic framework instead of taking up arms. Some excerpts:
On ISIS
"On 4 July 200 metres away from the Prophet's tomb in Madina, a terrorist displayed his depraved mentality by blowing himself up"
"We must admit that ISIS is amongst us. No doubt, they have nothing to do with Islam. But they exist among our ranks. It is our responsibility to eliminate them."
"Daesh is a lie. It's an army of criminals. The organisation and it's so-called Khalifa (Abu Bakr al Baghdadi) are the dogs of hell."
"They are dogs of hell and let them bark, we are not scared."
"I want to ask that dog (Baghdadi) 'why did you send your dogs to Madina as suicide bombers?'"
"Let me tell you, Baghdadi. The day you come in front of a true Muslim. We'll chop you into a hundred pieces, Inshallah."
"You (Baghdadi) killed innocents. The day you are caught, your followers won't even find your bones."
"You (Baghdadi) brought so much grief to Muslims that even words cannot describe."
"Those who attack Madina, Allah will dissolve them like salt in water. This is the beginning of the end of ISIS."
"ISIS has attacked Islam. We must strengthen our ranks. We might adhere to different sects and viewpoints -- Sufi, Deobandi, Barelvi, Ahle Hadith or Shia - but we are united by our love for the Prophet. "
"We have to address this problem. How do we do this? By following our Prophet, who told us to show love and forgiveness, not just towards each other but towards the entire humanity."
"George Bush and Tony Blair played a major role in giving birth to ISIS. The Chilcot report has exposed how they attacked Iraq without any proof. They should be tried as war criminals."
"We must fight the oppressors (ISIS) and we must also guide our youngsters. (Tell them) not to visit their websites."
"We must admit that ISIS is a problem. We cannot remain in denial and call it someone else's conspiracy. We have to finish them. This is a challenge for all religious scholars. If we don't eliminate them, these dogs will bite you. See what kind of venom is being spewed from mosques and pulpits."
"ISIS puts up a video of a 11 year old girl and says she is up for sale. Her price is 1100 dollars. This is not a Muslim-non-Muslim issue. They are dogs of hell...selling a 11 year old girl!"
On Modi goverment
"Technology has become so advanced that even if you type ISIS in your computer, the Khatmal (Hyderabadi slang for police) come to know immediately and they start tracking you...Don't be foolish. Don't do anything that will give these people (BJP) a chance to target you."
"PM Narendra Modi can sit and listen to what we are saying....I want him to listen. His partymen say that all Muslims are terrorists."
"As soon as it turns 9 pm (veiled dig at Arnab Goswami), they keep repeating 'ISIS..Muslims...ISIS..Muslims' They seem to be in love with ISIS. They say it much more than we do."
"I would like to tell PM Modi, the BJP and the security agencies that if you malign India's 17 crore Muslims, you are helping ISIS. ISIS wants Muslims to be victims of suspicion. They don't want any grey zone to exist in the world. They want to polarise the world into black and white."
"Why doesn't the media show the ISIS video in which 4 Indian leaders are being criticised - Arshad Madani, Mehmood Madani, Badruddin Ajmal and me? It means that we are a threat to the ISIS just as we are a threat to the Sangh Parivar. Alhamdulillah, we are a threat to both. The former are enemies of Islam, the latter are enemies of India's secularism."
"We are an alive community. We are not afraid of BJP and Sangh Parivar and any khakhi chaddiwalas. We will live with pride in this country. We are all equal under India's Constitution."
On Jihad
"I appeal to youngsters to beware of ISIS...ISIS talks of Jihad. They manipulate 19-20 year olds who are full of anger, and send them to die."
"Around 4-5 boys (allegedly inspired by ISIS) who were brought back from Kolkata to Hyderabad. I spoke to 2 of them. I asked them 'what did you learn from ISIS?' He replied 'we learnt to do Jihad in Allah's name' (So I asked him) 'So do you think we are giving a dance performance here? Scholars who spread the message of Tauheed (unity) and teach people about the faith, is that not Jihad?'
"If you want to undertake Jihad, do it within the framework of Indian democracy. No one will stop you. Undertake Jihad for the glory of the faith. Do it in a peaceful and democratic manner. There is no need to take up arms. Your biggest weapon is your vote."
"If you want to undertake Jihad, go to the settlements where India's Muslims live, you'll find many children who want to study. Will you go and teach them for free?"
"If you are rich, don't go and spend your wealth in Syria. Go and sponsor the wedding of a Muslim girl who isn't getting married because of people's greed for dowry."
"If you want to do Jihad, come to Darussalam (AIMIM headquarters) we'll fight against BJP and Sangh Parivar in a democratic manner. This is also Jihad. But we won't take up arms"
"I appeal to the youth, live for Islam don't die for Islam. Islam teaches you to live, not to die. Live and make this country great. This country belongs to us. This country needs you. Today, if there's someone who is taking on Modi, it's only the Indian Muslim."
"Islam cannot be learnt on the internet or through Google or WhatsApp. It needs to be leart through scholars."
More in Catch:
Saudi Arabia attacks: Are we likely to see Islamic unity against ISIS now?
Dhaka attack: Gunmen hold 20 hostages at a cafe. ISIS claims responsibility
NIA busts another ISIS module. Here's why we should be concerned