Is Swamy eying Jaitley's job? Economist-MP could be made Fin Min
The speculation
Two years into his stint, PM Narendra Modi is expected to reshuffle his cabinet later this month
However, there is no guarantee, since three previous rounds of speculation proved unfounded
The change
Economist-MP Subramanian Swamy is eyeing Arun Jaitley\'s chair as Finance Minister
Getting a cabinet berth was one of the reasons why he merged his Janata Party with the BJP
More in the story
What does the RSS think about Swamy\'s bid to be Finance Minister?
What is the equation between Swamy and Jaitley
Congress MP Anand Sharma had cautioned the treasury benches in the Rajya Sabha on 4 May that their latest member, Subramanian Swamy, was a cannon, and that they would have to wait only a few days to see which way he would fire next. ("Aap thode din chup rahiye, yeh top kahaan mudegi, phir mai aapse poochoonga...")
Sharma's prophecy seems about to come true, at least for one senior minister in the Narendra Modi government.
Ahead of the widely-speculated cabinet reshuffle later this month, Swamy is said to be eying the Finance Ministry.
There is a strong buzz in Delhi that Prime Minister Modi is quite likely to finally reshuffle his two-year old cabinet, just after the announcement of the results of the ongoing Assembly elections. This reshuffle, sources told Catch, might land Swamy in the cabinet.
The newly-nominated BJP MP is believed to have been desirous of a ministerial berth ever since the NDA government took charge.
In fact, it was said to be one of Swamy's key objectives behind merging his Janata Party with the BJP, just before the Lok Sabha elections of 2014.
Also read - In just 2 days, Subramanian Swamy proves why BJP brought him to Rajya Sabha
Swamy has been a Union minister only once before, having served in the shortlived Chandra Shekhar government as Minister for Commerce and Industry, from November 1990 to June 1991.
He also held additional charge of the law ministry then, but the Harvard-trained economist is said to have always harboured a dream to become the Finance Minister. This could well be the septuagenarian's last chance.
Admiring RSS backs Swamy
Sources also said Swamy's prospects are strong since the RSS leadership has backed his demand. The Sangh Parivar is said to have a lot of respect for him, for being a rare foreign-educated, English-speaking politician and economist in its circles.
They also admire him for his penchant for directly attacking Congress president Sonia Gandhi, something which even the senior-most BJP leaders desist from.
Modi, too, is keen to have Swamy on board in the North Block, sources said, adding that efforts are on to convince Jaitley to relinquish the ministry smoothly.
He already holds two additional charges - of Corporate Affairs and Information & Broadcasting - besides being the Leader of the House in the Rajya Sabha.
Swamy has also publicly showered praise on Modi. He recently tweeted that the PM was democratic in the Parliament and allowed free expression.
I am impressed with the functioning of Namo in Parliament because he is democratic, does not micro-manage MPs, and allows free expression.

— Subramanian Swamy (@Swamy39) May 3, 2016
Old adversaries
There is a long history of animosity between Swamy and Jaitley. According to a detailed profile of the Finance Minister published by news magazine Caravan, Jaitley had defended Congress leader P Chidambaram in a corruption case filed by Swamy, in 1997.
Swamy, along with former BJP member Ram Jethmalani, activist Madhu Kishwar and RSS ideologue S Gurumurthy, has alleged that Jaitley has also supported Chidambaram against allegations of money laundering and tax evasion in another case.
Swamy does not make any attempts to hide his disdain for Jaitley. The only fig leaf that he employs is a code name in his tweets, a strategy that he keeps reserved for his choicest enemies.
It is widely believed that his tweets refer to Jaitley as 'Shakuni', and his Twitter timeline has several recent references to the character from the Mahabharata.
PTs beware of Sakuni becoming active on TDK's bidding to brief paid media websites to write against me. India Today's is first. Next ET.

— Subramanian Swamy (@Swamy39) May 1, 2016
Is Sakuni into Narcotics money laundering?

— Subramanian Swamy (@Swamy39) May 1, 2016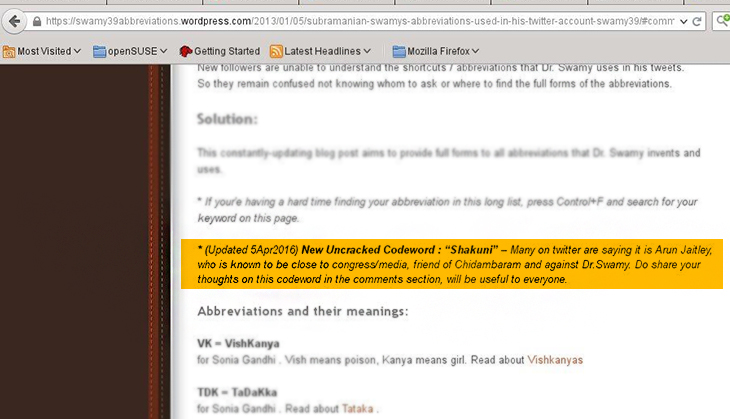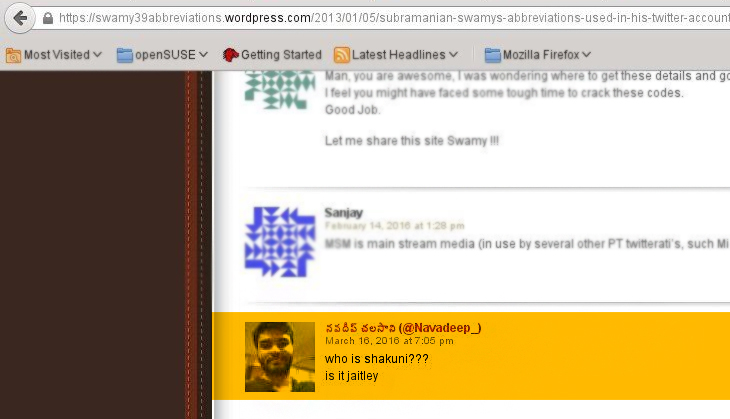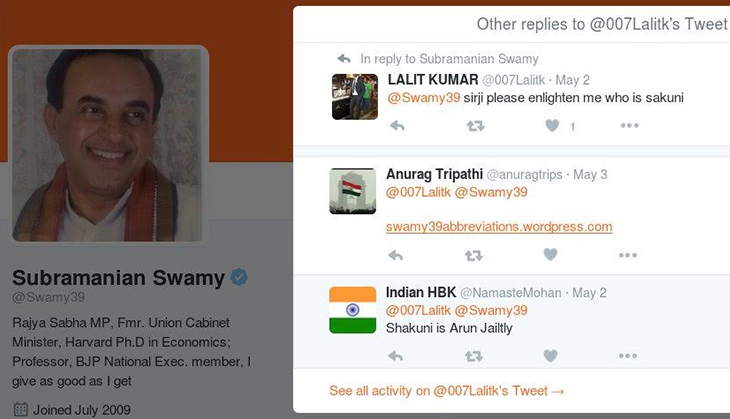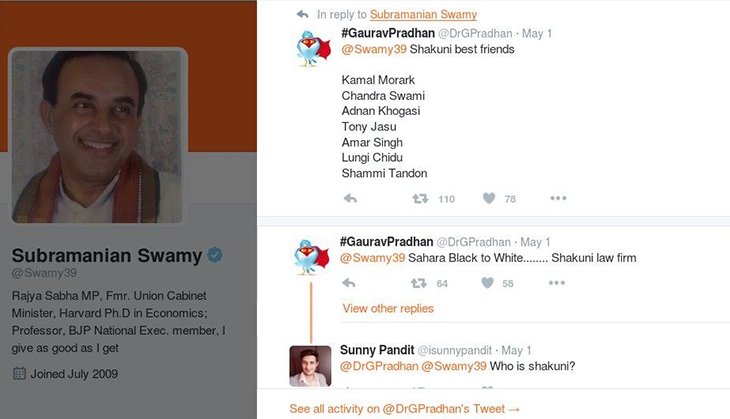 Will he, won't he?
However, there has been speculation about a cabinet reshuffle on at least three occasions in the last two years, and those reports were proved wrong every time.
The PM is said to keep his cards close to his chest, making it impossible for anybody to correctly guess his decisions. In fact, he is believed to have made last-minute changes to several important decisions that have been reported earlier, like Rajya Sabha nominations.
The last one, to nominate the head of the All World Gayatri Parivar, Pranav Pandya, to the Rajya Sabha, has backfired on him, as Pandya has turned the offer down after his name was announced.
More in Catch - Watch: How Swamy tore into Congress in Rajya Sabha on AgustaWestland
Swamy challenges expunging of his comments in Rajya Sabha