Is Kalyan Singh BJP's possible CM candidate for UP?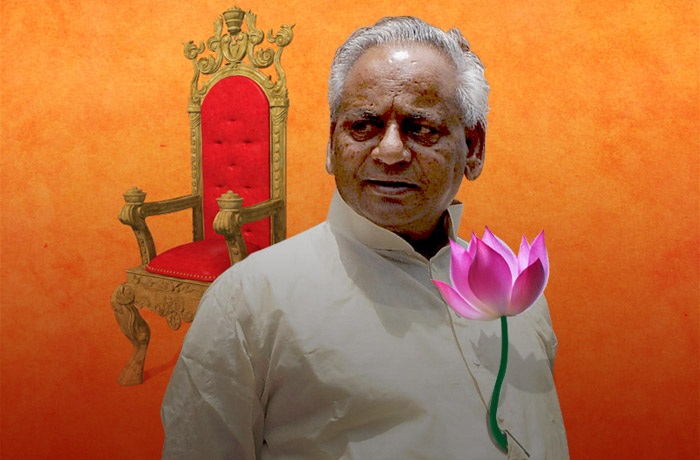 What works for Kalyan
Kalyan Singh was once known as Hindu Hridaya Samrat
His tenure as UP CM is known for good governance
What doesn\'t work
Kalyan\'s detractors are still aplenty in the party
His age is a big minus point
He was once called the 'Hindu Hridaya Samrat': the Babri Masjid was demolished during his chief ministership; but his tenure is also remembered for a relatively better law-and-order situation in Uttar Pradesh. And now Kalyan Singh may be back.
Whispers in Bharatiya Janata Party's corridors suggests that the Rajasthan governor could be brought back to active politics to lead the 2017 UP Assembly polls campaign.
Singh himself hasn't said as much. Though on Tuesday he said the next UP CM will be from the BJP, without caring much about the constitutional responsibility he holds.
Until now, there is no final decision on who would be the party's chief ministerial candidate, but Singh was "being considered", according to a source in the BJP brass and his close aide.
Also read: Will Smriti Irani be the Kiran Bedi of Uttar Pradesh?
Singh was a popular CM. He beefed up the state administration, controlled crime and the mafia and enforced a transparent examination process. After the demolition of the mosque, he resigned immediately.
At one point, the popularity of this backward-caste leader had unnerved the Bharatiya Janata Party's central leadership. Following fights with Atal Bihari Vajpayee, he quit the party and joined hands with Mulayam Singh Yadav. He even tried to float his own front, but that didn't quite work. Ultimately, Singh returned to the BJP.
In favour of Kalyan
Since Singh's departure, the BJP has steadily slipped in Uttar Pradesh. It has several national- and state-level level leaders from the state, but that has hardly helped, excep in the 2014 general election.
The party won 73 of the state's 80 Lok Sabha seats, riding the Modi wave. But in less than two years, the party is not confident about winning next year.
Singh, so far, is the biggest face among active BJP leaders. Others like Murli Manohar Joshi, Rajnath Singh and Kalraj Mishra are not as popular and not seen as mass leaders. Home Minister Rajnath Singh, another big name from the state and an important minister in Kalyan's Cabinet, is also not interested in shifting back to state politics.
As Kalyan represents the backward castes, he helps to bring in the numbers. Upper caste leaders may not be on good terms with him, but they can't ignore his credentials of Hindutva and good governance.
He can made a dent in the Samajwadi Party votes, bring together Hindu-minded voters and also appeal to the middle class - a winsome combination. In these times when the BJP is silently pushing the Hindutva agenda in UP, Kalyan may succeed in bringing everybody together and be acceptable to all - from party supporters to the RSS cadre. He has a personal rapport with many and knows the people in the state quiet well. He is known for his connect with the people in each and every district of the state.
Not in favour of Kalyan
His age -- 84 years -- is Kalyan's biggest negative: The mobility and energy that would be needed for the poll campaign may prove to be too much for him.
There is still some discontent with him amongst many in the party . He has to re-work those equations. Upper-caste leaders, particularly, don't like him much.
He had earlier accused his Cabinet colleagues of sabotage. It will be a challenge to bring them back on to the same page with better synergy.
The biggest problem for the party seems to be too many cooks. Experiments like Uma Bharti leading the election campaign had failed badly. A repeat wont be a surprise. Many senior leaders at the national level would not like to see Kalyan gain popularity and control over the party in Uttar Pradesh. That could become a challenge for them later. No one wants a bigger set of contenders for the top job in the state than them.