Is BJP trying to rope in Swami Aseemanand for West Bengal?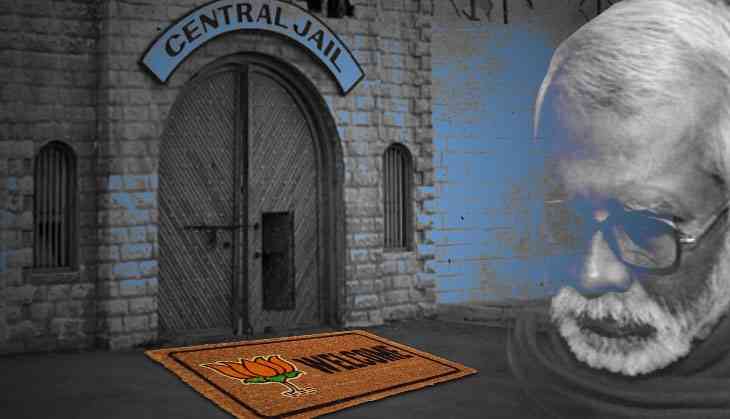 Barely a day after Swami Aseemanand's acquittal in the Mecca Masjid blast case, the West Bengal BJP is said to have begun efforts to reach out to him.
Sources in the West Bengal BJP said that state unit president Dilip Ghosh spoke with Aseemanand's brother Sushanta Sarkar, who is the district secretary of the BJP in Hooghly, to take the Hindutva preacher's number.
A senior BJP leader said "West Bengal BJP unit is considering utiising Swami Aseemanand's skills of organising Advasis to increase the BJP's strength in Bengal. He has already set up different Adivasi student hostels in Purulia, Bankura, Coochbehar, Alipurduar and Siliguri".
On 16 April, the special NIA court acquitted all the five accused including Aseemanand in the Mecca Masjid blast case. The blast took place on 18 May, 2007 which claimed nine lives. As many as 58 people were injured in the blast.
Sushanta Sarkar further said " On Wednesday, Dilip Ghosh called me up and took the phone number of my brother. I am unaware whether the state BJP is thinking of inducting them in the party or not. I have not been informed about any such development. I gave Swami Aseemanand's phone number to Ghosh."
Sources in state BJP said that Aseemanand has set up 25 Adivasi students hostel in Purulia and around 10 Adivasi student hostels at Jhilmil in Bankura. In Coochbehar and Alipurduar too he has set up many hostels. Before his arrest, he was largely based in Gujarat as the government there was favourable to his activities.
According to West Bengal BJP chief Dilip Ghosh, "It's true that I contacted Sushanta Sarkar and took Swami Aseemanand's phone number. I will contact him and there are plans to take him to various villages ahead of the panchayat elections".
According to Ghosh, Aseemanand has worked with the Adivasis and so he will have a natural rapport with them.
Aseemanand's real name is Nabakumar Sarkar and he hails from West Bengal. In the mid 90s, he launched a campaign against Christians in South Gujarat's Dangs district, with the help of the RSS. Many of these Christians were poor and Aseemanand is said to have converted them to Hinduism. Subsequently, his network and activities also grew and he set up many schools for Adivasis in the state. In 1998, Gujarat also witnessed violence against tribal Christians, which many blame on the activies of Hindutva outfits like Aseemanand's Vanvasi Kalyan Parishad.