Is Amar Singh about to take the fall for the Mulayam family feud?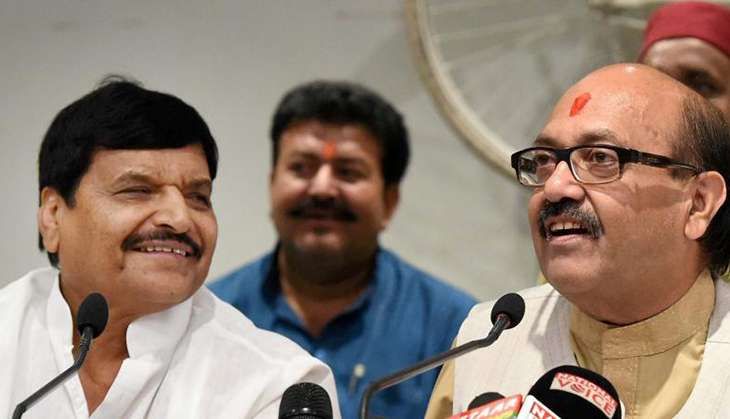 As the curtains were being lowered on the Mulayam Singh Yadav family feud, the focus shifted to the big outsider in the Samajwadi party - Amar Singh.
The self-proclaimed Thakur leader has lived up to his reputation of causing discord in prominent families - remember the Ambanis and the Bachchans - as both Akhilesh Yadav and Ram Gopal Yadav expressed their disapproval of "outsiders' interfering in the party's and government's affairs.
Speaking after an event at his official residence Wednesday, Chief Minister Akhilesh blamed "kuchh baahree log" (a few outsiders) for the crisis in the party. "They are disrupting the government's functioning and this kind of interference won't be tolerated."
Also Read: Shivpal vs Akhilesh vs Mulayam: where will the Samajwadi Party drama lead to?
The party's general secretary Ram Gopal Yadav, who is on the same page as Akhilesh on various contentious issues bothering the ruling family, was more forthcoming on the role of "outsiders" in the party when he spoke to the media on Thursday. Initially, Ram Gopal said he would talk to the chief minister as to what he wanted to say about "outsiders". But later, without naming Amar Singh, Ram Gopal elaborated, "Some people are taking undue advantage of Netaji's simplicity. They don't have the party's interest in mind and keep instigating him."
In a more direct attack on Amar Singh, the SP general secretary added that someone who isn't a "Samajwadi" can't be a "Mulayamwadi", that is, "he is not interested in the party. The party can go to hell".
Amar Singh has repeatedly said he's a Mulayamwadi (follower of Mulayam), not a Samajwadi (party man). "I reside in Mulayam's dil (heart) and not dal (party)," he recently told reporters.
It was people like these, Ram Gopal went on to say, who were instrumental in creating the post of 'prabhaari' (in-charge) when no provision in the party's constitution allowed for it. Shivpal Yadav was made the SP's Uttar Pradesh in-charge before being appointed full time president.
Asked if a move was afoot against Amar Singh, Ram Gopal said there is a general perception among the party's workers and leaders as well as other people that this outsider in the party is Amar Singh.
Also Read: Uttar Pradesh: palace intrigue has left Akhilesh Yadav powerless, SP rudderless
Shivpal, who said he was unaware of being made the party's state president, meanwhile, made the fault lines in the family clearer. Asked for his reaction to Ram Gopal's views on Amar Singh, Shivpal said one has to take diverse people along to strengthen the party.
Shivpal, who claimed he was also not informed of his ministerial portfolios being taken away by the chief minister, said the appointment of 'prabhaari' was Mulayam's decision.
Thursday's developments proved that while Akhilesh and Ram Gopal are working in tandem, Shivpal has the counsel of Amar Singh to rely on.
A few weeks ago, Shivpal had threatened to resign as ministers as officers were not heeding his orders. As if on cue, Amar Singh also read out a litany of complaints against Akhilesh, who, he claimed, was never accessible over the phone. The chief minister's officers too did not listen to him, Amar Singh had said.
Amar Singh's other grouse was the seating arrangement in the Rajya Sabha where he was made to sit behind Ram Gopal and Naresh Agarwal.
By sacking UP chief secretary Deepak Singhal, apparently for attending Amar's Singh's party at a five star hotel in Delhi recently, Akhilesh made clear his aversion for the man whose actions as chairman of the State Development Council during Mulayam's regime had spawned the term "crony capitalist".
Singhal was appointed chief secretary only on the insistence of Amar Singh and Shivpal.
With Akhilesh and Ram Gopal winning this round of the stage-managed family fight, all eyes will now be on their next move which, in all likelihood will be targeted against Amar Singh. Perhaps aware of what is to come, Amar Singh said Wednesday that if Mulayam "says I am the culprit, I'll accept it".
Also Read: Sacked ministers & illegal mines: is Akhilesh making a last-ditch effort to change things?