India-Pak FS talks over: Islamabad press statement starts and ends with Kashmir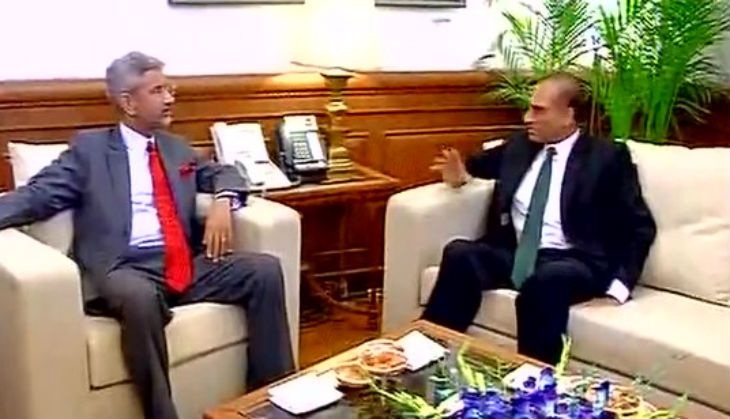 Pakistan Foreign Secretary Aizaz Ahmad Chaudhry met his Indian counterpart S Jaishankar at the South Block in New Delhi after arriving in the national capital on 26 April. He is also slated to attend the senior officials' meeting of the 'Heart of Asia'-Istanbul Process conference.
Pakistan High Commissioner Abdul Basit, after the meeting, said in a statement "The meeting provided a useful opportunity to exchange views on recent developments in bilateral context. In line with our Prime Minister's vision of peaceful neighbourhood, the Foreign Secretary underscored Pakistan's commitment to have friendly relations with all its neighbours, including India."
"All outstanding issues including the Jammu and Kashmir dispute were discussed. The Foreign Secretary emphasized that Kashmir remains the core issue that requires a just solution, in accordance with UNSC resolutions and wishes of the Kashmiri people," he added.Pakistan High Commissioner Abdul Basit received Foreign Secretary Chaudhary at the Indira Gandhi International Airport.
Read More: Pak breaks dialogue protocol by releasing statement before FS talks conclude 
Talking about the 20-minutes long meeting, Vikas Swarup, MEA spokesperson said, "FS clearly conveyed that the Pakistan cannot be in denial on the impact of terrorism on the bilateral relations."
"FS also brought up issue of listing of JeM leader Masood Azhar in the UN 1267 Sanctions Committee," he added. 
Vikas Swaroop informed media that issues like Pathankot terrorist attack investigation and Mumbai case trial in Pakistan were also discussed in the meet as the foreign secretary emphasised on the need for early & visible progress in both the cases.
He also said, "We pressed for immediate consular access to Kulbhushan Yadav, former naval officer, abducted and taken to Pakistan."
A meeting between the Indian and Pakistani foreign secretaries to restart the Comprehensive Bilateral Dialogue (CBD) was derailed after the Pathankot terror attack.
Since then, no date for talks between the Foreign Secretaries was decided, but both sides have been in touch regarding the matter.
India is expected to raise the issue of the Pathankot attack investigation, apart from discussing modalities of resuming the CBD.
The foreign ministers of both nations had met during the SAARC summit in Nepal in November last year. However, the Pathankot attack acted as a speed-breaker in the talks process.
-With ANI inputs