In retaining Karnataka Cong status quo, Rahul misses chance to assert himself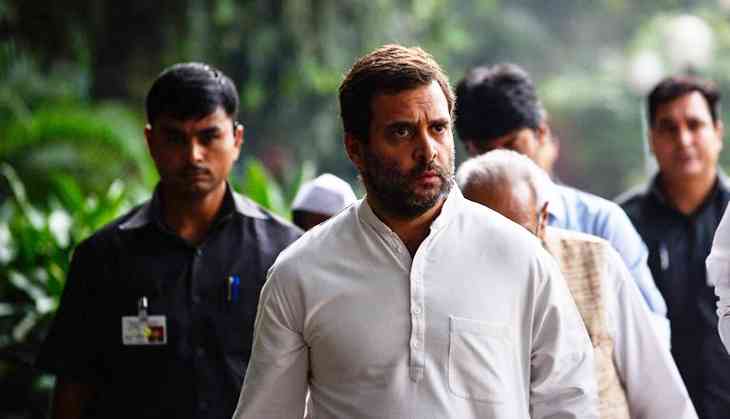 If the exercise to change the Karnataka Pradesh Congress Committee (KPCC) president is anything to go by, Rahul Gandhi has some way to go before he gets a firm grip on party affairs.
With his mother and Congress president Sonia Gandhi gradually withdrawing from major decisions, party vice-president Rahul has been pushed to take control of a largely loyal and docile party bandwagon. But his hand still appears a little wobbly at the wheel.
Why a change was sought
With Karnataka slated to go to the polls by April next year – the only major state where the Congress still rules – the party decided about two months ago that it should replace KPCC president G Parameshwara and other office-bearers, and bring in a more dynamic and energetic team that could better strategise on retaining power.
As a first move, veteran leader Digvijaya Singh, who had apparently messed up government formation in Goa, was asked to vacate his post as Karnataka in-charge, and was replaced by KC Venugopal, a young party secretary from Kerala – a state which has special relationship with Karnataka, with AK Antony and K Karunakaran having handled it for years.
Venugopal camped in Bengaluru for weeks, holding a series of meetings with senior and junior leaders from across the state. One of the mandates given to him was to find a successor to Parameshwara and identify the others who could be drafted for party work in an election year.
After all, Parameshwara, appointed as KPCC president in October 2010, had overstayed in the post by a long way. Even after being made a minister in the Siddaramaiah cabinet last October, he had continued with dual responsibilities, contrary to the party's tradition, as there was no consensus on his successor.
The aspirants
When the deliberations began, energy minister DK Shivakumar made a strong pitch, saying that since Siddaramaiah was seen as heading an 'Ahinda' (the Kannada acronym for SCs, OBCs and minorities) government, he would be able to mobilise the Vokkaliga community to which he belonged.
Shivakumar, who has effectively countered former Prime Minister HD Deve Gowda family in parts of south Karnataka, is seen as a go-getter with a good following, but he has rubbed many seniors the wrong way with his brashness.
To counter Shivakumar's candidature, Siddaramaiah proposed the names of SR Patil and MB Patil, both Lingayats, another major community supposed to have largely distanced itself from the Congress. As BJP leader Yeddyurappa is a Lingayat, Siddaramaiah hoped to make a little dent in his vote bank.
KH Muniyappa, a seven-time Congress MP from Kolar, who hails from one of the lowest rungs of Dalit society, also threw his hat into the ring, saying his community had so far got a raw deal from the party, despite consistently backing it.
It was always going to be a tough call, but after taking everything into consideration, it appears that Venugopal favoured Shivakumar for the president's post, with the others being suitably accommodated elsewhere.
But, in a sudden turn of events, Parameshwara insisted that he wanted to continue as KPCC chief, and was ready to give up ministership. He found surprising support from Mallikarjun Kharge, a fellow Dalit, who has gained stature over the last three years as the party's leader in the Lok Sabha.
What Rahul did
As a climax to the whole exercise, Rahul Gandhi invited 18 senior party leaders from Karnataka to his residence in Delhi earlier this week to take a final decision.
It was one of the few occasions where Rahul was required to take a major decision without guidance and help from either his mother or any other senior party functionary. After three hours of intense deliberations with the Karnataka leaders, both individually and as a group, he decided to go with the majority opinion – of maintaining status quo.
Now, if a change was contemplated and desired, it did not happen. Second, by not asserting his authority, in the eyes of many observers, it appears that Rahul flunked the test.
In hindsight, it seemed that the Karnataka leaders, with three-four decades of political experience, were more eager to ensure that the status quo was maintained, rather than allowing a perceived 'adversary' to take control of the party when elections were round the corner.
Siddaramaiah was determined to block Shivakumar's entry, more than having one of his nominees appointed; Kharge, a chief ministerial aspirant, preferred an 'amiable' Parameshwara to continue rather than seeing another CM contender in the post; Parameshwara, on his part, was ready to give up his ministerial job, so that he would preside over ticket distribution for a second term – something no KPCC president had so far managed; Shivakumar found no support except that of his brother – DK Suresh, a Lok Sabha MP.
Sources say most leaders put forward the argument that replacing Parameshwara, a Dalit, at this stage, would send out the 'wrong message' to the community, especially when the BJP was going all out to woo them. There were no takers for Muniyappa, as he has earned the reputation of being the 'Deve Gowda' of the Congress – one who allegedly ditches those who help him.
Shivakumar's chances were also reportedly scuttled by Deve Gowda, who met Sonia's confidante, Ahmed Patel, to warn him that Shivakumar would be a major hurdle should the Congress seek JD(S)'s support in a post-election scenario.
Massaging egos
With so many pulls and pressures in operation, it seems that Rahul was boxed into playing it safe and agree to let Parameshwara remain KPCC chief.
In a bid to assuage hurt egos in the party, Shivakumar was named as chairman of the campaign committee, SR Patil as additional working president, along with Dinesh Gundu Rao, and Muniyappa as a special invitee to the Congress Working Committee.
Being loyal party men, no doubt, everyone will accept Rahul's decisions. But, the prince-in-waiting himself will be left wondering whether he missed a trick or two in making the right call to enhance the party's prospects in a crucial election.