In Bengal, Amit Shah urges BJP workers to pay back in the same coin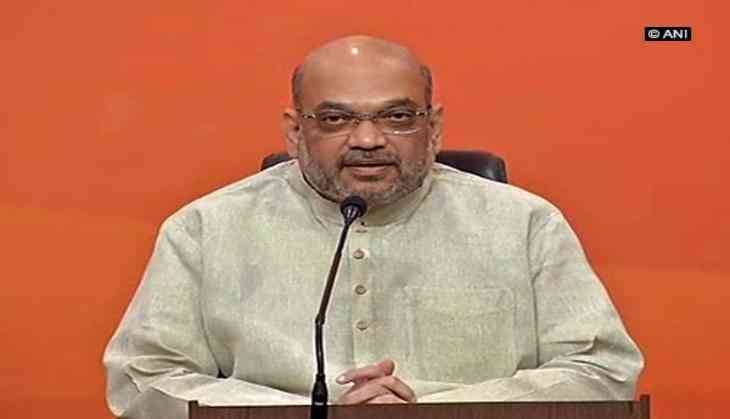 BJP president Amit Shah has instructed his party leaders to be more proactive and take part in activities aimed at spreading the base of the party in West Bengal.
Amit Shah is on a three day visit to Kolkata.
The state BJP said that Shah went to Swami Vivekananda's ancestral home in Kolkata 11 am to pay his floral tributes and then he spoke to party workers in a meeting that lasted several hours.
In the meeting Shah instructed that each party worker should take responsibility of two booths in an area.
A senior BJP leader disclosed that Shah had instructed party workers to respond in the same coin against the ruling Trinamool Congress.
"BJP president has told us not to narrate tales of getting beaten up by goons of any political party in Bengal. He told us to inform him only when BJP workers paid them back in the same coin," the leader narrated.
Sayantan Basu state general secretary said "Shah heard BJP workers' problems and instructed them that they have to work hard. As of now there are around 40,000 BJP workers in West Bengal and there is a need to increase the number of party workers to 1.5 crore."
Sources said that Shah expressed his dissatisfaction at stories of BJP workers being attacked by TMC cadres.
"He directed us to be bold enough to face such challenges and to hit back whenever required. He said that his main target is to form the government in West Bengal," a BJP leader said.
On Tuesday Shah is expected to meet with industrialists and hold another meeting with party workers.
A senior BJP leader said "In the meeting, Shah told us that if BJP can form the government in Uttar Pradesh, then they can also form government in West Bengal as the people want an alternative government. Party leaders need to be more vocal and expose the state government more forcefully".
However, the TMC doesn't seem to be worried.
Partha Chatterjee, state parliamentary affairs minister, said "We are not afraid of BJP. The BJP president can encourage his party workers to spread their base in West Bengal. But we are confident that the people of West Bengal are not in favour of BJP. They are trying to spread communal politics. The people of West Bengal hate communal politics".
Dilip Ghosh, state BJP president said "TMC is afraid because of Amit Shah's visit to Kolkata. Till now the state government has failed to arrest any leader in connection with the Basirhat riot that occurred a few months back. We will raise the issue soon."