If you can't beat 'em get 'em to join you: How BJP plans to split Trinamool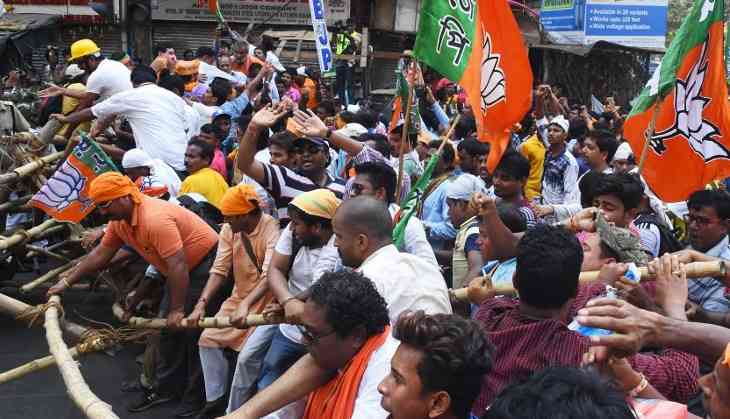 After its successful political coup in Bihar, the Bharatiya Janata Party may well be on course for a similar bid in West Bengal. For that it may try to engineer a split in the ruling Trinamool Congress.
"West Bengal features prominently in the BJP's pan-India ambition," a senior BJP leader said and claimed that more than half of Trinamool's 211 legislators were willing to cross over. The West Bengal Legislature has 294 members.
"Politics is a numbers game and every party wants to increase its numbers. We're in power at the Centre and naturally looking to increase our footprint across India. Sometimes the goal becomes bigger than means. Everything is fair in today's politics," he said.
With Trinamool Congress embroiled in scams and several scam-tainted party leaders desperately trying to evade arrests, the BJP is looking to fish in the troubled waters by wooing some of the big names in Trinamool and derail Mamata Banerjee's government, sources said.
Among those that some BJP leaders are in touch with are senior Trinamool leaders like Mukul Roy, Sovan Chatterjee, Subrata Mukherjee and Sisir Adhikari. The first three have been accused in the Saradha and Narada scams.
In April, the Central Bureau of Investigation (CBI) filed a first information report related to the Narada scam against:
* Sultan Ahmed, who was a Lok Sabha member from Uluberia; he died Tuesday
* Mukherjee: West Bengal's Minister for Panchayat and Rural Development and for Public Health Engineering
* Firhad Hakim: Minister for Urban Development and Municipal Affairs
* Kakoli Ghoshdastidar: Lok Sabha member from Barasat
* Suvendu Adhikari: son of Sisir and Minister for Transport
* Madan Mitra: a former minister and Saradha scam accused, now out on bail
* Mukul Roy: former Union railways minister, who the party removed from the parliamentary consultative committee of the home ministry Tuesday
* Sovon Chatterjee: Mayor of Kolkata Municipal Corporation and also a legislator
According to some Trinamool sources, such prominent leaders now fear that they may be arrested before the 2021 Assembly elections.
Also, many disgruntled leaders who are not sure of getting tickets for the next polls are in touch with the BJP.
According to a party source, the BJP is talking too Suvendu, who was earlier summoned by the CBI and who has significant influence among the Trinamool cadres.
The BJP earlier tried to rope in Mukul Roy to engineer a split in Trinamool but those efforts were unsuccessful. Now the saffron party is looking to win over some other influential Trinamool leader and Suvendu has emerged as an alternative, sources said.
The BJP's West Bengal unit president Dilip Ghosh, however, denied such moves. "We're not asking anyone to join us. But we have received calls from various Trinamool MLAs, expressing their desire to join the party," he said.
The BJP was trying hard to expand its influence in all possible ways. Reportedly, the Akhil Bharatiya Vidyarthi Parishad and the BJP's minority and women's wings have seen a surge in membership, Ghosh said.
According to party sources, Bengal BJP has decided to use the experience of thousands of its workers who were sent to Uttar Pradesh ahead of the Assembly elections there to pick up strategies and campaign ideas.
For the next four years, Bengal will be election-bound:
* In 2018, a bulk of the Panchayats will go to polls
* In 2019, the general elections are scheduled
* In 2020, several municipalities are poll-bound
* In 2021, there will be Assembly polls
Notably, the BJP's vote-share has gradually increased in the state. The party won two Lok Sabha seats in 2014 while in the 2016 Assembly elections it won four seats.
Edited by Joyjeet Das