Modi govt endorses Mother Teresa. Now BJP must ask RSS to say sorry
On Mother Teresa's birth anniversary, the NDA government must be acknowledged for offering tributes to her from the highest levels.
Mother Teresa will be canonised in the Vatican City on 4 September and the government has decided that a representative, of no less a stature than the External Affairs Minister, will lead the Indian delegation to attend the ceremony.
However, before the delegation led by Sushma Swaraj leaves, the BJP must put some things straight.
Foot in the mouth?
RSS chief Mohan Bhagwat had sought to convey on 23 February last year that Mother Teresa's service to the poor and the destitute was only a facade behind which she and her organisation carried out religious conversions.
Speaking at the inauguration of an orphanage and a women's home in Rajasthan's Bharatpur, Bhagwat said, "Here we will not provide service like that rendered by Mother Teresa."
While he did show some courtesy by considering the possibility that "her kind of work was good", but his real message was the emphasis on whathe called "a motive behind that service."
"It was to convert those she served to Christianity," Bhagwat went on, demolishing in one stroke the value of years of service to the poor done by her.
These statements became a cue for the RSS' army of volunteers to unleash a massive smear campaign against Mother Teresa and the Missionaries of Charity.Also read:Mother Teresa was part of a 'conspiracy for Christianisation of India': Yogi AdityanathChristopher Hitchens' work on her was dug out and social media campaigns were run on it. Right-wing writers wrote commentaries saying there have been reports proving that her reputation did not stand up to scrutiny.
And a backlash
Opposition parties slammed Bhagwat as well as the Union Government and there was an uproar in Parliament.
However, neither Prime Minister Narendra Modi nor anybody else in his government came to Mother Teresa's defence.
All that Union Minister Venkaiah Naidu could tell the Parliament was, "I can give an explanation on what the government says, not on what some party's chief or general secretary says".
Balconies at an apartment building where Mother Teresa's procession passes are crowded with mourners 13 September. Calcutta came to a standstill Saturday to bid farewell at the funeral of Mother Teresa. (AFP Photo/Emmanuel Dunand)
Making amends?
Against that background, it is a welcome development that the Modi-government has decided to endorse Mother Teresa's canonisation by the Roman Catholic church.
It simply means that the BJP accepts the Church's view that Mother Teresa was a modern-day saint and a miracle worker.
And it is not that the BJP had a choice! Mother Teresa was loved not just by millions in India but by the entire international community. She was a Bharat Ratna and a Nobel Peace Prize Laureate. A democratically-elected government can not ignore that. A radical outfit with no accountability can and that in essence is the dichotomy of the BJP-RSS combine and its relationship with the society at large.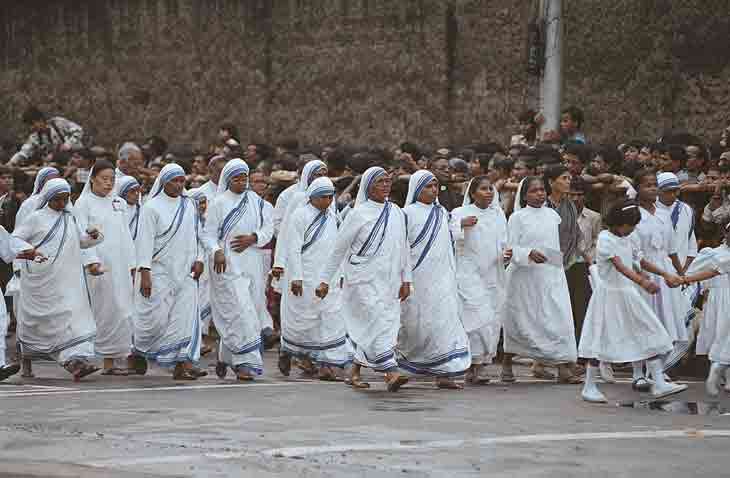 Nuns at Mother Teresa's funeral procession (Peter Turnley/Corbis/VCG via Getty Images)
Letting it go too easy
Even as RSS workers fight tooth and nail in defamation cases in defence of the organisation, Bhagwat simply got away after maligning a global icon of selfless service. The Modi-government did not say anything in his support but did not challenge him either, letting him get away scot-free. The decision to send an official delegation to attend the canonisation and getting the foreign minister to lead can not be taken to be the government's belated reply to the RSS chief. It was imperative for them to speak up then, but they chose not to. A window of opportunity has opened once again. Before the Vatican event next month, the government must seek Bhagwat's accountability for his words and actions. They must begin by asking him unequivocally to apologise to Mother Teresa, the Missionaries of Charity and the millions of poor whose lives they touched.
Edited by Jhinuk Sen
Also read:
Meeting point Vatican: Mother Teresa's canonisation to bring together Mamata & Sushma
Also read:
Arvind Kejriwal to attend Mother Teresa's sainthood ceremony in Rome
Also read:
Filmmaker who was rescued by Mother Teresa as a child returns to India to pay homage