How 16 closely fought seats deprived Congress of a win in Gujarat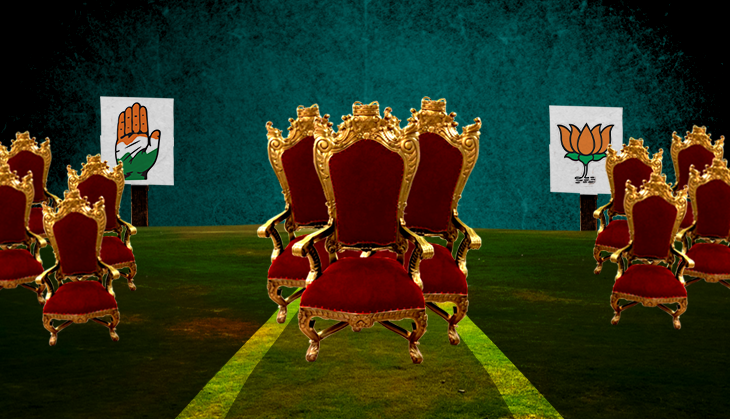 Despite the wide 7.7% gap between the BJP and Congress' vote share, there are as many as 16 seats which the Congress lost by 3,000 votes or less.
The seats could have made a difference if one looks at the final tally with Congress and its allies managing 80 seats in the 182 member Assembly, 12 short of the majority mark. There are seven seats where the victory of margin was less than 1000 votes--Congress won four (Kaprada, Mansa, Dangs and Deodar), while the BJP won at the remaining three places (Dholka, Godhra and Botad).
There are as many as four constituencies in this list which the Congress had won in the 2012 elections. Godhra, for example remains with CK Raulji who won it by 2868 votes in 2012, when he was with the Congress. In 2017, fighting on a BJP ticket, he won by a thin margin of just 236 votes.
Similarly, in Himatnagar, which was won by the Congress by a comfortable margin of over 12,000 votes in 2012, has been wrested by the BJP's Rajubhai Chavda who won by a thin margin of 1712 votes. This is a seat with a sizeable population of Thakors and Patidars--two communities which the Congress was banking on.
Prantij another constituency in North Gujarat with Thakor voters in abundance was won by the BJP. In 2012, the Congress had won it by over 7,000 votes.
Vijapur, in the heart of the Patidar agitation-affected Mehsana district, is another constituency which the Congress had won in 2012 by over 8759 votes but lost it to BJP in 2017 by 1164 votes.
Meanwhile, Umreth in Anand District, is another seat where BJP managed to just scrape through with a thin margin. The seat was won by NCP in 2012.
The other 11 seats include Botad in Saurashtra, Dabhoi in Vadodra where Congress top leader Sidharth Patel lost the polls, and Visnagar in Mehsana--seats with a sizeable Patidar voters, Vagra, which has a sizeable percentage of voters from the minority community, Porbandar where Congress' former state chief Arjun Modhwadia lost to Babu Bokhiriya of the BJP, and Dholka, Fatepura, Gariadhar, Khambhat, Matar, Rajkot Rural.
BJP's margin of victory has fallen considerably on many of these seats which it just managed to win in these polls. For example Botad, Porbandar, Visnagar, Vagra, Gariadhar, Khambhat, Rajkot Rural are constituencies that the BJP won by more than 10,000 votes in the last elections.
As per the ECI data, BJP's victory margin is less than 5 percent on 24 seats as compared as compared to 22 in 2012. It is 10 percent or more on only 61 seats.
Interestingly, there are nine assembly constituencies which the Congress won by a whisker, that is 3,000 votes or less. These include Chhota Udaipur, Dangs, Deodar, Dhanera, Jamjothpur, Kaprada, Modasa, Mansa, Sojitra, Talaja and Wankaner. Congress, too, had a tough time on some of these seats like in Kaprada, where it won by over 18,000 votes in 2012, but could only manage to get a 170 vote lead in 2017.
Meanwhile, there were 34 seats in 2012 elections where the victory margins were less than 5000 votes. The BJP had won 12 of these seats then. In 2017, it managed to win 10 of those-- Anjar, Godhra, Jamnagar(S), Kadi, Kankrej, Mehmedabad, Rajkot (East), Sanand, Sankheda and Umreth,