Home secy Goyal sacked: is this the hardest job in Modi's govt?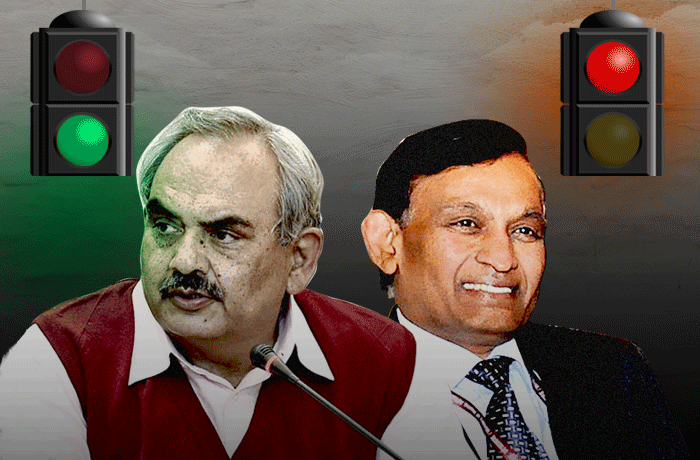 The sacking
LC Goyal was removed as home secretary on 31 August
His request for retirement was instantly approved, and the govt waived off the notice period
Goyal was a hasty replacement for previous home secy Anil Goswami, who was sacked in Feb
The reasons
Goyal was reportedly unhappy at being sidelined on the Naga peace talks
He had blocked clearances to Sun TV, which had put him at war with Arun Jaitley and the I&B ministry
He had also refused to hasten the probe into Teesta Setalvad\'s NGO
His replacement, Rajiv Mehrishi, was handpicked by the PM to work at the MHA
Mehrishi would have retired on 31 August if he was not given the top job
The job of home secretary seems to have become a minefield. With the removal of LC Goyal from the post, the Ministry of Home Affairs is buzzing with surprise. Goyal is the second home secretary to be sacked in a span of seven months.
Rajiv Mehrishi, the former finance secretary, has been given charge of the post on 31 August.
Great haste
According to ministry officials, Goyal's offer to seek voluntary retirement was approved on the same day it was made - 31 August. The government even offered to waive off his mandatory notice period.
"Request for voluntarily retiring from service (has been accepted with) immediate effect by waiving the notice period," read the notice issued by the Department of Personnel and Training (DoPT).
Looking back at the last seven months, it can be said said with reasonable confidence that the MHA is a tough place to work if you are its top officer.
Goyal, a Kerala cadre IAS officer of the 1979 batch, was appointed home secretary on 5 February with a two-year fixed term.
He himself was hastily brought in as a replacement for Anil Goswami, who was let go over reports of his interference in a CBI probe, allegedly on behalf of a Congress leader.
Theories abound
There are three theories being cited for the government's urgency in replacing Goyal.
The first is that Goyal was unhappy at being left out of the Naga peace talks. It is also said that the unhappiness of the chief ministers of Assam, Manipur and Arunachal Pradesh originated from his office.
The second rumour is the rigid stance he'd taken in not giving clearance to Sun TV and the network's FM radio channels.
Clearance to Sun TV channels had caused a fissure between the Home and Information and Broadcasting ministries headed by Rajnath Singh and Arun Jaitley respectively. Goyal's stand on the issue, which was to not grant Sun TV any licence, was widely known.
Goyal's sacking is the government's third big move concerning a top bureaucrat in this calendar year
In fact, Bimal Julka, the I&B secretary who retired in July this year, wrote several letters to Goyal, asking him to reconsider the issue. Goyal flatly refused.
The third issue which is said to have pit the top rung of the government against Goyal was the slow pace of investigations into Teesta Setalvad's NGO, which was alleged by the CBI to have received foreign aid illegally.
On this issue as well, Goyal is said to have refused to show any haste and made his intentions to 'go by the book' quite clear.
Teesta's NGO, Sabrang Trust, was alleged to have received over Rs 1.3 lakh illegaly from the Ford Foundation. Teesta is part of Zakia Jafri's team, which has petitioned the Gujarat High Court to reopen a case of criminal conspiracy against Prime Minister Narendra Modi and 58 others in the 2002 Gujarat riots case.
The Mehrishi factor
Another rumour doing the rounds is that Goyal was replaced by Mehrishi only because the latter was scheduled to retire on Monday.
Mehrishi, who has served as chief secretary of Rajasthan, was earlier handpicked by the PM and 'accommodated' at the MHA. Mehrishi was due to retire as the secretary, department of economic affairs.
According to officials, Goyal's offer to seek voluntary retirement was approved on the same day it was made
Whether Goyal lost is job because of any of these reasons or a combination of them is not really clear, says a senior MHA official.
"Goyal was a seasoned officer. He couldn't sulk for being kept out of the Naga peace talks. Then again, the battle between MHA and I&B was of ministers. The bureaucrats were merely doing their ministers' bidding. Still, one doesn't know. The reason could be any or all of them," the official said.
Goyal's sacking is the government's third big move concerning a top bureaucrat in this calendar year. Before Goyal and Goswami, Sujatha Singh was sacked as foreign secretary and replaced by S Jaishankar in January.