Here's a reminder of what a Hindutva 'nuclear bomb' looks like
Catch Team
| Updated on: 29 October 2015, 17:33 IST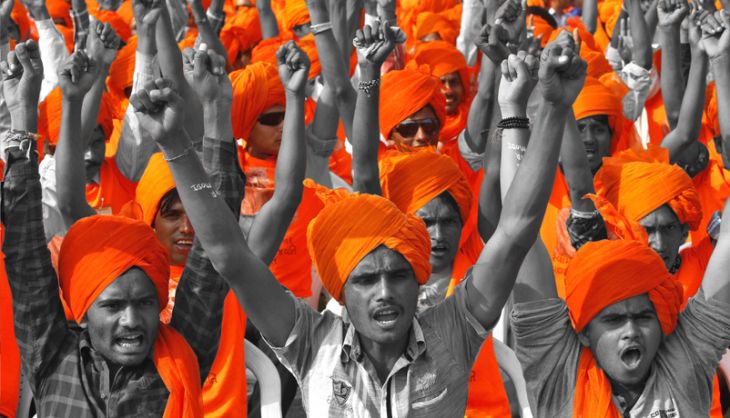 George Orwell once wrote: "To see what is in front of one's nose needs a constant struggle."
The struggle is well and truly on, to make the Government of India see the danger that is bubbling across the country right now.
On Monday, 26 October, petitions signed by about 500 artists, scientists and scholars reached the doors of the President of India.
The petitions expressed concern about rising communal tensions, and urged the government to stop turning a blind eye towards the growing number of recent incidents.
The intellectuals issued a straightforward warning - what the government was doing, by remaining passive to the rising violence by the Hindu right-wing, was setting the stage for a catastrophe.
"A highly-polarised community is like a nuclear bomb close to criticality. It can explode any time and drive the nation to utter chaos," the scientists and scholars wrote in their petition.
"This is a highly unstable atmosphere and we should do everything in our hands to defuse the disparity, and enlighten society in the scientific spirit."
Appreciating the stand taken by the literary fraternity, the scientists went on to state: "This is to start a campaign for scientists in India to wake up... This may be followed by stronger actions akin to the award winners of Sahitya Akademi."
In another petition, nearly 400 artists from various disclipline - some of international repute - also urged the government to act against 'growing intolerance'.
Among them are Anish Kapoor, Padma Vibhushan, KG Subramanyan and several theatre artists.
By Wednesday evening the film fraternity had joined the protests, with 10 fimmakers including Anand Patwardhan and Dibakar Banerjee returning their national awards.
Cause and effect
For some, these petitions were a politically motivated non-event.
But those who can see beyond the end of their noses know that Monday's petitions were part of an unprecedented resistance movement in the country.
Never before have so many people returned the Sahitya Akademi Award, India's second most prestigious literary honour. Writers from more than 150 countries have expressed their solidarity to this cause through PEN International, the world's leading association of writers working to defend the freedom of expression.
'A highy polarised community is like a N-time bomb'... a checklist of how polarised we are
So, what has led to this historic movement? There have been plenty of examples in the last few months that are worrying those who believe in the multicultural fabric of India's society.
While these incidents may not have come out of a single, concerted design, a thread runs through all of them - a surge of confidence among various so-called Hindutva outfits and meek responses by the authorities.
Police action at Kerala House
Nearly 20 police officials conducted an 'inspection' at Kerala House on 26 October, based on a complaint by the leader of a youth Hindu right-wing outfit called Hindu Sena, that the canteen at the guest house was serving beef.
The incident elicited a strong pushback, with everyone from Kerala's parliamentarians to Chief Minister Oomen Chandy asserting that the canteen was serving buffalo meat and would continue to do so.
Other political parties like AAP also reacted strongly to the incident.
Watch: Kerala's leaders rage against Delhi police's beef raid
Violation of the corpse of a Muslim woman
The body of a Muslim woman, who died while she was pregnant, was allegedly exhumed by Hindu men and raped.
While the police in Meerut, where this incident occurred, did not confirm the rape, they did acknowledge that the clothes of the corpse were missing and that the whole incident could have been engineered to stoke communal violence.
But from where could even the most hardened religious fanatic get the idea of raping a pregnant corpse?
Here's a video of a public function in which the speaker exhorts his audience to exhume corpses of minority communities and rape them, while Yogi Adityanath, BJP's MP from Gorakhpur, sits on the stage as chief guest.
Lynching of Mohammed Akhlaq
Fifty-year-old Mohammad Akhlaq was dragged out of his home last month and killed by a mob in Dadri in Uttar Pradesh, following rumours that his family was storing and consuming beef.
Union minister Mahesh Sharma called it a mere accident, while another Union minister, Sanjeev Balyan, called it a 'spontaneous act' in reaction to incidents of cow-slaughter in Uttar Pradesh.
BJP MLA in UP, Sangeet Som, accused the Samajwadi Party government of appeasing the minority community "like it had done two years ago" and "helping those who had slaughtered a cow". He also threatened to give a "befitting reply" if "innocents were framed" for the lynching.
Adityanath, too, sought to justify the lynching as a reaction to cow-slaughter. An outfit floated by him offered all possible help "including guns" to the Hindus of the village, as it alleged that they were being hounded following the lynching.
Lynch Muslims, rape their dead and blacken the face of those who come in between... India today
BJP MP Sakshi Maharaj stoked the fire further by saying said "we are ready to kill and get killed" to protect cows from slaughter.
A cover story in RSS mouthpiece 'Panchjanya' defended the lynching, explaining that the authority to kill 'cow eaters' came straight from the Vedas.
Murder of a Muslim driver
Two Muslim youth sustained severe burn injuries when some miscreants attacked a Valley-bound truck parked outside a local hotel in Udhampur, by throwing inflammables onto the truck. One of the youths succumbed to his injuries a few days later.
The violence was part of growing number of attacks against Muslims accused of smuggling cows.
Attack on J&K MLA
Sheikh Abdul Rashid, an independent legislator in Jammu and Kashmir, was beaten up by BJP MLAs inside the Assembly for hosting a beef party. Less than a fortnight later, Hindu Sena activists blackened the face of the MLA, better known as Engineer Rashid, with ink and engine oil in Delhi.
Disrupting procession on Muharram
Curfew was imposed in parts of Gwalior, Madhya Pradesh, when Hindu right-wing activists were found to have thrown gulaal (colours used on Holi) on a tazia procession (a mourning assembly taken out by Shia Muslims on Muharram).
Violent clashes followed, which left over a dozen people, including several policemen, injured.
The BJP's own district minority cell functionary, Afzal Beg, was quoted by a news report blaming Hindu fringe groups for the incident.
Police thrashing Muslim youth
It is becoming frightfully common for those meant to serve the people - lawmakers and enforcers - to tell Muslims to go to Pakistan, as if Hindus reserve the sole right to patriotism and citizenship in India.
A Mumbai Police constable thrashed two Muslim youth from Kerala mercilessly, and asked them to go to Pakistan. The incident happened inside Bandra police station.
Following the allegations, Mumbai Police ordered a DCP-level probe, but the final report of the inquiry hasn't come out yet.
Shiv Sena hooliganism against Pakistan
Hooligans claiming allegiance to Shiv Sena disrupted a play being performed by Pakistani actors in Gurgaon. A group of five-six men pulled down Pakistani flags from the stage and shouted slogans like 'Bharat Mata ki Jai' and 'Pakistan Murdabad'.
This vandalism came days after the party forced the cancellation of ghazal singer Ghulam Ali's musical performance in Mumbai, smeared former BJP leader Sudheendra Kulkarni's face with ink, and stormed into the BCCI office in Mumbai and forced the cancellation of talks between Indian cricket Board chief Shashank Manohar and his Pakistani counterpart Shaharyar Khan on the resumption of cricketing ties between the two countries.
In case it helps #GoI wake up from its slumber, here's a list of communal forest fires
After the attack on Kulkarni, Maharashtra Chief Minister Devendra Fadnavis gave a controversial statement. He assured protection to the book launch event of former Pakistani Foreign Minister Khurshid Mahmud Kasuri, but added that this doesn't mean that they endorse all views expressed in the programme.
"No anti-India propaganda will be tolerated through any such program, and if found so, the organisers would be held responsible," Fadnavis said.
Haryana Chief Minister's anti-Muslim statement
Haryana CM Manohar Lal Khattar said Muslims could live in India only if they gave up consuming beef.
RSS chief raises the population bogey
Rashtriya Swayamsevak Sangh chief Mohan Bhagwat called for a need to rise above vote-bank politics, to formulate a holistic approach to a population policy that is equally applicable to all citizens.
In his annual Dussehra address at the RSS headquarters, Bhagwat referred to the facts and figures of the last two census reports and pointed out the "imbalances" that have come to notice.
New syllabus in Rajasthan textbooks
The Rajasthan government decided to introduce a new syllabus from class I to XII in government schools, to eliminate 'cultural alienation'. The new books will have a greater focus on the lives of the country's 'great men' and the history of the state.
Bajrang Dal's recruitment drive
The radical Hindu outfit's planned to recruit 10 lakh volunteers to protect cows. Reports claimed the outfit was already re-training three lakh volunteers to build a notion of "Hindu identity around cows" and attract more people into "the Hindutva fold".
Polarising door-to-door poll campaign
The RSS has reportedly deployed pracharaks in Bihar to frame the BJP's poll campaign as a matter of 'Hindu self-esteem'. The campaign includes telling people about 'five different kinds of Muslims' - some of whom have lifestyles similar to Hindus, while others 'have done harm to the country before'.
Condemning writers' protests
Culture minister Mahesh Sharma conveyed suspicion about the motives of protests by writers and artists who returned their awards.
He said, "If you go back to people who have done this, and if we explore their motives and what has been their background, I think something revealing will come out."
Bajrang Dal activist murdered
A Bajrang Dal activist, Prashanth Poojary, was murdered in Mangalore, reportedly over his involvement in action against slaughterhouses.
Prime Minister's anti-Muslim speech
The Prime Minister told OBCs and Dalits at an election rally in Bihar, "Nobody will be allowed to take away your reservation and give it to any other community in pursuit of their vote bank politics."