Her master's voice: what BJP's rivals say about Speaker's quota review idea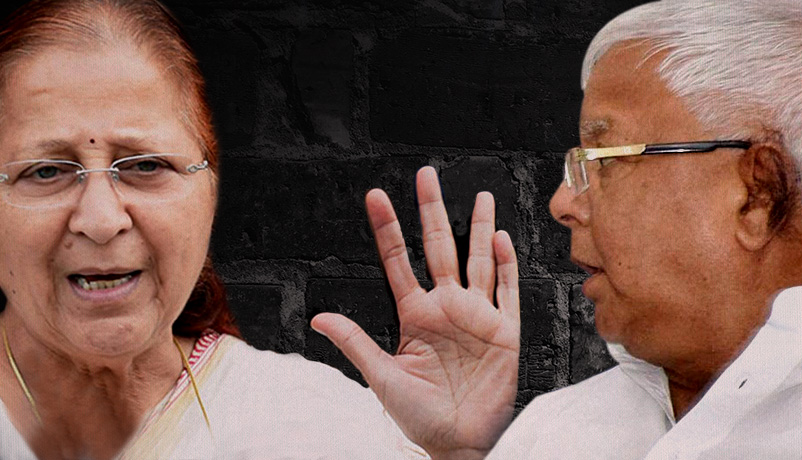 It's yet to recover from the fallout of Rohith Vemula's death and the BJP has to douse another fire lit by Sumitra Mahajan.
Speaking at a programme in Ahmedabad on 23 January, the Lok Sabha Speaker lamented the country's failure to review caste-based reservation.
She was speaking about our society's failure to "eradicate the caste system even 60-70 years after Independence" and appeared to equate it with what she called a "thoughtless extension of the reservation system".
Also read: Modi's 'jumla' nailed: how BJP tampered with reservations in the past
Mahajan said when the provisions for SC/ST reservation were introduced in our Constitution, even BR Ambedkar had said the policy should be reviewed after 10 years. But we have kept extending it every 10 years without much thought, she added.
She herself, as an MP, had twice voted for extending the reservation system, Mahajan said, and she felt guilty about it.
Although Mahajan has since sought to clarify that she wasn't arguing against caste-based quotas, her comments have been picked up by opposition parties as more evidence of the BJP's upper caste anti-Dalit agenda.
More damagingly, Mahajan has given the Opposition an opportunity to raise doubts over the impartiality of the key constitutional office she occupies.
Also read: Bihar Election Results: 10 Factors on which Bihar Voted
The issue of reviewing caste-based reservation had caused a storm ahead of the Bihar assembly polls last year after RSS chief Mohan Bhagwat advocated its need. His remarks were used by the Grand Alliance to successfully convey to the voters that BJP would eliminate quotas if it came to power.
Mahajan's assertion of a similar sentiment could give the Opposition an excuse to revive that campaign ahead of the budget session of Parliament and, crucially, the four assembly polls scheduled for March-April.
Here's what four major opposition parties have to say about the Speaker's comments.
1) JD(U): "We regret the RSS' effect on the speaker"
The party's general secretary KC Tyagi said he was "being forced to note with regret that even after becoming the speaker, the effect of the RSS on Mahajan has not diminished".
The Rajya Sabha MP said Mahajan "shouldn't have spoken Mohan Bhagwat's language from the high chair she holds". Her comments, he added, have "hurt the disadvantaged sections of the society".
Tyagi said he hoped the Speaker would take her words back. If she doesn't, he added, "then we will have to raise this issue at appropriate forums".
2) Congress: "The Speaker is toeing the RSS' line"
Shakeel Ahmad, the party's spokesperson, agreed with Tyagi that Mahajan's words "may be seen as a continuation of Bhagwat's statement".
Ahmad said he was especially surprised at the Speaker's statement because Parliament had passed the resolution for continuing the reservation policy with a two-thirds majority.
He added that it was for the Speaker to decide whether to take back her words, but the "message has gone that she is toeing the RSS line". Calling the comments unfortunate, Ahmad said they smacked of partiality and espoused an anti-reservation policy.
The message has gone that the speaker is toeing the RSS line: @Ahmad_Shakeel
3) RJD: "They want Dalits to remain second class citizens"
The comments have reportedly riled the RJD, with several leaders asking Mahajan to take back her words and demanding that the BJP clarify its stand on the issue.
RJD chief Lalu Prasad Yadav has reportedly reminded the Speaker that by virtue of holding a constitutional post, she did not belong to any party. So, she should "avoid" making such statements on the issue of reservation.
Also read: Mohan Bhagwat has some important things to say about caste, tradition and discrimination
The party's spokesperson Manoj Jha told Catch that "when a person holding a constitutional post makes such a statement, it confirms our fears about the BJP and the RSS".
"It confirms", he added, "that their agenda is to make Dalits and backward classes live as second class citizens in the country."
4) CPI(M): "Her words are an echo of Mohan Bhagwat's statement"
The party's Lok Sabha MP Mohammad Salim called Mahajan's comments "nothing but an echo of Mohan Bhagwat's statement, which is an age-old position of the RSS".
Salim argued that because of the damaging impact of Bhagwat's comments on the BJP's campaign in Bihar, the party's leaders distanced themselves from his position.
BJP can't back Bhagwat's view so it was left to Mahajan, who is above political divides: Md Salim
"Other members of the BJP who got elected could not muster the courage to say it," he said, adding that this forced Mahajan, who is "above any political divide" to do so.
Also read: How Sumitra Mahajan ended up rescuing the Congress
Salim, unlike other opposition leaders, refused to appeal to Mahajan to take back her words.
Considering such strong reactions, it's not hard to believe that the opposition would use this controversy to take on the government during Parliament's budget session.
Also read: What killed Hyderabad university Dalit scholar, Rohith Vemula?