Budget Session likely to open with debate on JNU crackdown
Catch Team
| Updated on: 14 February 2017, 5:45 IST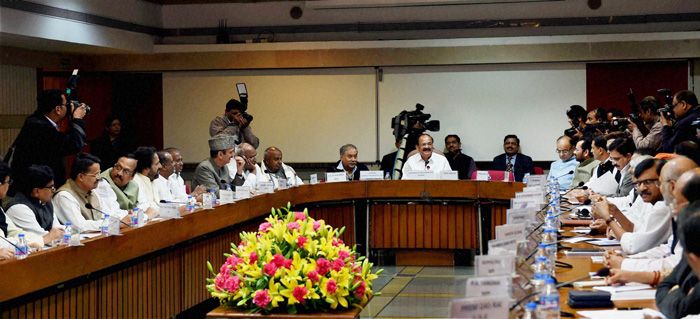 Parliamentary Affairs Minister Venkaiah Naidu, on Monday, chaired an all-party meeting, in another effort to reach a consensus on the forthcoming Budget Session of Parliament.
The Union government is under fire for its misjudgement of the ongoing Jat reservation protests in Haryana and the police crackdown at the Jawaharlal Nehru University.
Although the BJP promised to discuss all the issues in Parliament, there is a wider belief that Parliament will not be allowed to function once the JNU issue comes up for discussion on 24 February. Naidu, however, said that the government was concerned about the happenings in several universities, and maintained that there was a need for proper discussion.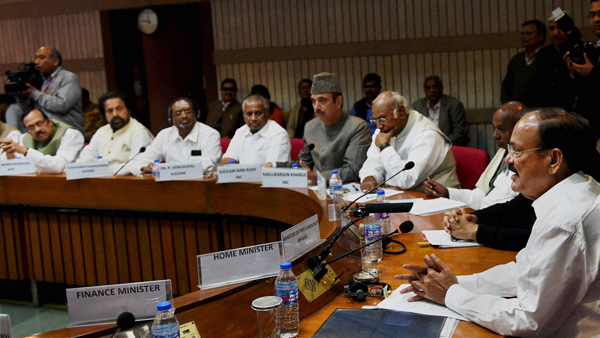 Parliamentary Affairs Minister Venkaiah Naidu chaired an all-party meeting to build consensus
The JNU debate
The crucial meeting was attended by as many as 40 leaders from 26 different political parties. From the BJP, senior functionaries including Arun Jaitley and Mukhtar Abbas Naqvi were among the attendees, while the Congress was represented by Ghulam Nabi Azad, Mallikarjun Khadge and Jyotiraditya Scindia.
It saw the Opposition unwilling to budge on the JNU 'sedition' debate, Dalit scholar Rohith Vemula's suicide at the Hyderabad Central University and other issues, unless they were properly discussed.
Kharge, the Leader of the Opposition in the Lok Sabha, reportedly said that the party was willing to cooperate the passing of several bills if the government delivered on its promise of a proper discussion of these raging controversies.
Congress vice-president Rahul Gandhi had earlier visited Hyderabad Central University and JNU in Delhi, and attacked the BJP for stifling freedom of expression and pushing its communal and divisive agenda.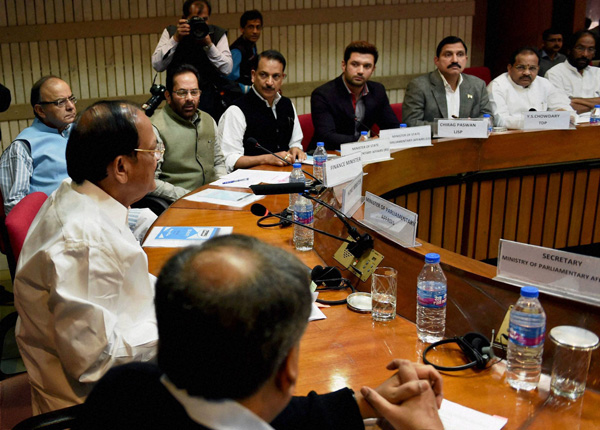 The BJP, in turn, had alleged that the Congress leader was on the side of the 'anti-national' students.
There is a belief that the government has failed to deliver on its election promises, and has deliberately opened a front with the students to take the focus away from issues which could have pushed it into a corner.
Jat reservation standoff
The government also made it clear that the violent protests in Haryana were a matter of grave concern. However, Naidu said it will only press for a resolution once normalcy is restored.
A committee has already been constituted to look into the demands for reservations. "The party has formed a committee, but normalcy should return first, as we can only debate and analyse about all the issues when the situation is normal," Naidu reportedly said.