From 'Modi! Modi!' to 'Modi go back': why UP reception is worrying the PM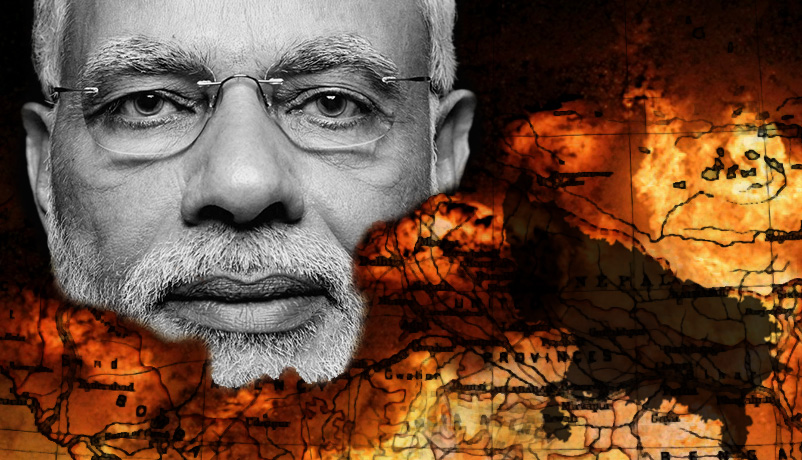 The visit
Prime Minister Narendra Modi spent all of Friday, 22 January, visiting Uttar Pradesh
He visited his parliamentary constituency, Varanasi, and state capital Lucknow
The reception
Modi was greeted by various protestors who chanted slogans against him
Among these were Samajwadi Party workers and common students too
More in the story
Why the reaction he received must be worrying Modi
Can the PM salvage the BJP\'s prospects in next year\'s Assembly elections?
Prime Minister Narendra Modi visited Uttar Pradesh on Friday, 22 January, travelling to his parliamentary constituency Varanasi and state capital Lucknow.
It wasn't as though Modi suddenly decided to spend a whole day in the state. Obviously, the purpose was to prepare the ground for the BJP for next year's Assembly elections. In about 12 months' time, Modi will be criss-crossing the dusty fields of the northern state, asking for votes.
The BJP's electoral fortunes in UP haven't been the brightest for a long time. And though the party won a remarkable 73 out of 80 Lok Sabha seats in the state in 2014, a lot of water has since flown down the Ganga.
Also read: Rohith Vemula was forced to commit suicide, says Prime Minister Narendra Modi
Wherever he went on the campaign trail in 2014, Modi was followed by chants of 'Modi! Modi!'. But the bitter reality finally hit him in Lucknow on Friday, when he faced slogans of 'Modi go back'.
Modi visited his Lok Sabha constituency Varanasi and state capital Lucknow on Friday
Protests galore
At Lucknow's Colvin Taluqdars' College, Modi was distributing e-rickshaws. But outside the campus, there was a protest organised by workers from the ruling Samajwadi Party. They were agitated by the fact that the same Prime Minister who was the face of the Make in India campaign was distributing 'Made in China' goods.
At the city's Hazratganj square, a group of students greeted the PM with black flags and slogans of 'Modi murdabad'.
Also read: 'Pained' PM bypasses real issues behind Rohith's suicide
The scene was no different at the Babasaheb Bhimrao Ambedkar University, where his speech was disrupted by students protesting the suicide of Dalit scholar Rohith Vemula in Hyderabad. Slogans of 'Modi go back' and 'Down with Modi' followed him to this auditorium as well.
Several students were prevented from participating in Modi's address at the university. In contrast, activists related to BJP-RSS affiliated organisations were openly roaming around the campus.
Protestors greeted him with slogans like 'Modi go back', 'Modi murdabad' and 'Down with Modi'
Modi's supporters countered the protests by raising slogans like 'Jai Shri Ram' and 'Ram Lalla hum aayenge, mandir wahin banayenge (Lord Rama, we shall come and build a temple there, meaning Ayodhya)'.
Among the common students, there seemed to be anger and disappointment. But the pro-BJP activists continued to demand something improbable from the PM. Clearly, he couldn't have endorsed pro-Ram Temple slogans, and these slogans could only put him in a spot of bother at national and international forums.
Also read: #RohithSuicide: did RSS veto Modi's decision to sack Bandaru Dattatreya?
Modi can ill-afford this risk under the present circumstances, notwithstanding the fact that the issue remains at the core of the RSS agenda.
Neither Ram nor growth
The same masses that had supported Modi wholeheartedly just over a year-and-a-half ago are now turning against him. Is this disenchantment a signal that Modi's charisma is fading in UP? Is 'Modi Magic' over in what is, politically, India's most important state? What has changed so fast?
Modi seems to have fallen victim to his own ploy. During the general election campaign, expectations were raised enormously.
But now, the traditional voter of the BJP is still waiting for action on the Hindutva agenda. On the other hand, Modi's government hasn't delivered the growth it promised to the middle-class either.
The BJP has inculcated an image of a party espousing aggressive Hindutva over the years. This is not necessarily compatible with the plank of development.
Modi is well aware of this ground situation. He has been rudely awakened to this reality by results of the Delhi and Bihar Assembly elections last year.
Also read: UP Panchayat poll results bring embarrassment to Modi, Mulayam and Rahul
Next year's Uttar Pradesh Assembly elections are nothing less than a semi-final to the 2019 general elections. This is the reason UP is likely to be on top of the PM's agenda this year.
But, there are serious doubts as to whether Modi can reap a rich harvest of votes, when the political landscape appears increasingly arid for the BJP. The signs are surely ominous.
Also read: State BJP wants a CM nominee for #UP2017. Will Modi, Amit Shah oblige?