Forget governance, Khattar govt even managed to make a mess of Rajkummar Rao's presser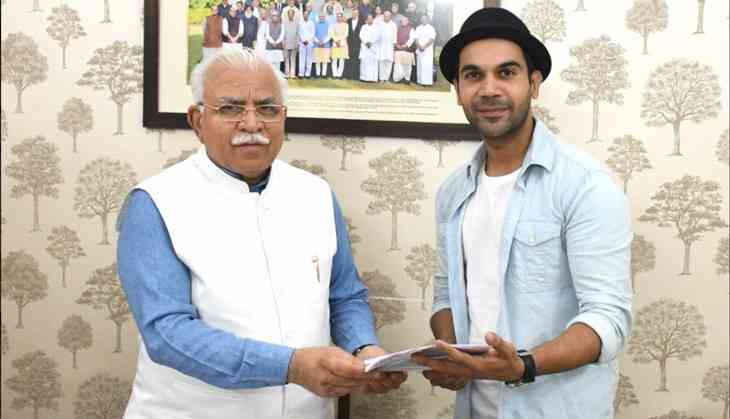 'Newton's' laws definitely work in a different manner when it comes to the state of Haryana. This seemed pretty evident when the attempt by the Manohar Lal Khattar led Bharatiya Janata Party (BJP) government in the state tried to ride on the shoulder of the Bollywood actor and local lad Rajkummar Rao for an image makeover. But the effort boomeranged.
The Haryana government scheduled a special screening of Rao's Newton on Thursday and had organised a media interaction during the day as a build up to the event. Things went awry when Khattar's principal secretary Rajesh Khullar took over and began addressing the media while Rao was still in the middle of answering routine queries.
Just when Rao was going through the drill of answering questions on his film Newton, its selection as India's entry for the Oscars, the emerging trends in Indian cinema and why it is a different film, Khullar stepped in telling his experience of watching the film and how Khattar was keen for a screening. He also said that the movie would be shown to the new state police recruits at the Haryana Police Academy at Madhuban in the presence of the chief minister. He also advocated that the election machinery and entire bureaucracy must watch the film.
Khullar tried to score some brownie points for the Khattar government claiming how the Haryana government has initiated an era of transparent recruitment in the state services and what needs to be done to motivate the new recruits to deliver while weaning them away from the old culture of lethargy and non performance. His claims on 'transparent recruitment' come in the face of almost daily reports appearing in the newspapers on the 'cash for job scam' on alleged favouritism in appointing employees in the state assembly and the reported arrest of a BJP Mahila Morcha leader in Fatehabad for allegedly collecting money from villagers for getting them government jobs. Last month there were reports of the conspiracy to leak the examination paper for recruitment of bus conductors and prior to that there had been the instance of the paper leak for the clerks' examination in December 2016.
While Khullar was talking about how the screening of 'Newton' can help in government employees perceiving problems that can occur on various occasions and get ready to deal with them, a journalist asked him a pointed question on how the Haryana government had failed to perceive the scenario emerging in Panchkula on the eve of a CBI court pronouncing its verdict on charges of rape against Dera Saccha Sauda chief Gurmeet Ram Rahim Singh in August. He asked how the government had failed miserably in its job that resulted in death of 32 people on the streets of Panchkula.
This left Khullar trying to defend the government unconvincingly as he tried to talk about different perceptions that various professionals have about happenings in the society. This was followed by a barrage of uncomfortable questions for the government. The hapless Rao was left completely sidelined. Thus an attempt to build an image for the government in a film star's press briefing lay defeated threadbare.
Prior to this, Rao talked about how Newton has broken the general perception of the masses not liking an issue based film. "I believe in content and a film should not only be 'naach gana' (singing and dancing). It is great that such cinema is getting respect," he said.
He also disclosed that the Khattar government is working on a film policy for Haryana that would make shooting of films in the state a lucrative venture. "We have many stories for which Haryana provides the best locales. Such a policy would be good both for the film makers as well as the state of Haryana that has immense talent. Through this policy things would become much easy," said Rao who belongs to Gurugram.
He said that content based films are getting a good response these days and some such films like Aamir Khan's Dangal or Salman Khan's Sultan with Haryana as background have done very well.
"It is not correct to see everything through the prism of Rs 100 crore collections. There are factors like on how many screens a film is released. There are films released across thousands of screens and then there are those released on a few hundred screens. We ('Newton team) always knew how many numbers we wanted to track. The digital platform has given a totally new dimension to films," said Rao.
He went on to say that Newton is not just about Naxals. "It has a global appeal. It conveys how you have to be in the system to change the system," he pointed out.
Rao said the film has a bearing on the viewer. "I am Newton as I am serious and honest. I do not compromise on my work," he said.