For appearance sake: RSS may finally be ditching its khaki shorts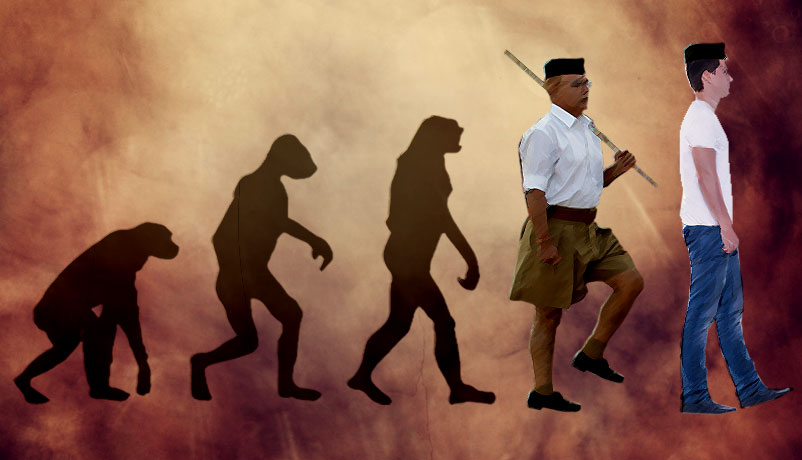 The Rashtriya Swayamsevak Sangh (RSS) is in for a makeover: the Hindutva organisation may soon trade its trademark khaki shorts for blue trousers.
The change in uniform, which has been under discussion for a while now, is likely to be announced on 13 March, the last day of Akhil Bharatiya Pratindhi Sabha, an annual meeting of top RSS leaders from across the country that will be held in Nagaur, Rajasthan, this year.
The three-day meeting starts on 11 March and several top leaders are already in Nagaur overseeing preparations.
Also read: Bharatiyakaran: RSS' 8-point guide to saffronise education
According to sources, among the issues on the agenda is the rollout of the new uniform for the Sangh cadre.
"We have a team that has been working on the possible new uniform. They are working on the colour and fabric for the same," a source in the RSS said. Most likely, the changeover would be to blue pants.
Dress code
The RSS was formed in 1925. Since then, its uniform has changed only once -- from a police-style double-pocketed khaki shirt and khaki half pants to the current white shirt and khaki shorts. The change was effected by the Sangh's second leader, MS Golwalkar.
Also read: 8 RSS think tanks that are competing for intellectual space in Delhi
There was, however, a minor change two years ago, when the brown leather belt of the half pants was replaced with one made of nylon, which apparently is "more eco-friendly".
The latest change in the uniform was expedited at last year's Pratindhi Sabha in Ranchi, where a high-level committee was set up for the "consideration of changing the uniform for the RSS cadre". The panel had one year to make a decision, in time for the forthcoming Sabha in Nagaur.
The proposal to change the uniform though is much older, and the Sangh has been discussing it for years. There has been a growing feeling that the young cadres, who are more fashion-conscious, aren't comfortable wearing the half pants.
Also read: Do you know that nearly 3,000 RSS members eat beef and the Sangh is OK with it
The idea behind changing over to blue pants is also to make the RSS cadre "seem closer" to the Ambedkarites; the RSS has been trying for long to woo the Dalits.
In the past few years, the numbers in RSS shakhas have been dwindling, especially of young people. Will the change in apparel arrest this trend?
More in Catch:
Need a favour from the government? Contact your local RSS man
RSS's new mission: Bhagwat's ATMA eyes Hindu temples
Battle for Bihar: how the RSS is helping the BJP fight the election