Farmer suicides: Punjab agrarian crisis deepens, Badal tries to wriggle out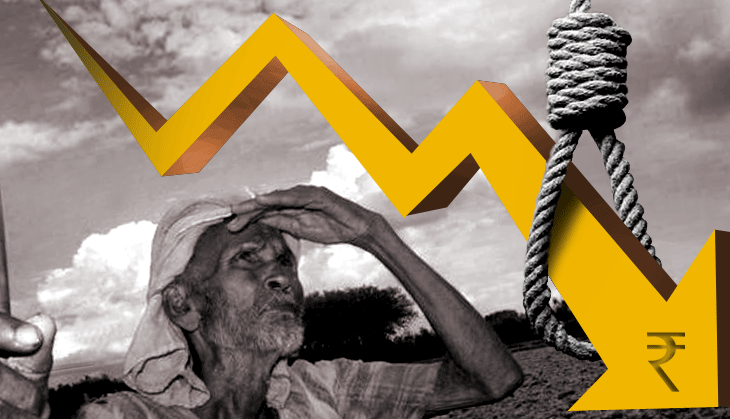 The crisis
Punjab is reeling under an acute agrarian crisis
58 farmers are reported to have committed suicide this year
Facing flak for mishandling the crisis, Badal govt has announced a few measures of late
More in the story
What are the reasons behind the crisis?
Badal tries to deflect the blame
The agrarian sector continues to bleed in Punjab. With 58 farmer suicides reported till now this year, the picture remains dismal even as the state heads for an assembly elections in a few months from now. Things have come to such a pass that these suicides rarely make the headlines and even if they do, thing are forgotten easily. Reeling under debt, the farmers continue choosing to end their lives.
A few days ago there was this shocking incident of a farmer Baljeet Singh and his mother Balveer Kaur ending their lives by consuming pesticide in Cheema Jodhpur village of Barnala district after they were told to vacate their house and farm land due to their inability to repay a loan. They took the extreme step in front of police and bank officials. The incident is a pointer to the scenario prevailing in the state that in general perception is the food bowl of India.
Farmers in the state are plagued with accumulating debt that was pegged at Rs 69,355 crore in a study titled "Indebtedness among Farmers and Agricultural Labourers in Rural Punjab" done for Indian Council for Social Science Research under Dr Gian Singh of Punjabi University in Patiala earlier this year.
This has been worsened by other factors like crop failures that have taken place due to use of spurious pesticides and sub standard seeds. On its part, the government failed to diversify agriculture and couldn't take initiatives to break the wheat-paddy cycle. It couldn't enable farmers to take to cultivation of cash crops.
Read- Testing the waters: can Badal's belligerence over #SYLcanal save him in '17
With the Shiromani Akali Dal (SAD) facing the brunt of the anger of the rural masses ahead of the polls, chief minister Parkash Singh Badal and his cabinet are now making announcements and issuing statements to wriggle out of the precarious situation.
Badal's measures
A few days ago, Badal blamed the successive Congress governments at the Centre for its "anti-farmer policies". He demanded that the Centre constitute a high level committee of agriculture experts to pull the strained economy out from the current agrarian crisis.
He pointed that the state government had hardly any role in fixing the costs of agriculture inputs like diesel, pesticides, fertilisers and even the Minimum Support Price (MSP), which primarily fell within the domain of the Centre. Badal said that his government is in constant touch with prime minister Narendra Modi to resolve the farm crisis. He recounted how Punjab government had initiated certain steps to put the derailed agrarian economy on track by giving subsidy to the tune of Rs 5,000 crore annually to Punjab State Power Corporation Limited (PSPCL) and enhancing the natural calamity fund from Rs 3,400 to Rs 8,000 per acre.
At another event, revenue minister Bikram Singh Majithia, after distributing tube well connections to farmers at Nath Di Khuhi near Mattewal, said that farming is no more a profitable occupation because farmers are not paid proper rates for their crops. He reiterated that a special package for farmers should be given and Swaminathan Commission report submitted in 2006 should be implemented. He also promised that Punjab government would soon take firm steps including protection to lands of farmers in debt.
Also read- Congress in doldrums in Punjab: will it manage to ride out the bumpy road?
Then it was none other than agriculture minister Tota Singh who stressed upon officers to persuade the farmers not to use un-recommended and hybrid seeds of cotton crop.
All this coming from a government that has been in power for a decade simply indicates that it's an attempt to wriggle out of the situation. Ironically, it was Tota Singh who was in the eye of storm last year following the failure of cotton crop on account of use of spurious pesticides. He had to face farmer agitations led by leaders of Aam Aadmi Party (AAP) and the Congress. Just a few months ago, the farmers in the Doaba region of Punjab incurred major losses when the pea crop was lost because of substandard seeds.
SAD to blame
"Badal is trying to wriggle out of the situation because he is the one solely responsible for it," points out Inderjeet Singh Jaijee who has been working on agrarian issues, particularly farmer suicides, for almost three decades.
In a recent write up, he pointed that in terms of the percentage of rural population that falls prey to suicide Punjab is far ahead of other states. He says Punjab's rural suicides have been grossly and deliberately under-reported over the years.
He has taken up with the National Human Rights Commission (NHRC) the issue of bodies surfacing in the Bhakra Beas mainline canal. "According to Punjab Police record, 35-45 bodies are seen at the Khanauri barrage of the Bhakra Beas mainline canal per month. Many bodies go unnoticed because they are submerged or they pass the barrage at night. Even assuming that per year, the number of bodies spotted at this point is around 500, over a 10-year period this would put the toll by drowning alone at 5,000. This figure refers to a single point on a single canal. Punjab is veined with rivers and canals. Before mentioning a figure for rural suicides in Punjab, the union agricultural ministry should check with the intelligence agencies and the NHRC," he points out.
Ahbab Grewal, who heads the farmers' cell of AAP, told Catch,"What is the point of the chief minister making such statements when the government did nothing for all these years? When crops fail on account of spurious pesticides or substandard seeds, it is the government that is responsible for it. It is their people who have been profiting out of this".
Pricing is another issue which is seen as one of the main contributors to agrarian crisis. A firm believer in more powers for the state, Jaijee says, "What we got was diluted federalism. Even in that agriculture was a state subject which was eventually brought under the central list in 1971. If the farmers are not able to decide upon the prices of their produce, what is left for them?"
Grewal further points out, "It is the nexus between politicians, bureaucrat and businessmen that leads to a glut in the market. The farmer is hardly left with any option but to play into their hands. They are the ones who make huge profits. This has happened with Basmati in the past and also with other crops".
Read more- Satluj-Yamuna Link: same parties sing different tunes in Punjab & Haryana
The political war of words on the issue is getting shriller by the day. AAP is continuing with its Punjab dialogue in which increase in farmers' suicides due to agriculture debt emerged as key concern for farmers.
AAP has made inroads into the rural electorate which has been the traditional stronghold of Akalis. It has been playing up the compensation given to farmers in Delhi for the crop loss.
The Congress leadership while holding the Akali regime responsible for the agrarian crisis has also been hitting out at the AAP leadership. In a recent attack, Punjab Congress president Captain Amarinder Singh asked Delhi chief minister Arvind Kejriwal as to why was he being selective in reaching out to the families of the farmers committing suicide.
"For heaven's sake stop celebrating tragedies,"he told Kejriwal while referring to the AAP announcement that it will adopt the children of the farmer who committed suicide in Barnala over his inability to repay the debt.
"While providing relief to the Barnala farmer's family is a nice gesture, will you also spell out as what you plan to do for other families whose earning heads also committed suicide?"he asked Kejriwal.
Stating that the agriculture problem in Punjab is too serious to be solved by photo-ops and theatrics, he said, "You need a comprehensive policy and planning. We have already mooted a law to prevent dispossession of debt ridden farmers' land or property as a first step".
Edited by Aditya Menon
More in Catch:
Denied a job for being a woman, Rathho Bai fights back. And wins
Take the summer off: these 27 movie releases are set to make it an epic one
Indian workers in Saudi Arabia are thankful to a national daily for getting them their dues
1993 blasts forgotten? Why BJP felicitated Sanjay Dutt on Maharashtra Day