Farmer Pawan Yadav is angry with Lalu, but may still vote for him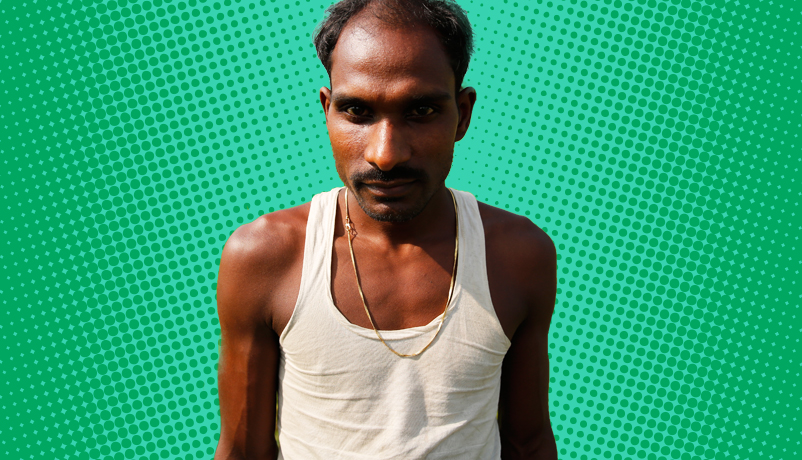 The farmer
Pawan Kumar Yadav is a 30-year-old farmer from Jadia village in Supaul district
He grows maize and paddy on his little piece of land
His anger
Pawan is angry with all politicians for not fulfilling their promises
His village is connected to the world through a rickety bamboo bridge over a river - and no one has replaced it with a cemented one
More in the story
Pawan\'s take on Nitish, Modi and Lalu
Who he may vote for in the assembly election
Elections are not just about politicians. They're about people and issues. And what will really drive their vote.
Catch is, therefore, starting a 'People of Bihar' series, which will daily capture what different impact groups across the state are feeling. This is true insight on the Bihar election: up-close and hyper-personal.
Any talk of elections visibly upsets 30-year-old Pawan Kumar Yadav. He is bitter about politicians of all denominations, and understandably so.
Pawan hails from the tiny village of Jadia in Supaul district, where he grows crops like maize and paddy. The village has no road, and no cemented bridge to cross the nearby river which separates them from the rest of the world. The villagers have to rely on a bamboo bridge, which is washed off every rainy season and has to be rebuilt.
Pawan has two children who go to school. But he himself has little hope - because the political leaders of Bihar couldn't even provide a pucca bridge to his village in the 68 years since independence.
Here's more from our conversation with him about the Bihar election.
What are the main issues for you in this election?
There is no point in expecting anything from our political leaders. They make false promises in every election and never come back until the next elections.
What would you want the leaders to do for you?
We do not want the moon. We risk our lives every day to cross the river. We have always demanded one thing - a cemented bridge to connect the village to the rest of the world.
During election time, leaders themselves have to come here using this bamboo bridge. They go door-to-door promising they would construct the bridge. But nothing eventually happens.
What else can we expect from the government? It cannot give us dal-roti. We will have to earn that ourselves.
Has any leader visited you in these elections?
Yes, many leaders have come. As usual, they make speeches and go back.
What are your views about Nitish's 10-year reign?
He had a good tenure. Not everything can be perfect under any administration, and he has had a mixed record.
What is Nitish's biggest achievement?
He has constructed roads.
But your own village doesn't have one...
Who cares about the village? But you can see a four-lane road outside. I am talking about that road.
Pawan's village is connected to the world through a bamboo bridge. All he wants is a cement bridge
Would you agree that Nitish has improved the level of education?
(Laughs) Whatever little there used to be in school is also ruined. Nitish has fooled all in this sector. Those who could not even write their names were made teachers. My children go to school for fun and good meals. I have to arrange for extra tuitions as far as their studies are concerned.
Whom will you vote for in these elections?
I have not yet thought about it.
You are a Yadav. Won't you support Lalu?
We don't vote on the basis of caste. Lalu was in power for a long time and did nothing for us. He is not going to feed us just because we are from his caste.
What are your views about Narendra Modi?
Modi is a good leader. He wants to do good work. However, people working under him are corrupt. He alone cannot make much of a difference. Two-thirds of the money he sends for Bihar is siphoned off along the way.
Which party will form the government this time?
It seems BJP has the best chance.
But Lalu is saying he will stop the BJP at any cost...
Lalu has a habit of speaking without using his brain. The public will decide the next government. All the urban people are with the BJP. Only the Yadavs are with Lalu in the villages. But I might vote for him.
Why?
Who knows, repeated setbacks may have changed his heart.
Also read: Bihar's Brahmins ask: why is our vote taken for granted?
Dalit PhD student Krishna: 7/10 for Nitish, 3/10 for Modi
An ATM guard who's always with a book, and why he'll vote NOTA
Banka Silk founder Udayan Singh wants a third term for Nitish
Graduate Azra feels Modi isn't inclusive enough to vote for
Whoever comes to power must create jobs: front-office boy Divyanshu
Nitish is a better leader than Modi: Student politician Zeeshan
Nitish has ruined his chance by joining Lalu: Lakshmi, graduate, Muzzafarpur
There's little to choose between Modi and Nitish: wannabe cop Vinit argues for NOTA
Lawyer Indira Sharma: Nitish started well, but has now lost his mind
Farmer Ali Ashraf: 'Dadri is jungle-raj. I don't want that in my state'
Researcher Sunita: don't like BJP but today's Nitish is worse
Social worker Munna Jha: no matter what surveys say, I'll vote for Nitish
Madrasa student Ahmed: Modi's promises fake, I'll vote for Nitish
Entrepreneur Imran: give BJP a chance to prove secular credentials
BCA graduate Manish gives Modi a 10/10. Find out why he's not voting Nitish