Farmer, innovator, district ambassador: meet the incredible Manorama Singh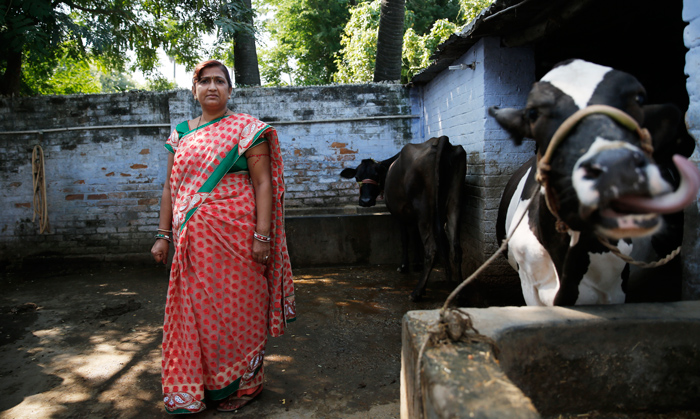 The campaign
Manorama Singh of Lalganj is the ambassador of Vaishali
She has been roped in to motivate the district\'s people to vote
She has been running the awareness campaign for 2 months
The struggle
Her in-laws wanted Manorama to stay confined to her home
She fought against the patriarchy to go work in the fields
She became the first farmer in Lalganj to cultivate mushroom
"You must vote this election. This opportunity comes once in five years. But do not vote under the influence of threat or allurement."
This is the message Manorama Singh, of Agarpur village in Lalganj, has been going around Vaishali district with for the last two months. Where she doesn't go, posters of her message do.
Manorma is the district's brand ambassador, and the administration has tasked her with spreading awareness among voters.
"It is an important responsibility and I enjoy it. I am trying to motivate more and more people to vote," she says.
How did this responsibility fall to Manorama?
She is an agricultural innovator. She fought patriarchy to do what she wanted to and made a mark.
Breaking free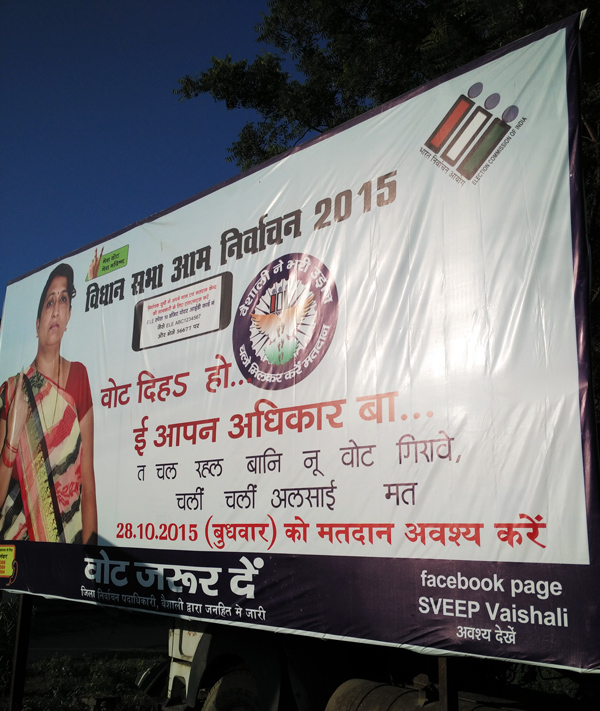 A confident woman of around 40, Manorama recounts her story thus: "I was married into a Bhumihar family in 1991. My father gave me a large dowry, but my situation was no different than any other daughter-in-law. I was told to stay at home and do only domestic chores."
"But I was determined to pursue what I used to do at my maternal home," she continues. "I loved working in the fields and watching others do the same. I would go to the fields with my father until a few months before my marriage. Then, suddenly, it seemed all over."
Manorama wasn't one to give up, however. "I persuaded my husband that it won't be possible for me to remain confined to my home. I told him I want to work in the fields. I also told him I want to keep cows."
I told my husband I won't be confined to my home. I told him I want to work in the fields: Manorama
It took six years but Manorama finally had her way. "Four cows were brought to the house. We kept them in the backyard and I would rear them after finishing my household chores."
Manorama also went back to working in the fields. In 2008, she surprised her in-laws by suggesting they farm mushrooms. And to learn the technique, she informed them, she would have to take 20 days of training from the Central Agricultural University in Pusa, Samastipur. The family was aghast: how could their daughter-in-law go so far away to study?
Her husband stood by her, however. "Whatever I am able to do today is because of the support of my husband and children," she says. "My in-laws opposed me initially but relented later."
Success story
In 2009, Manorama grew her first crop of mushroom, 200 bagfuls of it, in a field near her house.
Recognising her achievement, the local administration appointed her district ambassador and asked her to teach her farming techniques to others. She is currently training 200 people.
And when the election came around, she was roped in to motive people to vote.
Did she have it easier than other women because she came from a relatively well-off family?
"You could say it gave me a little advantage," Manorama replies. "I also had to suffer because of it, however. You see, these so-called affluent families still don't allow women to step outside the house."
Manorama was the first to grow mushroom in Lalganj. Now she is training 200 people how to farm it
"It took a lot of resolve to defy this tradition. It was not easy in the beginning. But now my family has come to terms with the fact that their daughter-in-law is the first female farmer of the district, and the neighbours as well."
Manorama's voices resonates with confidence as she repeats: "I am the first female farmer of Vaishali."
She is urging others to go out and vote, but who is she rooting for herself? "I can't reveal that," Manorama says.
"But I can say this much: my vote will be for the one who believes in taking everybody along, instead of dividing the society. You mediapersons are a smart lot. I leave the interpretation to you."
With such astuteness, is it any surprise she has come this far?