Fall from grace: why is the BJP brass angry with Varun Gandhi?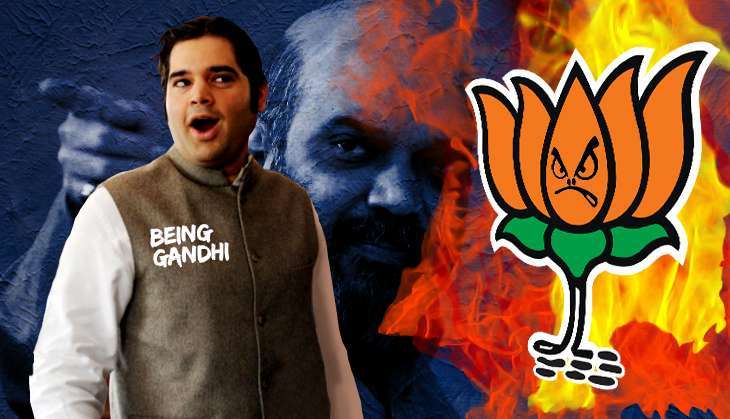 As the campaign for the assembly election hots up in Uttar Pradesh, the BJP is set to declare its candidate for chief minister any day now. The party seems emboldened by its success in Assam, where it declared the chief minister candidate quite early.
Although it isn't clear who the candidate will be - Rajnath Singh, Uma Bharti and Smriti Irani are in the fray - it seems Varun Gandhi, who was considered a strong contender for the job, is out of the reckoning.
Also read - BJP survey finds Varun Gandhi most popular CM face in UP. Will Modi-Shah agree?
The young leader has been instructed by the leadership to limit his political activities to his parliamentary constituency of Sultanpur. According to a top UP leader, Varun "has been given strict instructions to take permission from the party if he wants to take his political activities outside his constituency."
Why is Varun Gandhi out of favour?
The BJP brass is angry with Varun for going on a tour of Allahabad early last month without so much as informing them. His supporters have waged a "poster war", putting up an array of hoardings and banners across Allahabad to press the party to make him its candidate for CM. The "stunt" hasn't gone down well with either the central or the state leadership.
Although Varun is popular within the BJP's state unit, an influential section of the leadership is batting for Smriti Irani to be made the face of the party's campaign.
This has led to turmoil within the party, prompting state BJP chief Keshav Prasad Maurya to approach the central leadership. "It was Maurya's report on the basis of which Amit Shah put restrictions on Varun. He will no longer be able to leave Sultanpur without the party's permission," said the top state leader.
Over the past year or so, Varun has repeatedly campaigned outside his Lok Sabha constituency. He has toured various parts of UP and even created his own team to facilitate this. Not surprisingly, many senior leaders are annoyed with him; they have accused him of breaching "party discipline" and sought action. The relationship has deteriorated to the point that Varun and many of BJP's key policymakers no longer see eye to eye.
Burden of the surname
Another key factor that seems to have worked against Varun is his surname. The BJP has for long targeted the Congress and the BJP as promoters of the "dysfunctional and undemocratic dynastic politics". Not long ago, the BJP was considering pitting their Gandhi, Varun, against the Congress's Gandhi, Rahul. It's no longer considered a profitable proposition. Varun, in fact, has somehow come to represent the Gandhi family.
While Varun is in a position to leverage his popularity among the cadre, he has done himself no favours by antagonising local leaders, who feel that he doesn't accord them due importance and respect. Then, there is the fact that he isn't exactly in the good books of Narendra Modi and Amit Shah. A party insider described his relations with them as "lukewarm at best".
More in Catch - State BJP wants a CM nominee for #UP2017. Will Modi, Amit Shah oblige?
Rajnath to lead UP campaign: Has BJP realised limitations of Modi-Shah?