Expelled CPI(M) RS MP Ritabrata Banerjee likely to join Congress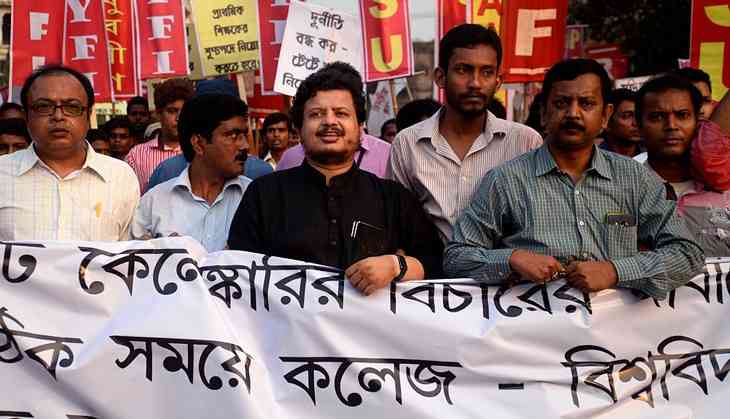 ( Saikat Paul/Pacific Press/LightRocket via Getty Images)
Expelled CPI(M) Rajya Sabha MP Ritabrata Banerjee is likely to join Congress after Durga Puja. Congress sources say that while nothing is official at the moment, he is said to have spoken to the Congress high command a few days back and expressed his willingness to join the party.
Earlier it was being speculated that Banerjee would join either the ruling All India Trinamool Congress or BJP, his meeting with Congress general secretary CP Joshi provided an indication that he might be joining the Grand Old Party. Joshi happens to be the Congress' in-charge for West Bengal.
However, the West Bengal Congress seems to be in the dark as of now.
"We have not received any information from the high command yet that Banerjee will be joining the party," said Pradesh Congress chief Adhir Ranjan Chowdhury.
When Catch contacted Banerjee, he refused to comment.
CPI(M) leaders, however, aren't surprised that their erstwhile comrade may join another party. They say that since he is an ambitious politician, he can't survive without a party's backing.
CPI( M) leader Sujan Chakraborty said "Banerjee can join any party . It's his personal choice. I am not aware of this development."
It may be mentioned that on September 13, the CPI(M) expelled Banerjee for anti-party activities . Banerjee openly criticsed Prakash Karat and his supporters in an interview to a local news channel. Banerjee said that he does not have any grievance against the party, but a small section of leaders such as Prakash Karat , Brinda Karat and Mohammad Salim tried to sideline him as he became a Rajya Sabha MP at an early age and became known for being an articulate speaker.
When Banerjee was expelled a few days back, he told the media that he has no plan to join any party as he is a staunch supporter of CPI( M) and he was upset at the party's decision.
Senior CPI(M) leaders said that Banerjee has been expelled under Section 19 (13) of the party constitution. Section 19 deals with party discipline and clause 13 is invoked against those who go against the party line. The Central Committee of CPI(M) has also endorsed the decision to expel Banerjee from the party.