Ex-protege may now be irritant for Adityanath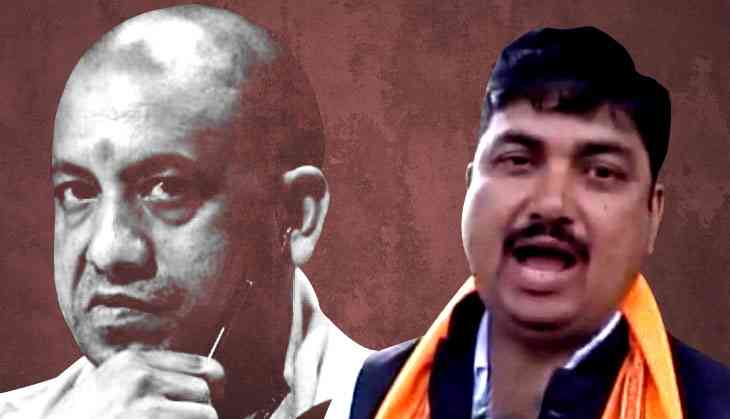 (Arya Sharma / Catch News)
Sunil Singh, the former president of Hindu Yuva Vahini (HYV) who was expelled from the outfit for fielding candidates for the 2017 Assembly elections in defiance of Yogi Adityanath's directives, announced floating of a parallel outfit in Lucknow. Singh was one of the founder members of HYV.
Coming close on the heels of the Bharatiya Janata Party's shocking defeat in Gorakhpur, Chief Minister Yogi Adityanath's constituency, the development may not be good news for the mahant of the Gorakhnath mutt.
Sunil Singh was elected national president of Hindu Yuva Vahini - Bharat (HYV-B) at a meeting of its national executive in Lucknow Sunday evening.
As chief patron of HYV, Yogi Adityanath appointed Singh its president in 2002. The social and cultural outfit earned notoriety for using strong-arm tactics to propagate Hindutva, protect cows, tackle love jihad and enforce ghar wapsi. He is a firm believer in aggressive Hindutva.
While Singh's move would seem to be a challenge to Adityanath's authority in Gorakhpur and other parts of eastern Uttar Pradesh, he himself clarified that his organisation will only carry forward the Yogi's agenda of Hindutva, which was his life's mission with power being only a "commercial break".
Sunil Singh said he would work towards the creation of a 'Hindu Rashtra', which was also the dream of Mahant Avaidyanath, Adityanath's guru. He added that the Hindu Yuva Vahini had moved away from Hindutva and its members were now more into land grabbing and contractual work from government.
The HYV-B will soon launch a membership drive and a movement for the construction of Ram temple at Ayodhya, he said.
HYV General Secretary PK Mall said Singh was playing into the hands of the Samajwadi Party and that his organisation had nothing to do with either Singh or the HYV-B.
In 2017, Sunil Singh had fielded candidates in about a dozen eastern UP seats threatening to dent the BJP's poll prospects. An angry Adityanath expelled him. Singh described his sacking as illegal and unconstitutional. He then said that Adityanath "has left his mission" and was running after the BJP.
There may be some truth in Sunil Singh's charge that the HYV cadres were into land-grabbing and government's contract as within two months of Yogi becoming the CM, the BJP raised the red flag over the "outsider" Vahini's growing clout.
The issue was first raised by Deputy Chief Minister Keshav Prasad Maurya, who had not relinquished the post of party president until then. At the state executive meeting last May 2017 he said "outsiders" were getting preferential treatment in the government while the party cadre was being disregarded. This, he said, was unacceptable. Maurya dismissed HYV as a threat to the BJP.
The increasing complaints against ochre scarf-wearing men harassing people in the name of Hindutva and cow vigilantism also prompted Adityanath to warn that he would expose imposters who were "misusing" saffron to malign his government.
In April 2017, Adityanath reportedly held separate meetings with HYV and the RSS workers and urged Vahini members to maintain "decency", not use saffron as the party's colour, monitor government work and flag any discrepancies to their colleagues in HYV and not misbehave with any officer.
The increase in violence in the name of love jihad and cow protection, forced the HYV to stop its membership drive for one year. The HYV's general secretary PK Mall, a close associate of Adityanath, stated that his organization will not accept any new membership for the next six months. There was an "exponential" growth in HYV's membership after Adityanath became CM, Mall claimed.
As Sunil Singh has returned to haunt the BJP and Adityanath, so far neither has reacted to his announcement on either forming HYV-B or on carrying forward Yogi's 'mission'. It is possible that, as alleged by Mall, Singh has Samajwadi Party's backing. Whether it will be politically advantageous for Akhilesh Yadav, and to what extent, would be known only later.