Entrepreneur Imran: give BJP a chance to prove secular credentials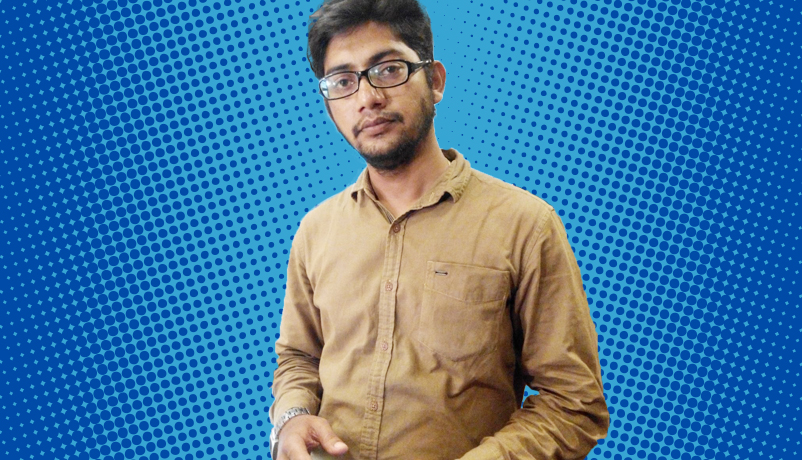 Living a dream
Imran Ahmad is an engineer by training
He has started an event management company in Patna
Better atmosphere
Imran feels Nitish Kumar\'s government has brought in a pro-business environment to Bihar
Despite this, Imran wants to vote for the BJP in the assembly elections
More in the story
The reasons for Imran\'s choice
His take on why Muslims shouldn\'t be scared of the BJP
Elections are not just about politicians. They're about people and issues. And what will really drive their vote.
Catch is, therefore, starting a 'People of Bihar' series, which will daily capture what different impact groups across the state are feeling. This is true insight on the Bihar election: up-close and hyper-personal.
"I have witnessed the era when Lalu Yadav ruled Bihar. Nobody would want to set up a business because that would mean creating trouble for yourself. Gangsters and criminals would come to extort you," says 24-year-old Imran Ahmad.
"But then came Nitish Kumar's JD(U)-BJP government, which ensured that a pro-business environment was created."
Having done his engineering from the Shadan Institute of Technology, Hyderabad, Imran didn't want to take up a 9-5 job. And this new pro-business environment encouraged him to take a leap of faith and start his own event management company, Abdicat Solutions, in Patna.
Ahead of the crucial assembly polls, Imran spoke to Catch about his views on the state of things in Bihar.
You said Nitish created a pro-business environment. Will you vote for him in this election?
No, because the credit cannot go to him alone. The BJP was his partner when he came to power, and put pressure on Nitish to work for the development of the state. In the last two years since the alliance broke up, development work has slowed down.
Nitish himself had called Lalu's rule 'jungle-raj'. Now, allying with him suggests that to him, it's all about grabbing power at all costs.
Between Nitish's government in Bihar and Narendra Modi's at the Centre, which do you think is more supportive of entrepreneurs?
My obvious choice is Modi. When our former PM, Manmohan Singh, used to go on foreign trips, citizens weren't even aware about the investment tie-ups India was making with other countries.
Contrast that with Modi's foreign visits - he has a vision for business, entrepreneurs and industry.
Nitish called Lalu's rule 'jungle-raj'. Now, allying with him suggests it's all about grabbing power
Development, in fact, is directly proportional to the investors coming and investing in India. While visiting countries, Modi makes sure that he brings foreign investment to the country, which is very much what entrepreneurs like me want.
So far, the Modi administration has seen many issues like rising prices, communal violence and the failure to get black money back. Do you still consider the BJP as a good party for Bihar?
It's unfair to say that the Modi government has failed. In fact, it's too early to evaluate the government; it's only been a year-and-a-half.
Yes, in terms of rising prices, the government has failed immensely. But you also need to look at the intent. The Modi government is working for the people.
Do you think the BJP will do justice to Muslims?
It's true that the BJP has been rough on Muslims. But you also need to understand that we, as Muslims, need to trust the BJP. There is no party completely dedicated to Muslims.
Moreover, if you look at it closely, nowadays you will see that Modiji has become soft towards Muslims. In fact, it looks like the RSS has gotten tough with him since he has softened his stance on Muslims.
But I don't think there is a matter of concern.
Is there a concern that a BJP reign would make you live in fear?
During Lalu's reign, the entire state of Bihar lived in fear. Why didn't you ask us this question when the Nitish-BJP alliance came to power? See, you need to give the BJP one chance to prove themselves on secular grounds.
What are the three key changes you want in Bihar?
Maintaining law and order should be paramount. This would lead to my second wish - a better environment for entrepreneurs.
The third wish would be to build top-class educational institutions, which would help students stay in Bihar.
Also read: Dalit PhD student Krishna: 7/10 for Nitish, 3/10 for Modi
An ATM guard who's always with a book, and why he'll vote NOTA
Banka Silk founder Udayan Singh wants a third term for Nitish
Graduate Azra feels Modi isn't inclusive enough to vote for
Whoever comes to power must create jobs: front-office boy Divyanshu
Nitish is a better leader than Modi: Student politician Zeeshan
Nitish has ruined his chance by joining Lalu: Lakshmi, graduate, Muzzafarpur
There's little to choose between Modi and Nitish: wannabe cop Vinit argues for NOTA
Lawyer Indira Sharma: Nitish started well, but has now lost his mind
Farmer Ali Ashraf: 'Dadri is jungle-raj. I don't want that in my state'
Researcher Sunita: don't like BJP but today's Nitish is worse
Social worker Munna Jha: no matter what surveys say, I'll vote for Nitish