Election Commission plans to end jumlas. Will that make polls free & fair?
Imagine if BJP was to pledge its 'Rs 15 lakh in all bank accounts' promise on stamp paper. Would it still have gone ahead with the promise only to admit later that it was a jumla (idiom)?
Maybe it would, because this dream-selling is what all political parties do for a living. But it is quite possible that the rhetoric would have undergone at least some amount of filtering. The Election Commission (EC) is reportedly planning to introduce this filter for the entire 'promise-making' process.
The plan is to vet manifestos and see if parties are making promises that can not be fulfilled. Guidelines to ensure this already exists and the Commission regularly Jayalalithaa_14052016.pdf" target="_blank" rel="nofollow" class="">scrutinises such practices.
Recently, the EC had examined such complaints against the DMK and AIADMK after the Assembly Polls and had asked them for explanations.
While the Commission merely "advised" the DMK to be more circumspect and adhere to the provisions of Model Code of Conduct, it "censured" the AIADMK and gave it the same advice.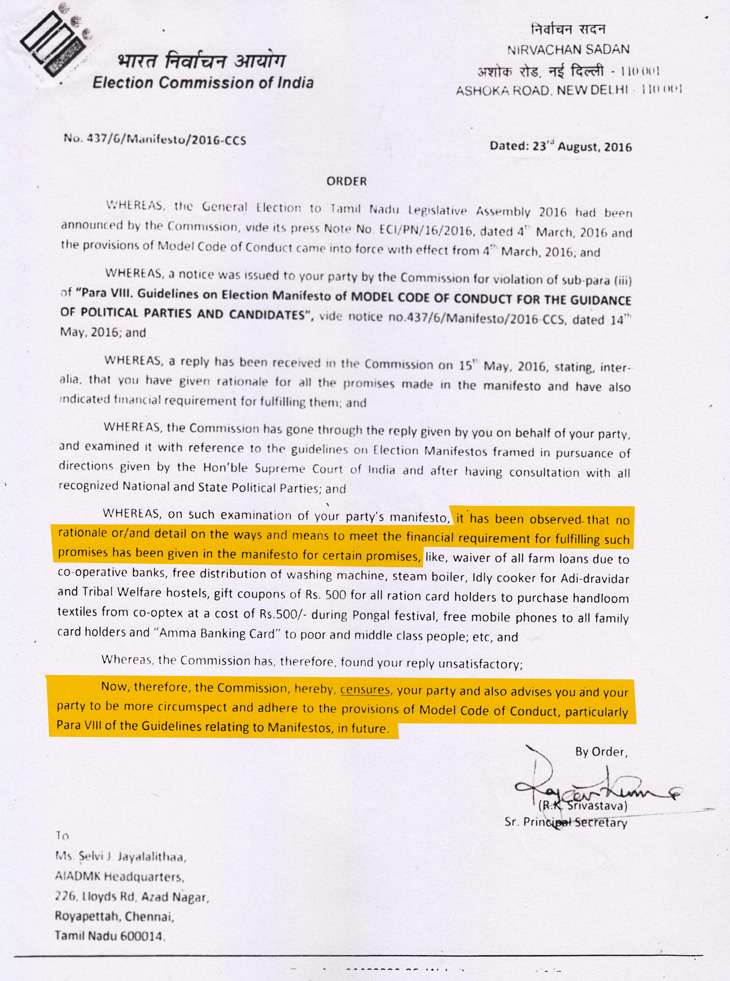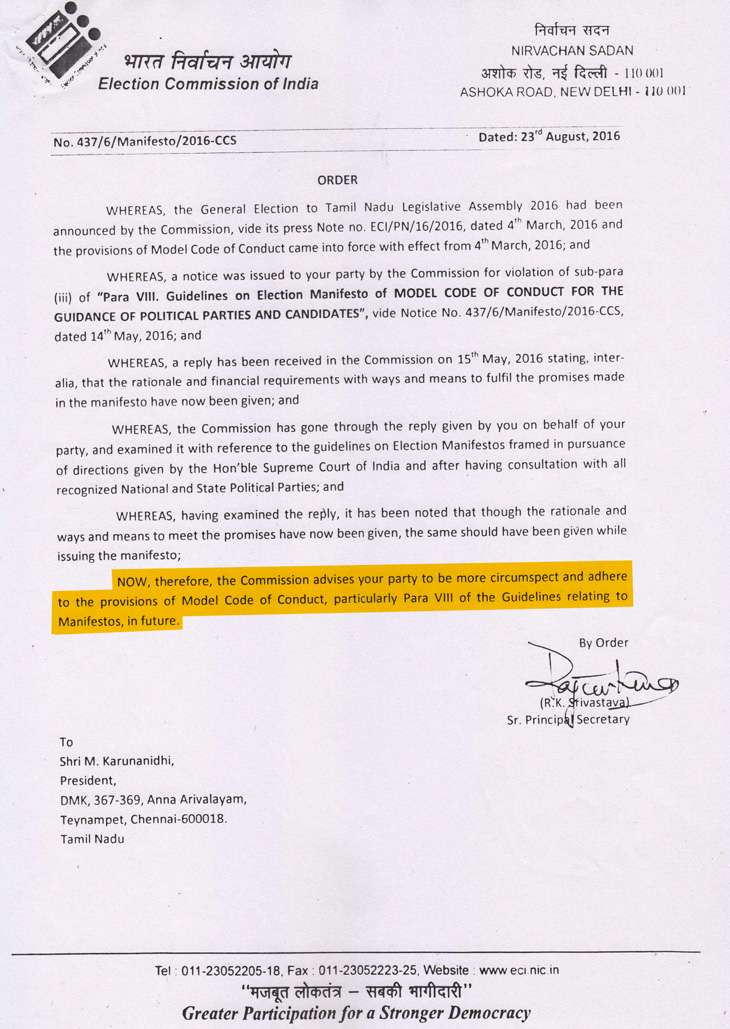 So, whats new?
What is new this time is that the EC is considering strict penalties in place of the light advice and censure that it presently issues to defaulting parties.
Parties would be asked to give an affidavit on a stamp paper to the Commission with their promises on it. They would also be asked to broadly explain how they intend to fulfill those promises.
If the EC finds them guilty of making tall promises without putting them on stamp paper, their symbol could be withdrawn.
Reports suggest that this plan could be seen put to action as early as the upcoming Assembly elections in Punjab and Uttar Pradesh in 2017.
In Punjab, the governing Akali Dal has already announced several sops like regularisation of services of over 30,000 contractual employees, a Rs 50 lakh grant to war-widows and a price stabilisation fund to help farmers, among others.
If the EC formally implements its new rules, Akalis may be forced to think twice before putting these promises across on stamp paper.
Interestingly, the BJP had also promised a price stabilisation fund at the national level ahead of the 2014 Lok Sabha polls, which is yet to come about.
Many more grand promises were made in the electoral speeches of its senior leaders, including party chief Amit Shah and then prime ministerial candidate Narendra Modi.
The most famous of these was the promise of bringing back crores of black money from foreign banks and deposit Rs 15 lakhs in every bank account.
While people may or may not have voted for the BJP actually believing that they will get this money, Opposition parties have been hauling Modi and BJP over coals for failing to meet the promise. The attack was intensified after Amit Shah admitted in an interview in February 2015 that the statement was a jumla.
Another expression used by Modi and his party in the same campaign was an umbrella promise of the advent of good times, or achche din. That too has been officially disowned as a similar idiom after senior BJP leader and Union Minister Nitin Gadkari said it had become a bone stuck in their throats.
A solution to jumlas?
Now these moves by the EC may certainly push political parties to be a bit more responsible in making promises to voters and a better solution would possibly come by taking this to the next level.
Once parties submit their promises to the Commission on stamp paper, they should also be asked to submit timelines and their conduct should then be monitored.
If they fail to fulfill the promises, and within the stipulated time-frame, it should be treated as a criminal offence in keeping with relevant sections of the IPC.
Costs should then be imposed and party chiefs and other senior fucntionaries should be held liable.
This will deter them from making false promises and corrupting the thought-process of the voters. The voters too will have to eventually realise that they are being duped and they should base their choices on more intelligent and rational considerations. This will go a long way in making elections free and fair.
Edited by Jhinuk Sen