Economy in ICU, democracy murdered: Rahul Gandhi tweets before Congress' 'Bharat Bachao' rally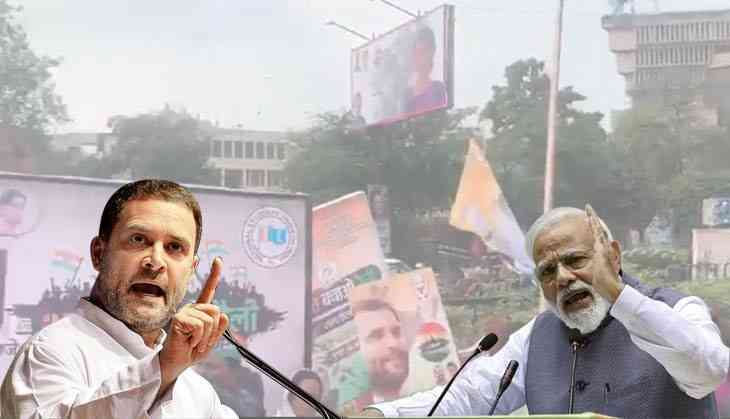 Ahead of Congress' 'Bharat Bachao' rally, party's former president Rahul Gandhi on Saturday launched a fresh attack on Natrendra Modi-govt over its handling of the economy and new law on refugee naturalization that has been protested with particular bitterness in the Northeast.
Taking to Twitter the Congress leader wrote: Economy of the country in ICU and democracy has been murdered.

On the other hand, Prime Minister Narendra Modi accused the Congress this week of spreading misinformation about the new citizenship law in the Northeast.
Meanwhile, Congress's even at Ramlila Maidan has been began. Party's general secretary Priyanka Gandhi Vadra is addressing the gathering and highlighting the 'failure' Modi-govt.

While, Delhi Congress has claimed that over 50,000 people from the city will take part in the protest. Delhi Congress chief spokesperson Mukesh Sharma said lakhs of party workers and people from other parts of the country will attend the rally.
Moreover, Party workers from across the country are participating in the rally, which is being organised to highlight several issues including "sluggish economy, rising unemployment, and farmers' problems."
The party's emphasis is on mobilising a large number of people to join the rally, as well as a strategy is being planned to send a strong message against the Narendra Modi-led government at the Centre. The entire focus of the rally will be to attack the BJP-led government on its economic policies.

Meanwhile, Delhi Police has issued a traffic advisory stating that no commercial vehicles will be allowed from - Delhi Gate and Rajghat to JLN Marg; Guru Nanak Chowk to Ajmeri Gate; Kamla Market towards Hamdard; DDU-Minto Light Point towards Kamla Market; Ajmeri Gate to Hamdard Chowk; and Mirdard to Turkman Gate.
Also Read: Rahul Gandhi refuses to apologise for 'rape in India' remark; raises Modi's 'rape capital' jibe