DUSU polls 2017: NSUI pips ABVP. 'We voted against goons' say students
Catch Team
| Updated on: 13 September 2017, 15:55 IST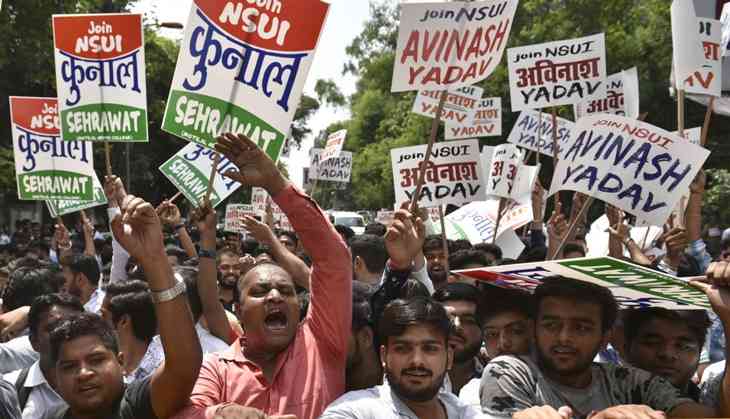 (Sushil Kumar/Hindustan Times via Getty Images)
The Rashtriya Swayamsevak Sangh affiliated Akhil Bharatiya Vidyarthi Parishad (ABVP) has suffered a big defeat at the hands of the National Students' Union of India (NSUI) in the elections to the Delhi University Students' Union (DUSU).
The NSUI, which is the Congress' students' wing, has won DUSU president's post after a gap of five years.
NSUI's Rocky Tuseed, an MA Buddhist Studies' student, is now the DUSU president while Kunal Sehrawat has been elected vice-president. ABVP won the secretary and joint secretary posts but the votes were being recounted at the time of writing this story.
Many in Delhi University see this as a decisive vote against ABVP's goondaism on campus, especially given the outfit's involvement in the attacks on teachers and students at Ramjas College earlier this year.
"I woke up at 6 am just to go and cast my vote against these goons," tweeted law faculty student Farhat Arif.
Aam Aadmi Party's Chhatra Yuva Shakti Sangathan also played an important role in ABVP's defeat. The outfit did not contest the elections saying that the JM Lyngdoh committee report isn't being implemented properly.
However, many of its supporters are said to have voted for NSUI or the All India Students' Association, the students wing of the Communist Party of India (Marxist-Leninist). Some CYSS supporters are even said to have voted NOTA.
AAP national joint secretary Akshay Marathe tweeted on polling day, "Voted in my first DUSU election today, for a gunda-free, violence-free, progressive and democratic campus" clearly hinting that he had voted against the ABVP.
"These so-called secular parties united against us. CYSS didn't contest and transferred their votes to NSUI, particularly in the colleges it wields influence," a disappointed ABVP functionary told Catch.
Results
President
Rocky Tuseed (NSUI): 16,299
Rajat Choudhary (ABVP): 14,709
Parul Chauhan (AISA): 4,895
NOTA: 5,162
Vice-President
Kunal Sehrawat (NSUI): 16,431
Parth Rana (ABVP): 16,256
Aditya Baibhav (AISA): 7,765
NOTA: 7,684
Secretary
Mahamedha Nagar (ABVP): 17,156
Minakshi Meena (NSUI): 14,352
Jai Shree (AISA): 8,035
NOTA: 7,891
Joint Secretary
Uma Shankar (ABVP): 16,691
Avinash Yadav (NSUI): 16,349
Akash Gupta (AISA): 8,659
NOTA: 9,028