Dinakaran camp releases Jayalailthaa's hospital video ahead of RK Nagar polls
S Murari
| Updated on: 21 December 2017, 16:43 IST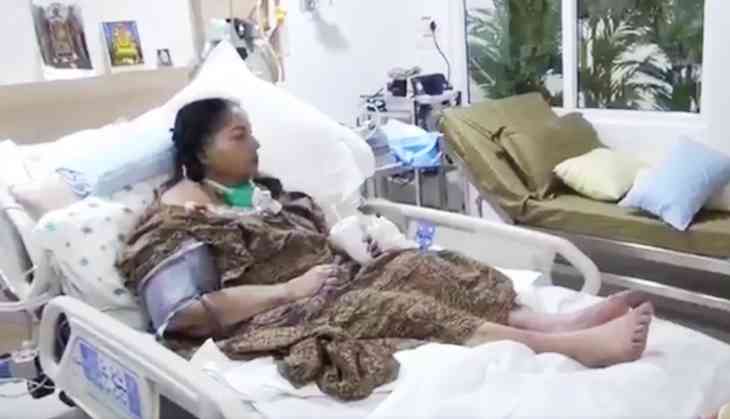 (TwitterTTV Dinakaran, J Jayalailthaa, P Vettrivel, RK Nagar, RK Nagar bypoll, Sasikala, Krishna Priya, Jaya video, apollo Hospital, Thanga Tamilselvan, AIADMK, DMK, Tamil nadu, Edappadi K Palanisami, O Panneerselvam, MK Stalin, Rajesh Lakhoni, S Murari)
A day ahead of the crucial by-election to the RK Nagar assembly seat, a supporting legislator of rebel AIADMK rebel candidate TTV Dinakaran released a video clip showing late former chief minister Jayalailthaa in a hospital bed, sipping juice and presumably watching TV.
The 20-second video clip was released by Perambur legislator P Vettrivel who had had earlier represented RK Nagar and vacated it for Jayalalithaa in 2015 when she contested from there.
Thanga Tamilselvan, another legislator, told reporters that they had released the video to clear their leader and Jayalalithaa's close aide V K Sasikala of the charge that she was responsible for her death.
Rebutting this claim, Sasikala's nephew Krishna Priya said the video was shot by Sasikala herself with the consent of Jayalalithaa and that it was not "for display".
Krishna Priya said Sasikala entrusted the video to her nephew Dinakaran before going to Bengaluru Jail upon her conviction in the assets case. According to Priya, Sasikala clearly told Dinakran to use it only in the event of an enquiry into Jayalalithaa's death. She said, "Sasikala was not bothered about the accusation that she killed Jaya. Or else she would have released the video much earlier. She did not want to release it because she wanted to respect Jaya's right to privacy."
By releasing the video, Dinakaran has "betrayed Sasikala's trust", Krishna Priya charged and said she would take it up with Sasikala the next time she meets her in jail
It was Sasikala who attended on Jayalalitha since her admission to the Apollo Hospitals on 22 September till her death on 6 December last year.
As no one had access to Jayalalithaa during that period, several malicious rumours made the rounds on social media, including one which claimed that she had lost one of her toes because of gangrene. A video, which focused on her legs, showed her in a conscious state with an intravenous drip attached to her arm.
A few days ago, Apollo Hospitals chairman Pratap Reddy told reporters that Jayalalitha was unconscious and breathless when she was brought to hospital. Early medical bulletins had also said she had uncontrolled diabetes and thyroid. After a few days of intensive care, she recovered and that was when the hospital said she was conscious and on the road to recovery. However, there was a setback subsequently.
The above video was obviously shot in the initial days of her hospitalisation. It was widely telecast by channels before Chief Electoral Officer Rajesh Lakhoni appealed to them to stop it as campaign had already ended.
Dinakaran's advocate Raja Senthur Pandian said the video had been released without his client's permission by Vettrivel. As campaign has ended, Dinakaran was barred from meeting the media to explain his position.
However another of Dinakaran's supporter and Andipatti legislator Thanga Tamilselvan said the video had been released not to get the sympathy vote as alleged by AIADMK leader and minister D Jayakumar, but to put an end to malicious charge that Sasikala was responsible for Jayalalitha's death.
A defiant Tamilselvan said: "If this is a violation of election rules, let them take action. What action has the Election Commission taken against ministers who have brazenly distributed money to voters at the rate of Rs 6,000 a vote?"
He said the release of the video had nothing to do with the by-polls. "Election is a very small issue, this is much larger as crores of Amma followers would know she was well in her initial days in hospital," he said.
Vettrivel said: "We waited for days before releasing it. We are doing it now as the Government appointed inquiry commission is not going in the right direction."
"The inquiry commission hasn't summoned us yet, if it does we'll submit it to the commission", he said.
The electoral officer in charge of the constituency Naveen Nair has registered a case against Vettrivel. Tamil Nadu Chief Electoral Officer Rajesh Lakhoni said the release of the video was a violation of Section 126 1(b) of the Representation of People's Act which prohibits display of any 'election matter', inter-alia, on TV during the period of 48 hours fixed for conclusion of polls.
The penalty is two years imprisonment. Lakhoni said: "We will first take action against the person who has released the video. And after investigation, we will find out if Dhinakaran is responsible...Media houses are requested not to telecast the video".
Going beyond the immediate context, State president of the BJP Tamilisai Sundararajan said the release of the video one year after Jaya's death was not morally right and it was an insult to her soul.
Leader of the Opposition and DMK working president MK Stalin called it cynical exploitation of Jayalalitha's death for the votes and said it would not have any impact in RK Nagar which is going to polls to tomorrow.
The release of the video has closely followed a statement by Jaya TV chief Vivek Jayaraman's yesterday indirectly attacking Chief Minister Edappadi K Palanisami and Deputy Chief Minister O Panneerselvam for failure to take action against Bengaluru woman Amrutha who claimed she was the illegitimate daughter of Jayalalitha.
With the reunited AIADMK going to the polls with the Two Leaves Symbol, Dinakaran who is contesting as an independent is playing spoil support as it is a question of survival for him as 18 of his legislators have already been disqualified and the issue is now before the Madras High Court.
His aim, as he says, is to show he is true to Jayalalitha's memory, unlike Palanisami and Pannerselvam who have betrayed her.