Did Rahul Gandhi make U-turn/s in the RSS defamation suit?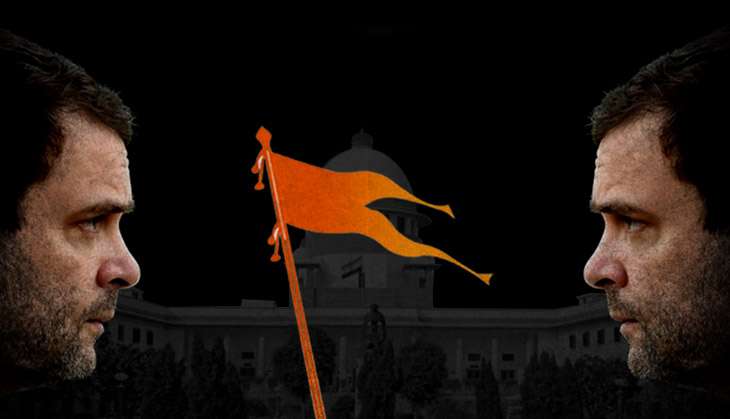 Congress Vice-President Rahul Gandhi on Thursday withdrew his plea in the Supreme Court for quashing the defamation suit against him and decided to stand trial in a case dating back to March 2014 when he made a speech blaming "RSS people" for the murder of Mahatma Gandhi at Bhiwandi.
The general impression gaining ground has been that this could be his second U-turn in as many weeks.
Just a few days ago, on 24 August, Rahul had brought to the notice of the Court that he did not blame the RSS as an institution but only the people associated with it.
But before trying to figure out the question of U-turns, there is a need to examine how the case progressed from the trial court to the Supreme Court and the various twists and turns.
Where it all started
It was on 6 March, 2014, at an election rally in Bhiwandi that Rahul said: "Gandhiji was shot dead by the RSS people and their people talk of Gandhiji."

That resulted in RSS activist Rajesh Mahadev Kunte filing a criminal defamation suit terming the comments "false, frivolous, baseless and wanton".

Rahul Gandhi approached the Bombay High Court to get relief but his petition was dismissed by the High Court though a chance to appeal against its order in the Supreme Court was granted.

On 7

May,

2015, a day before the hearing in the Bhiwandi trial court, the Supreme Court stayed the defamation proceedings and exempted Rahul from appearing before the Court.

But Rahul took everyone by surprise when he landed in Bhiwandi court the next day before making politically savvy statements through his newly created Twitter handle.

Clearly, Rahul knew that this fight was more political than legal.

It was on 26 November 2015, that the case made further news when the Supreme Court suggested the counsel representing Rahul Gandhi, Kapil Sibal, express regret and give the case a "decent burial".

While that offer was turned down, the case was posted for hearing on 17 February, 2016.
And here's what happened next
Meanwhile, the same Supreme Court bench consisting of Judge Deepak Misra was also hearing a parallel case challenging the validity of the criminal defamation law under sections 499 and 500 of the Indian Penal Code filed by Subramanian Swamy and other petitioners including Rahul Gandhi and Arvind Kejriwal.

Since that case had a direct implication on this one, it was only after the verdict came out in that case on 13 May, 2016 (upholding the law) that Rahul Gandhi was asked to face trial within 8 weeks of that pronouncement.

On 19 July, 2016, the Supreme Court bench now consisting of Judge Rohington Nariman along with Judge Deepak Misra came down heavily on Rahul Gandhi and told his counsel Harin Raval that if the comments were not retracted, he would have to face trial.

"We have held it may be historically correct but the fact or the statement has to meet the test of the public good. You can't make collective denunciation."

Raval argued that the speech was on the basis of government records and on the basis of the decision of Punjab and Haryana High Court.

But after perusing through that judgement and finding out that the judgement only quoted Godse as an RSS worker, the bench went on to say, "You have gone

a way

ahead and you can't make collective denunciation".

Raval sought an adjournment for two weeks to come back and file a rejoinder as senior counsel Kapil Sibal was unavailable.
More twists
At the next hearing on 27 July, adding a further twist, the Supreme Court actually pulled up the trial court for ordering the Maharashtra Police to probe into a criminal defamation case as the onus to prove it lies with the complainant referring to its own judgement on 13 May.

On 24 August, at the next hearing, Kapil Sibal drew the attention of the Court to an affidavit filed by Rahul Gandhi in the Bombay High Court on 15

December,

2014.

Sibal went on to repeat, "The assassination of Mahatma was a result of destructive philosophy of the persons associated with the RSS. It was also clearly suggested that the assassins were associated or affiliated with the RSS and never accused RSS as an institution of the crime".

The bench was satisfied with this explanation and asked senior counsel UR Lalit, representing the complainant to find out from him if he was satisfied with this explanation and posted the matter to 1 September.
Bad press & backlash
This happened only a little over a month after the Supreme Court's admonition of Rahul Gandhi on 19 July for his collective denunciation of the RSS. The Congress party through its spokesperson Randeep Surjewala had come out all guns blazing with claims that they would neither yield nor express regret and it was interpreted by the media as a sign of backing down.
"Mr Gandhi is a mature politician with intimate knowledge of historical facts. The Congress and Mr Gandhi will defend these remarks at the appropriate forum. Since the matter is pending adjudication, we will not like to comment further," Surjewala had said back then.
This naturally led to Rahul Gandhi getting his fair share of bad press.
This also led to a lot of backlash in the social media with many people including independent backers of Rahul Gandhi taking umbrage to the fact that he was once again running away from a battle after promising to fight it out.
But sources close to the Congress party maintained that Rahul was not running away but was merely repeating what he had submitted in the affidavit. Rahul had only spoken about "RSS people" and not specifically the RSS as an institution in the first place was their contention.
Now, even if we are to accept this for the sake of argument, the position taken by Rahul through his counsel on 1 September completely defeats that rationale.
If we go by the argument raised by the Congress, the U-turn happened on 1 September as Sibal chose to withdraw his plea on behalf of his client when he was pressed to clarify what he had already declared in the affidavit.
Rahul Gandhi himself had gone on to tweet a day after the previous hearing on 24 August that he stood by every word he had said.
So, it would not be far-fetched to argue that Rahul Gandhi made a couple of U-turns, if not one.
It might be interesting to analyse possible reasons for what looks like a volte-face, apart from the obvious negative press and optics.
Another court order was issued to Rahul this 7 August, to appear in a lower court in Kamrup, Assam, on yet another defamation case filed by the RSS on a statement Rahul made about his being denied entry into a temple in Assam.
And then there is the National Herald case where he has to face trial but is exempted from personal appearances.
Could Rahul Gandhi be feeling the heat of being challenged on multiple fronts?
His latest stand, in this case, to withdraw the plea and face trial, could once again earn Rahul a lot of goodwill among neutral people and another potential chance of reorienting a political career that has been progressing in fits and starts ever since 2004.
With the Congress party struggling to maintain its position as the primary Opposition, and with crucial elections coming up in Punjab and Uttar Pradesh among other states early next year, this could be yet another chance at redemption for the grand old party and its seemingly reluctant leader.
Edited by Jhinuk Sen
Also read: Peacemaker Rahul Gandhi gets down to fighting Congress factionalism
Also read: New guard for Grand Old Party: does Rahul Gandhi need advice?
Also read: Rahul Gandhi set for 25-day mahayatra in UP: will it change Cong fortunes?
Also read: What Rahul Gandhi needs to learn from Arvind Kejriwal