Did Amit Shah's bank in Gujarat receive Rs 500 crore soon after note ban?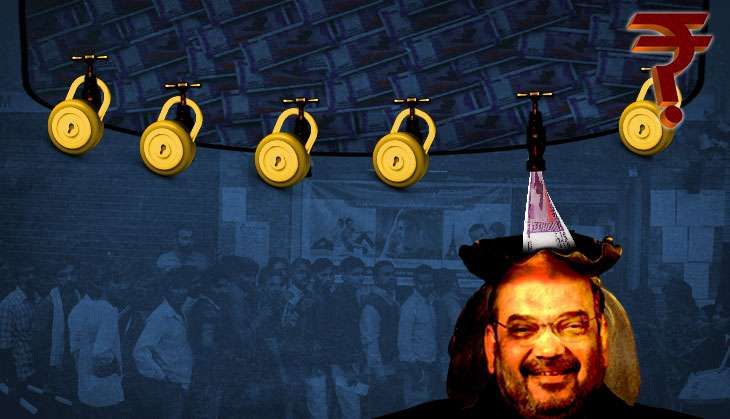 BJP president Amit Shah ensured benefits for a bank in Ahmedabad that he leads, just after demonetisation, the Congress party alleged on Monday. Congress MP Jairam Ramesh said Ahmedabad District Cooperative bank received Rs 500 crore within two days of Prime Minister Narendra Modi's demonetisation announcement on 8 November.
Ramesh also said that BJP chief Amit Shah serves this bank as a director and that shows that individuals and entities close to the BJP knew of the move in advance and were also helped by the government after the announcement.
ADC claims to be operational since 1925 and its Chairman is Ajaybhai H Patel.
Amit Shah is listed as a director with the Ahmedabad District Cooperative Bank
A media report had earlier claimed that lion's share of the said Rs 500 crore was deposited on the night of 8 November itself.
The report also claimed that the Income Tax Department and Enforcement Directorate have launched a probe into the case.
Ramesh went on to recall several instances from across the country in which cash belonging to people associated with the BJP has been apprehended, thus proving that BJP leaders knew of the move in advance. He mentioned the cases of Mahesh Shah from Gujarat who declared Rs 13,860 crore under the income declaration scheme, recovery of Rs 10 crore in demonetised currency from a car in Maharashtra traced to somebody close to BJP leaders Pankaja Munde and Subhash Deshmukh and similar recoveries from BJP leaders in West Bengal and Tamil Nadu, Manish Sharma and JVR Arun, respectively.
Ramesh urged Modi to get his party colleagues investigated to find out the source of such large amounts of money. He stressed that the Congress party could say with full confidence now that demonetisation had been proved to be 100% unsuccessful.
The statements indicate that the Congress intends to give the government no let-up in attacks over demonetisation, even though the party's campaign is faltering under the weight of its own flip-flops.
The Congress had called for a joint press conference of all Opposition parties on 27 December. However, several parties have decided to skip the meet, saying Congress was yet to initiate consultations on a comprehensive joint opposition programme.