Despite UP debacle, Congress upbeat about Gujarat. PK may handle campaign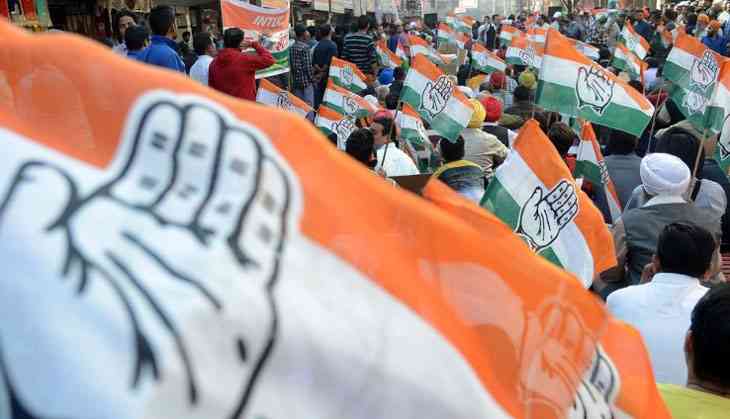 After its emphatic electoral triumphs in Uttar Pradesh and Uttarakhand, BJP is planning to advance Assembly elections in Gujarat. The idea is to ride on the Narendra Modi wave. The tenure of the incumbent government ends in December 2017 and sources say that it is likely that the saffron party could dissolve the Assembly six months earlier in its bid to retain the state for the fifth consecutive term.
However, Congress said that these are signs of desperation and BJP is not confident of winning the state despite the "so-called Modi wave". They pointed that if it was so easy why would the BJP want to advance the polls. Ecstatic with its "advanced election preparations", Congress leaders say that they are ready to take on the ruling party that no longer has Modi as its chief ministerial face.
"We started the process of candidate selection from today. Earlier, the names were announced right at the last minute but this time around we should have the final list in the next two months. So, even if the polls are announced early, we are prepared for it," said Congress leader Arjun Modhwadia.
In fact, Gujarat's General Secretary in-charge Gurudas Kamat held a meeting of senior party leaders and around 1500 aspiring candidates in Ahmedabad to apprise them about the party's strategy in the run up to the assembly elections. Earlier, Kamat had hinted at finalising the list of candidates way before the elections to ensure they get enough time to mobilise support in party's favour.
During the course of the meeting, the participants were also informed about the issues that should be raised to corner the BJP. Modhwadia said that issues like Minimum Support Price for farmers, unemployment, law and order, atrocities on Dalits and Patidars, corruption, compensation for farmers whose lands have been acquired by private players, among others, would feature prominently in their campaign strategy.
In order to boost its campaign strategy, party leadership is also pitching for poll strategist Prashant Kishor to be brought in to repeat his performance in Punjab. "He knows Gujarat way too well since he had earlier created the campaign strategy of Modi when he was Gujarat chief minister. His inputs should further bolster our efforts in ending BJP's long run in the state," claimed another senior leader from the state.
Another Congress heavyweight and a possible chief ministerial candidate Shankersinh Vaghela too has recommended hiring services of the poll strategist who he said was key to BJP winning elections on 2012 and 2014.
If Kishor is roped in, he is likely to ask that the party declares its chief ministerial candidate before the polls since he is more comfortable in building campaigns around regional satraps as witnessed in Punjab. However, the same experiment failed in Uttarakhand where Harish Rawat was made the face of the party.
Who will be the CM candidate?
Some believe Vaghela pitching for Kishor could also be a ploy to let the party declare him as the chief ministerial candidate. Though Vaghela has publicly announced his withdrawal from the CM's race, no one is buying that.
His detractors say that Vaghela has promised victory to the party if he is given total control of the party and complete say in ticket distribution. "Punjab is different than Gujarat. We do not have the policy of naming chief ministerial candidates. We won Karnataka without the chief ministerial candidate but it all depends on the high command's decision," Modhwadia said. Similar sentiments were echoed by Kamat who cited BJP's example of forming governments in UP, Uttarakhand, Manipur and Goa without naming chief ministerial candidates.
However, Vaghela still remains the tallest leader in the faction-ridden Congress and is also the leader of Opposition giving him slight edge over others including Bharatsinh Solanki, Shaktisinh Gohil and Modhwadia. Meanwhile, nothing has been finalised as of now and the decision would be taken once Congress vice president Rahul Gandhi returns from the US where Sonia Gandhi is undergoing treatment.
The Congress leaders are also open to the idea of having an alliance with like-minded parties such as NCP and JD(U). Possibility of Congress-NCP alliance gained momentum after Rahul met Sharad Pawar. A similar understanding with Patidar leader Hardik Patel is not being ruled out and Congress strategists are trying to reach out to him. There is also speculation that the party may reach out to young Dalit leader Jignesh Mevani.
A senior Congress functionary said, "We would do anything to defeat the BJP even if it means having some sort of understanding with secular parties. This time around there is no Modi or Amit Shah in the state which should benefit the Congress. Even if they campaign as extensively as they did in UP, they will have to answer a lot of questions."
He went on to add that Modi could have appealed to the people of UP because he gave them some sort of hope. "But he has nothing to offer here. In fact, they have changed three chief ministers in the last five years which will also go against them," he said.