Delhi Police roughs up, detains Najeeb Ahmed's mother. Outrage erupts
The sight of Najeeb Ahmed's mother Fatima screaming in pain while being dragged by the Delhi Police is going to haunt us.
Keep aside the political tussle around the Jawaharlal Nehru University student's disappearance. Even forget the conspiracy theories that he has been abducted, if not something even more serious, by the BJP's students wing - the Akhil Bharatiya Vidyarthi Parishad. For Fatima Nafees, this battle is not a political one. It is to find her son, who went missing over three weeks ago, a day after he was allegedly beaten up by ABVP goons in JNU.
On Sunday, Najeeb's mother and sister were detained by the Delhi Police along with hundreds of protestors while they were marching towards India Gate.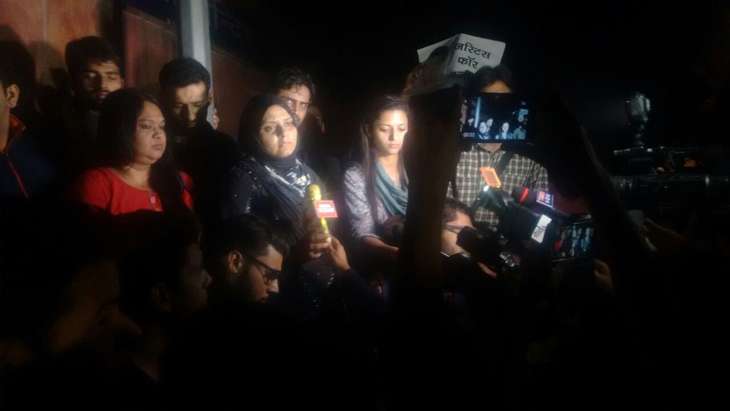 Najeeb's sister speaks to protestors outside Mandir Marg police station (Amrit Raj)
The protesters, most of them students of JNU and Jamia Millia Islamia numbering around 500, were taken to Mayapuri, INA and Barakhamba police stations, one of the detained students told Catch.
"Najeeb's mother was beaten up and dragged into a police van." said Satarupa, a student leader from JNU who was part of the protests. "Shameless Delhi Police failed to find Najeeb for 23 days and today it misbehaved with Najeeb's mother who is hoping to see her son return. Najeeb's sister has also been detained. The police blocked all the ways to India Gate and detained the peaceful protesters from the National Archives and took them to different police stations," she said.
Reacting to the incident, Delhi Chief Minister Arvind Kejriwal said in a tweet. "Why have they detained Najeeb's mother? Am going to the police stn to meet her." Police had imposed Section 144 to thwart the assembling of students for the protest march.
Delhi Deputy Chief Minister Manish Sisodia questioned the rationale behind the imposition of Section 144 just because students were protesting. "Anything is happening in the country. Mothers are being held; students are being held," Sisodia told Catch.
Met Hon'ble Prez to seek his intervention on missing JNU student Najeeb. He assured of all support n that he will seek report from MHA n JNU

— Arvind Kejriwal (@ArvindKejriwal) November 6, 2016
See how Najeeb's mother was dragged by Delhi police. Mr. @rajnathsingh , nothing more shameful can happen under your rule.@ArvindKejriwal pic.twitter.com/zlWhBZsed0

— Satarupa Chakraborty (@satarupajnu) November 6, 2016
Najeeb's mother misbehaved by Delhi police, beaten up and dragged into police van, now detained in Mayapuri PS. pic.twitter.com/mUNK7Jf17f

— Satarupa Chakraborty (@satarupajnu) November 6, 2016
The Delhi Police's treatment of Najeeb's mother and sister is no different from how they detained the family of soldier Ram Kishan Grewal who committed suicide a few days ago.
Opposition parties like Aam Aadmi Party and Congress say that the Delhi Police couldn't have conducted such a crackdown without the backing of the Narendra Modi government at the Centre.
Earlier in the day, Delhi Chief Minister Arvind Kejriwal met President Pranab Mukherjee and submitted a letter in which he highlighted the goondaism of ABVP cadres in JNU and their possible role in Najeeb's disappearance. He also criticised the Delhi Police for being unable to trace Najeeb or even effectively question ABVP members. According to reports, the President has sought a report from the Ministry of Home Affairs on Najeeb's disappearance.
.@ArvindKejriwal's letter to President Shri Pranab Mukherjee on missing JNU student #Najeeb. pic.twitter.com/XmPc3ZDVxX

— Ankit Lal (@AnkitLal) November 6, 2016
Students recount the crackdown
On Sunday afternoon, about 500 protestors reached India gate to protest against missing student Najeeb Ahmad. Out of the protestors, about 150 were students from Jamia Milia Islamia. Later, they all were bundled up in two different buses taken to Chitaranjan Park police station.
Speaking to Catch, Jamia student Khalid Hasaan said, "We were peacefully protesting when suddenly the police started pushing us. About 70 students were put in one bus and taken away".
"The remaining of us were also packed in buses. I don't know where are they taking us," he said while still on the bus.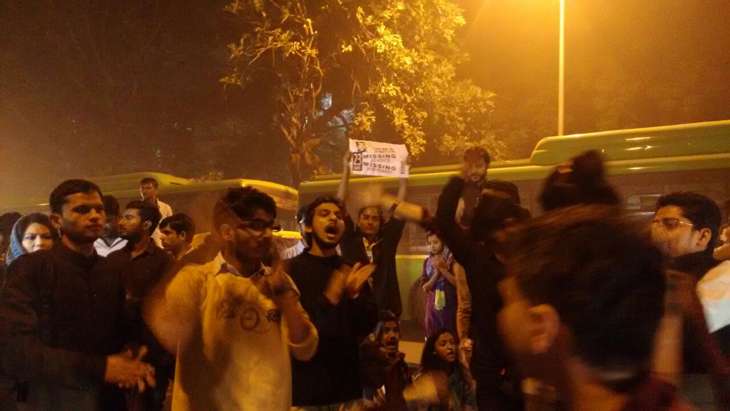 Students protest outside Mandir Marg police station
Later, he informed that all Jamia students were taken to Chittaranjan Park police station. "The police made videos of all of us. We're still sitting here."
Khalid says some of his fellow mates were manhandled by police.
Why is Delhi Police torturing students who demand #JusticeForNajeeb? Instead spend strength to #BringBackNajeeb! https://t.co/stKkpFqIxp

— Kavita Krishnan (@kavita_krishnan) November 6, 2016
The Delhi Police, meanwhile, speaking to media, said that all roads blocked in India Gate and surrounding areas, were closed due to Chhath Puja.
Kejriwal takes centrestage
The protest comes two days after Delhi Chief Minister Arvind Kejriwal asked JNU students to take the protest outside campus. "Najeeb will be back by only one thing - people power. Let's all get together and take this movement out of the JNU campus. Let us all get together at India Gate. There should be at least one representative from every university of this country," he had said.
Shame that BJP govt is so scared of protestors that it won't even allow ppl to travel without barging into the buses/autos #BringBackNajeeb

— Shehla Rashid (@Shehla_Rashid) November 6, 2016
The Delhi CM visited Najeeb's mother and sister at the Mayapuri police station where they were being detained.
According to information provided to Catch around 8 pm, Najeeb's mother and sister have been released by the police but they haven't reached home as yet. Protests are still continuing at the Mandir Marg police stations. The students who were released have joined those protesting outside.
Speaking to media, Najeeb' mother later told ANI, "What am I asking for? I only want my son back. If police can't do this, please give this case to CBI."
With inputs from Vikas Kumar. Edited by Aditya Menon