Even Lord Ram can't save BJP: AAP on Manoj Tiwari's remark on Arvind Kejriwal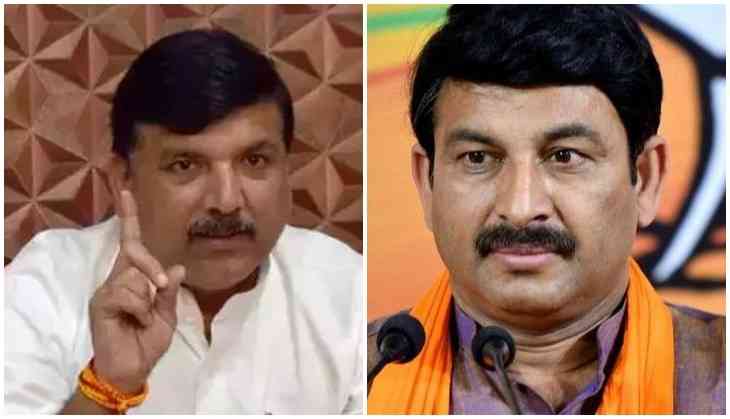 Senior Aam Aadmi Party (AAP) leader and Rajya Sabha MP Sanjay Singh on Saturday slammed Delhi BJP chief Manoj Tiwari for his remark on Delhi Chief Minister, saying that Lord Hanuman's idol had to be 'washed' several times after Kejriwal touched it with his 'dirty' hands.
Accusing the Bharatiya Janta Party (BJP) of believing in untouchability, the AAP leader said that even Lord Ram can not save the BJP party now.
Tiwari has stoked a controversy when he called Kejriwal a 'nakli bhakt' (fake devotee) and said that Lord Hanuman's idol was washed several times after he touched it.
Polling is currently going on in Delhi for the 70 Assembly seats and Model Code of Conduct is in effect in the city.
Worth mentioning here that voting at As many as 13,571 polling stations in 2,688 locations is underway. Out of these, 3,141 are critical polling stations and 144 are vulnerable polling stations. 2,04,830 voters are above the age of 80, while 147 voters are above the age of 100.
AAP MP Sanjay Singh on Manoj Tiwari's comment: Delhi ke CM ko itni achoot bhavna se dekhti hai BJP? Is se zyada gira hua aur ghatiya bayan ho nahi sakta. Abhi bhi aap us yug mein hain jahan daliton ko mandir mein pravesh nahi diya jata tha.Shri Ram bhi ab BJP ko nahi bacha sakte. https://t.co/9RVLm9brbA pic.twitter.com/yhyjvLjY05

— ANI (@ANI) February 8, 2020
The city is witnessing a triangular contest among the ruling AAP, which won a landslide majority in the last elections, the BJP and the Congress. In the last poll, the AAP had won 67 seats, the BJP 3. Congress didn't open its account.
Chief Minister Arvind Kejriwal led Aam Aadmi Party (AAP) is hoping to retain power for the second consecutive term. Similarly, the BJP is hopeful to gain a majority by cashing in on the popularity of Prime Minister Narendra Modi.

Also Read: Delhi Election 2020: My sixth sense says BJP will form govt in Delhi, says Manoj Tiwari