Decoding a photograph: Mulayam's family proves patriarchy is alive and well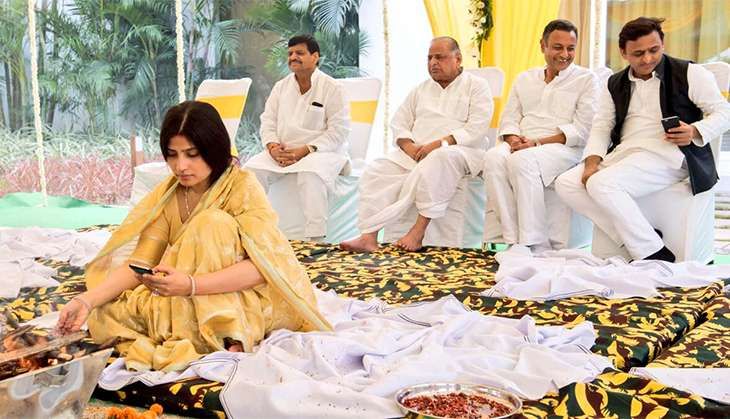 On 7 October, Uttar Pradesh Chief Minister Akhilesh Yadav shared a family photograph on his Twitter account. So far, it has already been 'liked' by over 2,400 netizens and around 500 users have retweeted it.
Today's picture. pic.twitter.com/yWaJ8TUBdb

— Akhilesh Yadav (@yadavakhilesh) October 7, 2016
Within hours, it was picked up by all major news websites. While some news outlets simply published it as a news item, others carried it with political commentary.
The picture also created a buzz in the social media. "Dekhiye... internet ka khamiaza! bahu aur beta dono mobile par..baap aur chacha akele (See, the effect of the internet! The son and the daughter-in-law are busy on their cellphones leaving father and uncle alone)," read one of the posts.
Also read - Amit Shah lays out BJP logic: Nobody can politicise surgical strikes, except BJP in UP
Take a good look at the photograph. As the saying goes, it indeed speaks a thousand words.
The Yadav feud continues
Many political commentators have viewed the image as proof of the increasing isolation of Akhilesh Yadav within Mulayam Singh's clan. The picture has also been ridiculed and subjected to scathing satire. However, this writer proposes to look at it from another angle.
The young chief minister of India's largest state has shared this photograph in 2016 - he must have chosen this particular image from other images before choosing to share it.
In it, Dimple Yadav, Akhilesh wife, is sitting on the ground and rekindling the fire of a yajna while looking at her mobile phone.
The men of the family sit on chairs behind her. Besides the chief minister, there's Mulayam Singh Yadav, his younger brother Shivpal Yadav and one other guest. There is presumably nothing that catches the eye in this scene.
Misogyny in India
What the picture does reflect is the deep-rooted malaise of our patriarchal society. It represents a misogynist mentality that requires a woman to sit below the male members of the family - even if the woman happens to be the elected representative of thousands of people and the daughter-in-law of state's most powerful family.
The picture narrates the story of stereotypes defining the relationship between men and women in our society. It is a proof that socialism has not yet arrived, at least, for the women of the Mulayam's family. If a Parliamentarian is sitting alone on the ground, fulfilling her supposed dharma, in front of the patronising men, one can imagine the social status of ordinary women across the country.
This writer has no objection to Dimple Yadav performing a puja. It is her prerogative and she must have been doing it out of her free will.
However, it is hard to miss the men in the picture. Especially, the chief minister himself. Talking lovingly to their spouse in front of the family elders is still an affront to supposed manhood for a majority of men in UP and Bihar. It is justified with lofty, but often hypocritical concepts like propriety, respect, tradition etc. The foremost leader of the state appears to be just one of those men in this picture. And, this is disappointing, to say the least.
Such photographs reach villages and small towns through mass media - common people are bound to be influenced in one way or another.
This writer has closely witnessed how such conduct of leaders can affect the behaviour of the masses.
The story goes back to the time when Rabri Devi was at the helm of affairs in Bihar government. This writer was studying in Class VII or VIII. The pictures of Rabri Devi assiduously performing the Chhath Pooja used to appear on the front pages of newspapers in those days. She could be seen cooking food on a kitchen stove with the stole of her sari on her head like any other obedient bahu of a conservative family. This writer still remembers how his father used to show these pictures to his mother as an example of an ideal behaviour. "See, how a Chief Minister is cooking food on a chulha. How gracefully she has covered her head with her sari," he would say, notwithstanding the fact that he was politically opposed to RJD.
This photograph has refreshed that memory. In short, such pictures have a subtle effect on the social psyche. They are much more than '@Today's Picture' as tweeted by Akhilesh Yadav.
The views expressed here are personal and do not necessarily reflect those of the organisation.
Edited by Aleesha Matharu
More in Catch - Yadav civil war: Shivpal fires salvo at Akhilesh, fires 7 CM loyalists
Yadav saga ends: Akhilesh's wings clipped, Mulayam & Shivpal show who's boss