Darjeeling crisis: Bengal accuses Sikkim of shielding GJM leaders, writes to Centre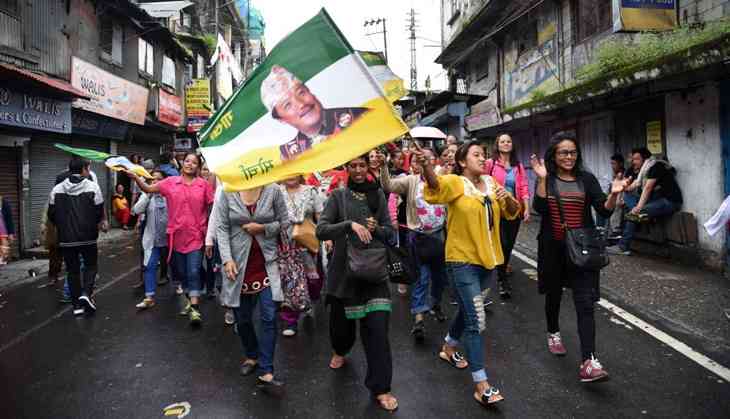 (Tanmoy Bhaduri/Nur Photo via Getty Images)
West Bengal government wrote a letter to the Union Home Ministry on Saturday seeking their intervention in its differences with the Sikkim government. Apparently, the Sikkim government is not co-operating with West Bengal in its efforts to bring back six Gorkha Janmukti Morcha leaders from Namchi (Sikkim). The arrest of these leaders has been ordered because they are allegedly involved in the recent blasts that took place in Darjeeling and Kalimpong respectively.
The six GJM leaders who were ordered to be arrested by West Bengal police include Sabitri Rai, Hemant Gautam , Raj Thapa, Shanker Adhikari, Jagdish Singh and Bimal Rai.
On Saturday, West Bengal chief minister's office (CMO) wrote to the Union Home Minister, urging him to take immediate steps to make the Sikkim government co-operate in arresting the leaders responsible for inciting violence in Darjeeling and Kalimpong.
The letter allegedly mentioned that three top GJM who have been charged under the Unlawful Activities Prevention Act (UAPA) by the state government -- Bimal Gurung, Prakash Gurung and Roshn Giri -- are hiding at Sikkim under the protection of the state government there.
Meanwhile, the Sikkim government has slapped murder charges against the superintendent of Kalimpong district, Ajit Singh, following the death of one Dawa Bhutia. Apparently Bhutia died after police opened fire at Namchi on Friday when they went to arrest Bimal Gurung and two others during the Central Committee meeting which was held at Namchi on Friday.
A senior official of the state government said, "We have also decided to move to the Court after we found that Sikkim government did not co-operate with us, although we have the arrest warrant against six GJMM leaders for inciting violence."
While the Sikkim government claims that the West Bengal government could not produce any arrest warrants, the latter claims that they did produce the necessary arrest warrants to bring back the accused to the state.
Malay De, chief secretary of West Bengal, said "We have already produced arrest warrants to bring back the six accused GJM leaders to West Bengal, but Sikkim government is yet to respond."
Tourism minister Goutam Deb said, "We have already issued a look out notice for three top GJM leaders. According to police reports they are hiding in Sikkim. Unless the Sikkim government helps us, it will be difficult to arrest them".