Darbhanga teacher Nikhil: we Brahmins don't believe in the caste system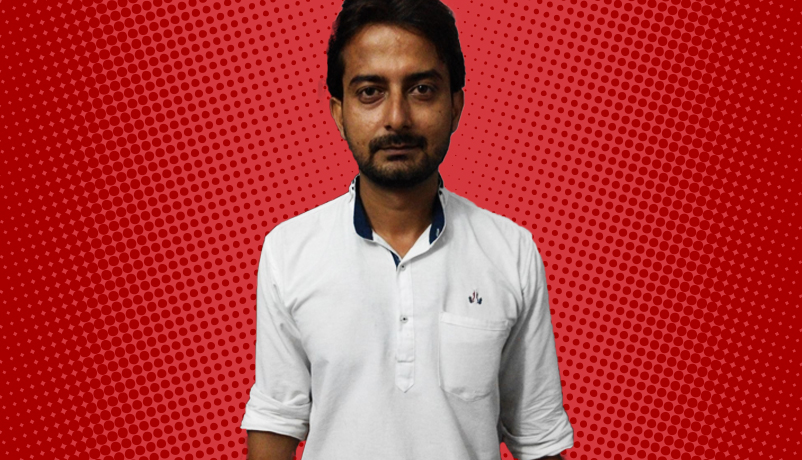 The teacher
Nikhil Kumar Jha, 30, is a postgraduate in history
He teaches at a private institute in Darbhanga
His candidacy
Nikhil says no political party has done anything for the Brahmins, including the BJP
In order to increase Brahmin representation, he wants to contest as an independent
More in the story
Nikhil\'s take on PM Modi, Nitish Kumar and Lalu Yadav
His stand on caste-based reservations
Elections are not just about politicians. They're about people and issues. And what will really drive their vote.
Catch is, therefore, starting a 'People of Bihar' series, which will daily capture what different impact groups across the state are feeling. This is true insight on the Bihar election: up-close and hyper-personal.
Analysts agree that caste will end up being the decisive factor in the Bihar assembly election. Every political party is out to woo Dalits, Mahadalits, OBCs, EBCs, Muslims, Yadavs and Paswans.
The 'upper castes', including Brahmins, Bhumihars, Kayasthas and other denominations, seem to be peripheral to the main narrative of the polls. It is assumed, and not entirely unfairly, that they'll vote for the BJP, since that's the way they've voted for decades now.
Nikhil Kumar Jha, a 30-year-old teacher at a private institute with a Masters degree in history, is angered by this attitude. A Maithili Brahmin by caste, Nikhil says: "It seems the election is only for Dalits, Muslims, Mahadalits and Paswans. Have you ever heard about Brahmin or upper-caste voters' issues? No, because some political parties take us for granted."
Regarding the BJP, he says: "BJP has given tickets to only one or two Brahmins. Everyone considers us their vote-bank, but the BJP has done nothing for us."
"Tickets go to bahubalis or Mahadalits & OBCs. Who'll give a ticket to a Brahmin?" asks Nikhil Jha
In fact, Nikhil is so fed up that he's planning to contest the election as an independent from the Darbhanga constituency in the fifth phase. "We need to unite and raise our collective voice in order to be heard," he says.
In the course of our conversation, Nikhil keeps raising the slogan 'Mujhe mera adhikaar do, ya goli se maar do' (give me my due or kill me with a bullet). Here are excerpts from the conversation.
How do Brahmins feel about their position in Bihar politics?
Neglected, cheated and destitute.
Why do you feel this way?
Brahmins handle most of the political campaigning, but at the time of ticket distribution, Mahadalits and OBCs get preference. Our political representation is minimal.
Caste-based reservation has kept job opportunities out of reach, even for educated Brahmins. This time, we will either vote for a Brahmin candidate, or nominate our own Brahmin candidate.
So you think Brahmins need to contest independently? Why is that?
We have voted for the Congress, and then the BJP. But in this era of caste-based reservations, Brahmins are trampled. Brahmins are considered as 'intellectuals', but what will we do with intellect if we don't have jobs? Look at the government sector, Brahmins are nowhere.
Do you want to be Bihar's version of Hardik Patel?
No, Hardik Patel was fighting to get reservation. I am fighting to abolish caste-based reservations.
Prime Minister Narendra Modi says 'sabka saath, sabka vikas' (everyone together on the path to progress). So why do Brahmins feel excluded?
These are jumlas (lip service). If he really cares for everyone, then why aren't more Brahmins fighting in this Bihar election? Candidates use religion, caste and money to wrestle their way to power.
If they [BJP] actually cared about everyone's development, then Brahmins wouldn't have been so backward.
The bahubalis (musclemen) get tickets, who'll give a ticket to a poor Brahmin? Tickets are given out on the basis of caste, and even in that case, who'll give a ticket to a Brahmin?
What are your views on Nitish Kumar?
Nitish Kumar did some good work. But he, too, does not do much for Brahmins.
Now he is with Lalu, who is famous for caste-based politics. The issue of development has been put on the backburner in this atmosphere.
You only talk about Brahmins. So how are you different from others?
There's a big difference. They [others] are supporters of caste-based politics. We Brahmins are against this caste system.
We believe in 'rozgaar, adhikaar, aur sab ko sab ka pyaar' (employment, equal rights and love for all).
Also read: Bihar's Brahmins ask: why is our vote taken for granted?
Dalit PhD student Krishna: 7/10 for Nitish, 3/10 for Modi
An ATM guard who's always with a book, and why he'll vote NOTA
Banka Silk founder Udayan Singh wants a third term for Nitish
Graduate Azra feels Modi isn't inclusive enough to vote for
Whoever comes to power must create jobs: front-office boy Divyanshu
Nitish is a better leader than Modi: Student politician Zeeshan
Nitish has ruined his chance by joining Lalu: Lakshmi, graduate, Muzzafarpur
There's little to choose between Modi and Nitish: wannabe cop Vinit argues for NOTA
Lawyer Indira Sharma: Nitish started well, but has now lost his mind
Farmer Ali Ashraf: 'Dadri is jungle-raj. I don't want that in my state'
Researcher Sunita: don't like BJP but today's Nitish is worse
Social worker Munna Jha: no matter what surveys say, I'll vote for Nitish
Madrasa student Ahmed: Modi's promises fake, I'll vote for Nitish
Entrepreneur Imran: give BJP a chance to prove secular credentials
BCA graduate Manish gives Modi a 10/10. Find out why he's not voting Nitish
Farmer Pawan Yadav is angry with Lalu, but may still vote for him
Left activist Vineet: grand alliance lesser of two evils
Unskilled worker Ajeet: no interest in politics, but will vote Nitish