Cornered Hooda turns into one-man army against BJP, INLD and Tanwar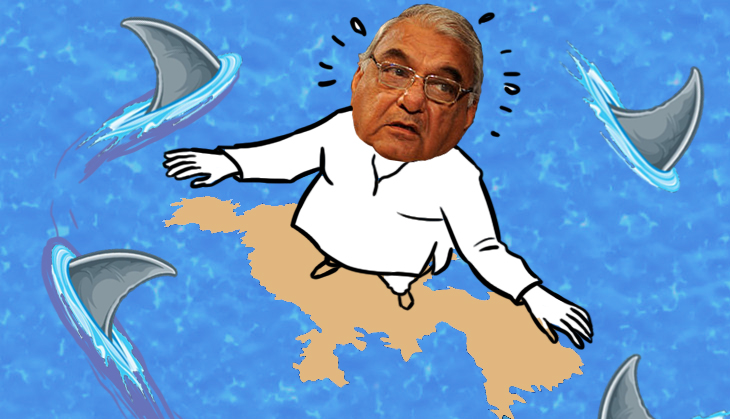 Despite attempts from various quarters to corner him, former Haryana chief minister and prominent Jat leader of the Congress party Bhupinder Singh Hooda is fighting an intense battle to maintain his clout in state politics. He is facing attacks from all sides - the Manohar Lal Khattar-led BJP government, the Indian National Lok Dal (INLD) and even a faction within the Congress.
But a cornered Hooda has been waging a war against his adversaries on his own might.
Also read: Political storm after chapter on Jat heroes removed from Haryana textbook
Hooda has been in the news for the last few months for all the wrong reasons. Last week, the CBI booked Hooda and 13 others in connection with "irregular" allocation of 14 industrial plots in Panchkula in 2012. Hooda was the chairman of Haryana Urban Development Authority (HUDA) at that time. A case in the matter had been registered by the state vigilance department. The matter is also being heard by Punjab and Haryana High Court.
Hooda in the line of fire
It is alleged that after the final date for submission of applications, provisions of the allotment were changed and plots were allocated to the beneficiaries at a price lower than the government rate.
Prior to this he state vigilance bureau had registered a case of cheating and corruption against him along with four officials for allegedly re-allotting a plot to Associated Journals Limited (AJL) in Panchkula in 2005. AJL was reportedly then the publisher of the National Herald newspaper.
Hooda has termed the action by the state government as a witch-hunt arising from vendetta, a charge that Khattar has denied. Addressing a public meeting in Julana in Jind, Khattar said, "Hooda had himself said during the Vidhan Sabha session that he was ready for any investigation. So why is he worried now?"
Khattar has also stated that Hooda is getting nervous of being arrested as the misdeeds committed during his regime are being exposed. This statement came in view of a show of strength was organised by Hooda in Chandigarh in the form of workers' convention that was attended by hundreds of Congress workers. Khattar said that Hooda is following the policy of "offence is the best defense".
The INLD leadership has also been gunning for Hooda. Earlier this month, leader of opposition in the state assembly and INLD leader Abhay Singh Chautala had written to Khattar demanding registration of a criminal case against Hooda on charges of criminal breach of trust, embezzlement, forgery, corruption and criminal conspiracy for two alleged land scams in Gurgaon and Sonepat.
He shot off another salvo seeking another case against Hooda for allegedly depriving the farmers of their ancestral lands in order to benefit builders. This was in the context of the Supreme Court judgment on 13 May which reportedly, given a huge relief to farmers and landowners, while quashing the "illegal" and "deceptive" licensing of 280 acres of land in Rohtak in 2006 to a real estate firm.
Chautala said that the INLD stood vindicated by the judgement as the party had been accusing the former CM of arm twisting farmers into selling their lands at throwaway prices.
Besides these cases, the Khattar government had recently decided to withdraw facilities, including rent-free accommodation and staff, provided to ex-chief ministers of the state at par with the cabinet ministers.
It was on 2 May, 2013 that Hooda as the then chief minister had decided at a cabinet meeting that all facilities provided to a cabinet minister may also be extended to the ex-chief ministers of Haryana.
Also read: Jat stir: Haryana back to normal. It's politics as usual for BJP, Cong & INLD
During the Jat agitation for reservation in educational institutions and government jobs, an audio clip came into circulation in which Hooda's former aide Prof. Virender Singh is allegedly exhorting a Khap leader Kaptan Mann to start violence.
While the Congress issued Virender a notice, Hooda hit back saying,"Only a judicial commission can unravel who were behind the violence, how it started, why a peaceful agitation took this shape and what has been the fallout. A number of video clips featuring BJP MLAs and ministers are doing the rounds. He added that he was ready for an 'agni pareeksha' (trial by fire). "I was in power for ten years. There were protests and agitations but such violence and riots were never allowed to take place," he said while announcing that his party would fight attempts to polarise the society on caste lines.
The enemies within
Hooda has been facing opposition from within his own party. State Congress unit president Ashok Tanwar is said to be his political rival and he has the support of the Congress Legislative Party (CLP) leader Kiran Chaudhary. But most of the MLAs are Hooda's men and despite attempts from within the party to undermine him, he remains very strong. In April, the MLAs had sought time from party president Sonia Gandhi to demand Tanwar's ouster. They were reportedly upset at the 'Hooda bashing' being done by various leaders at the Sadbhavna rallies carried out in the wake of the Jat agitation violence. Hooda had also embarked upon separate Sadbhavna rallies.
Hooda made a surprise entry at the briefing being held by central leader Rajiv Shukla and Tanwar to highlight the failures of the Narendra Modi regime on the completion of its two years in power. When questions were asked about the infighting within the Congress and differences between him and Tanwar, he took the microphone and just said, "You will not get what you want to hear".
During the workers' convention organised by him, Hooda attacked the Khattar government. Claiming to be fighting for the rights of the common man, he said "Come what may, I will stand by the general public and fight for their rights." In a counter attack, he has demanded an inquiry by a sitting judge of the Supreme Court into the Jat agitation.
In a major offensive move, Hooda has decided to launch a statewide 'Jan Jagran Abhiyan' from 12 June. During this campaign, he will be attacking the BJP government on issues like the Jat reservation agitation, non-implementation of Swaminathan Commission recommendations in the farm sector, worsening law and order situation in the state and issues related to sharing river waters with Punjab. To top it all, he plans to start this campaign from the home turf of state Congress chief Ashok Tanwar.
Also read: Jat quota row: Haryana inches towards normalcy; NH-1, NH-10 still closed