Congress was busy pre-booking cabinet slots. No one reached out: Vijai Sardesai, GFP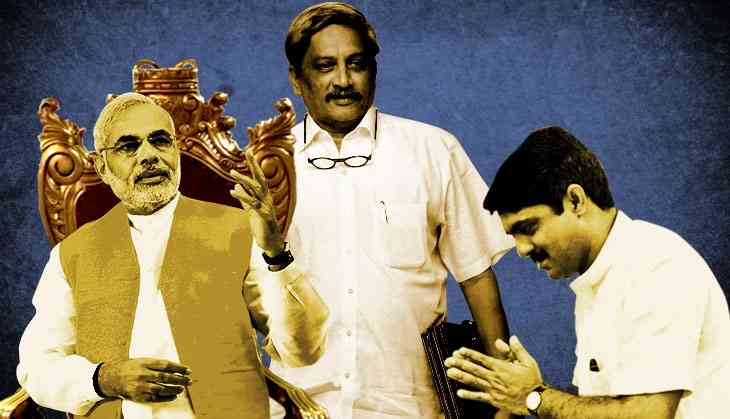 Congress General Secretary Digvijaya Singh's claim that Manohar Parrikar being the chief minister for only two days fell flat after the BJP chief minister secured a comfortable majority during the floor test in Goa Assembly.
Winning only 13 seats, BJP with support of three MLAs each of the Maharashtrawadi Gomantak Party (MGP) and the Goa Forward Party, three independents and the lone Nationalist Congress Party legislator, ensured that Congress continues to sit in the Opposition benches for yet another term.
Congress suffered a major setback after GFP extended support to BJP even though it had fought on a strong anti-BJP plank during the entire election campaign.
According to GFP leader Vijai Sardesai, Congress never appeared a cohesive unit with too many "former chief ministers squabbling for the chief minister's post" The Congress' indecision and disunity was the main reason behind GFP's decision, says Sardesai.
"Even 24 hours after the results were announced, Congress remained undecided over who will be their chief ministerial candidate while BJP was quick to make Parrikar resign as defence minister and take charge of Goa. Congress' indecisiveness led to their fall," said Sardesai.
A Congress leader, on the request for anonymity, narrated how BJP leader Nitin Gadkari reached out to other stakeholders seeking support while Congress was busy fighting over their chief ministerial candidate. "The priority should have been to form the government but Congress leaders took GFP for granted, which eventually led to them negotiating a better deal with BJP," he said.
Meanwhile, Sardesai accused the Congress leadership for "pre-booking all prominent positions in the government" leaving nothing for possible allies. "For an aspiring politician like me, it would make no sense to join a weak party which can't take simple decisions. We wanted to go for a pre-poll alliance but Congress state president Luizinho Faleiro and AICC Secretary Girish Chodankar sabotaged it. I even spoke to Rahul Gandhi and Digvijaya Singh before the polls but all of them remained non-committal. If we had an alliance, Congress would have formed the government. The problem with Congress is the arrogance of their leaders," Sardesai added.
According to him, Faleiro was projecting himself to be bigger than Digvijaya and this was one of the reasons behind their fall. Contrary to the reactions of senior Congress leaders, who held Digvijaya responsible for not forming the government and wanted him to be sacked, Sardesai did not blame Singh and said he was not in control largely because of these two individuals.
When asked why he chose to go with Parrikar despite being one of his most vocal critics, Sardesai said that the former defence minister has contacts in Delhi and he could pull strings whenever needed. "We are a regional party and need support of the Centre to bring development to our constituencies and that is why we went with BJP.
After failing to form the government despite emerging as the single largest party, Congress suffered yet another setback after one of its MLAs, Vishwajit Rane, son of former Congress CM Pratapsingh Rane, abstained from the voting, taking the party's tally to 16. He later resigned from the party and is most likely to join the BJP. Rane's exit could also trigger a vertical split in the party as he leads a group of Congress legislators who are miffed with the party's indecisiveness.
Besides Rane, Congress legislators Aleixo Reginaldo Lourenco, Jennifer Monserrate, Dayanand Sopte and Francis Silveira are likely to join the BJP and have been sending feelers to the newly crowned chief minister. They claimed how Congress has become a laughing stock in the state and that there is nothing more embarrassing than to sit in Opposition for five years despite being the single largest party.
Speaking to the media, Rane said he was disillusioned with the party and that this is the first step of rebellion against the mismanagement of the party. He also announced that he will contest elections again from Sattari constituency under the banner of Sattari Yuva Morcha. Rane was particularly upset with how the party failed to form the government in the coastal state despite emerging as the single largest party.
Meanwhile, the NCP has issued a showcause notice to its legislator Churchill Alemao as to why action shouldn't be taken against him under the anti-defection law.