Congress wanted to delay, BJP requested for speedy trial of Ayodhya case: Amit Shah at Jharkhand poll rally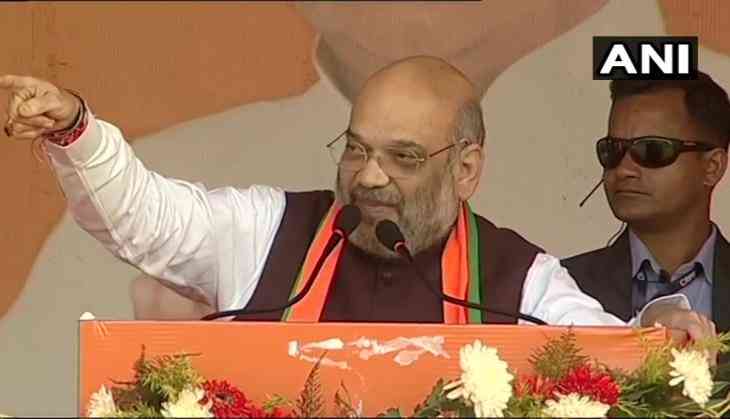 The Historical Ayodhya verdict has found its way into the Jharkhand Assembly election campaign. The Union Home Minister and BJP national president Amit Shah on Monday attacked Congress leader Kapil Sibal for the later's arguments in the Supreme Court in the Babri Masjid-Ram Janmabhoomi title dispute.

Addressing an election rally in Chakradharpur the BJP president said, "Kapil Sibal said in Supreme Court that there is no need to hurry in Ram Janmabhumi case. We requested that the case should be moved faster. What was the result? The SC has given judgement and now a grand sky-high temple of Ram Lalla will be built in Ayodhya. Jharkhand wants Ramlalla's temple to be built in Ayodhya."
Apart from Ram temple verdict, also spoke on abrogation of Article 370, "I am sure Jharkhand wants Kashmir to be an integral part of India. Jharkhand wants terror to end. Jharkhand wants Naxalism to end," Shah said.

Addressing the mega rally Shah listed the achievements of BJP government and said, "In the last 5 years, Narendra Modi government and Raghubar Das government uprooted Naxalism from Jharkhand and cleared the path for development."
Due to thirst for power, Hemant Soren is trying to become Chief Minister while sitting on the lap of Congress. Their objective is to get power but BJP's objective is to push forward the state on the path of development, Shah said.

Worth mentioning that next phase of polling in Jharkhand will take place December 7, December 12, December 16, and December 20.
The votes will be counted on 23 December 2019.
Jharkhand had observed around 63 per cent voter turnout in the first phase of the polls in 13 Assembly constituencies on last Saturday.
As per the Election Commission, voting per cent was 62.87. The highest voting per cent was recorded at Bishnunpur with 67.04 and the lowest was recorded at Manika with 57.61 per cent.
Minor altercations were reported between the BJP and the Congress workers in the Daltanganj Assembly seat. Congress' KN Tripathy brandished his licenced pistol in the air after he was prevented from entering a polling station.
The Election Commission has asked for report on the incident and has nullified his licence.
The 13 constituencies that went to polls are Chatra, Latehar and Chattarpur (reserved for SC), Gumla, Bishunpur, Lohardaga, Manika, Panki, Daltonganj, Bishrampur, Hussainabad, Garhwa and Bhawnathpur.
Out of 37,78,963 voters, 19,79,991 were male, 17,98,966 female and five belonged to the third gender. 189 candidates were in fray, which includes 15 women.
As per the to the Election Commission, there were 4,585 polling booths set up in rural areas and 307 in urban areas. Webcasting facility was also provided at 1,262 polling stations.
Also Read: Jharkhand Assembly polls: 62.87 per cent voter turnout recorded in first phase